On day two of the design sprint it was time to get my co-design participants in to the studio and start discussing game ideas and concepts. The goal of today is to "diverge" - to take everything that is understood about the project and its objectives, and come up with multiple divergent ideas. So it seemed like the perfect day to get them in.
My participants were Cherlea and Connor. Both are parents and avid video gamers which felt like the right type of participants for what I am trying to achieve. At the start of the session I spoke to them about my concept and talked them through the visual research wall, and showed them the pilot adult sized suit. The first thing that came up was about the fastenings on the suit where they recommended a zip over poppers (poppers were the initial thought as I believed these might be easier - but for securely fitting in the suit, the zips were suggested). 
They were really excited by the concept and thought it was something children would find really fun, and parents could feel more assured that screen time and learning could become more active and sociable. They had a lot of questions, which was great as it really got me thinking. These were questions such as:

- What "rewards" would the child get for completing games / tasks?
- Is there a way to limit the game play to a certain time? (Trying to put a child to bed who has been running around or jumping and is hyperactive immediately could be difficult!)
- Could it be more than just one player?
- Would there be a selection of games or would they be stuck to the same games?
- Can the sensors be removed for washing?
- Have I considered the replay-ability of the game, so it's not just a novelty that could wear off?
- Will there be adult versions or ways for whole families to play together?
- How will I ensure it is educational as well as fun? (Edutainment)
It got me really thinking more about the social aspect, emotional side of building the parent and child relationship as well as the reward system that will encourage the children to play (thinking this is where the KASE framework will be useful). 
After the initial brief, we got talking about and researching adventure games (specifically related to the world around us, or alternate worlds) and what concepts they have which could involve specific actions and began scribbling ideas down on post it notes. I explained to them about the Lego Foundations competencies of play and how Lego house had segmented the different types of learning through play (physical, emotional, social, creative and cognitive) and that I wanted to take inspiration from this and offer different mini games that could explore these different competencies. Which was quite key for the types of games we began to explore, such as numeracy and literacy games (cognitive), memory dancing games (cognitive, physical & creative), and also teaching them about other cultures and languages through the round the world theme (emotional & social).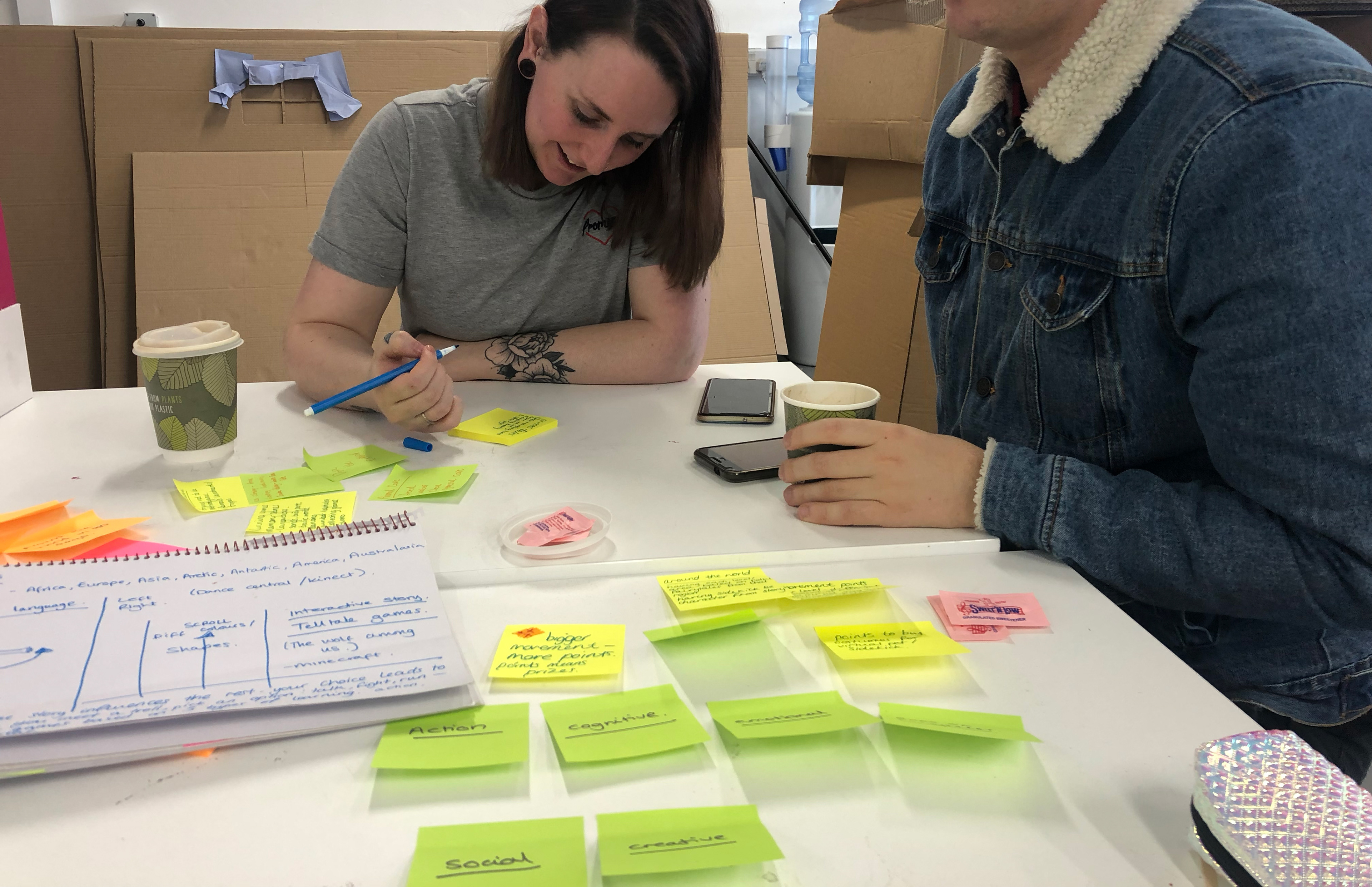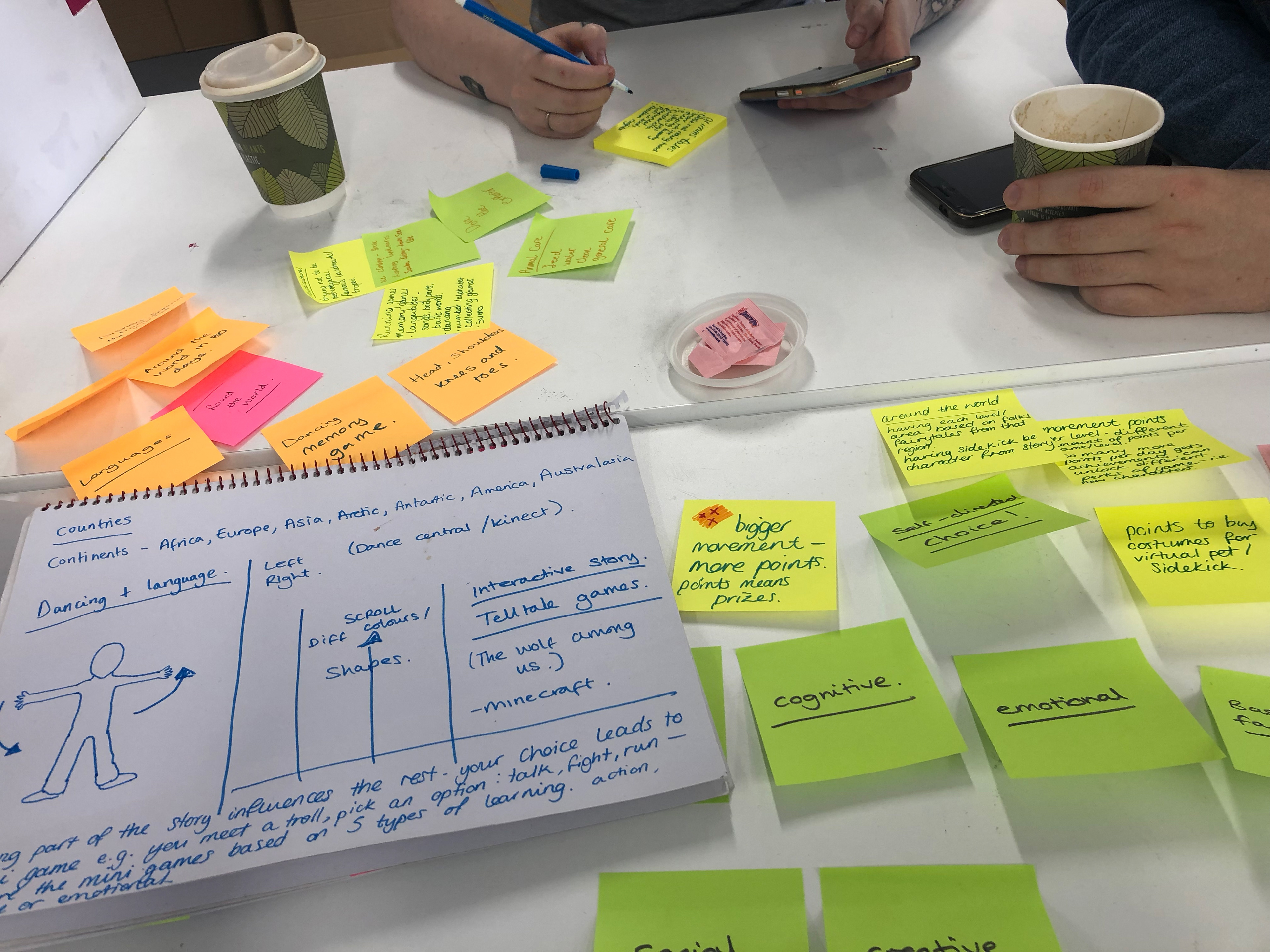 During these discussions, the idea of agency came up, giving the child real decision making abilities of where their story could go. For example they are wandering through the game world and come across a troublesome troll, they are given 3 options. One could involve using emotional / social competencies through conversation / speech, one could be to fight and the other to run away, with their options then having consequences and ultimately leading the story, to make it really interactive. 
However, as the idea for the final prototype and for degree show would be more of a vertical slice of the game play than a full prototype (as I am having to work within my own technological capabilities here), as much as I love this concept, it is making me think of the Bandersnatch episode of Black mirror, which I am not sure is the best idea...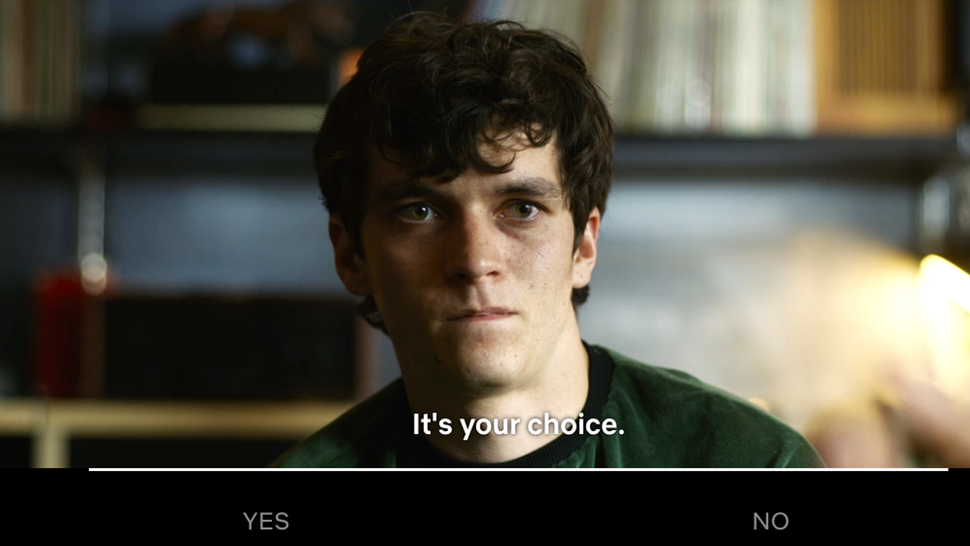 That being said, I do feel that there could be a way of giving the impression of agency, without having to prototype multiple different versions / endings to the eventual game play. Which is something I will bare in mind for part of the mechanics in the game prototype, as this type of interaction is interesting and I feel has more reward to it where you really feel like the choices and decisions you make or the way you interact changes the experience.

We also spoke about the ideas that I had generated the previous day with the space theme, particularly the A-Z idea. We thought perhaps the A-Z could be a different country within the world where the child is transported to and they had different missions in each country and they had to complete the alphabet. This got me thinking about the alphabet concept in a different way which is more game-like than story like.
I did also really want to make an effort to think of more ways in which games could be active, by discussing games where the characters within them are active but not in a violent or dangerous way (I don't want the children to get the impression they can swing from buildings like Spiderman, or to promote fighting etc..) which led us to one of the games Caitlyn loves playing on her tablet, Temple run.

It is an endless runner game that actually uses the gyroscope and accelerometer in your phone as well as finger swiping as a way to move the character. What if the child controlled the character in the suit by jumping, ducking and sliding from side to side?
What next?
This session has got me really excited to try develop some of these ideas and concepts and then get the concept experience prototyped with Cherlea's daughter Caitlyn. For the rest of the week I will be attempting to make some prototypes that can be tested in a wizard of oz way. I have started to figure out more about connecting Airconsole through Unity. However because this is a new set of software and technology for me, it will be easier to produce a wizard of oz prototype based on animation with key triggers to fake the experience and get quick feedback from real users than testing this after the technology is sorted! I think this will also be the MK1 prototype baring in mind it will give me plenty of time to tweak the concept and experience and get a head start on MK2.