The next part of the design sprint week was to reflect on all that has been learnt so far and then decide upon an idea to prototype. I am really keen to get more of an idea of how the children will react to a wearable controller that is like a onesie and being asked to move through a game, so I decided one of the easier game ideas to prototype for a quick test would be the endless runner (temple run) idea, as this could be created using a prototyping tool and animation with keys to change the states of the animation to mimic how the child moves.
I set about firstly thinking about the A-Z rhyme to think of potential scenarios for the mini game (what the objective of the endless runner is, dodge, avoid, etc..)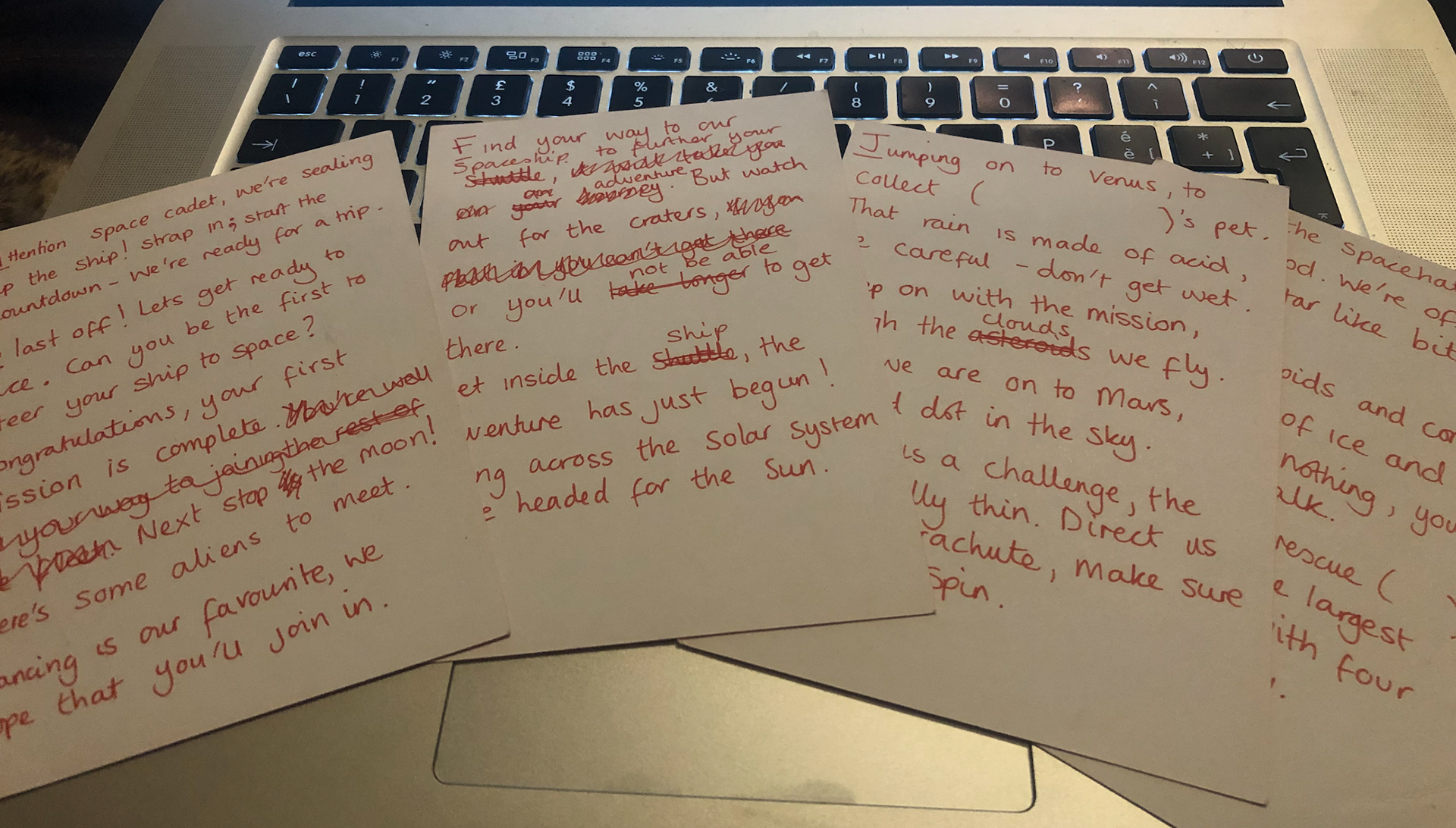 The rhyme
I have adapted the rhyme I found earlier this week in to something that is more action based and could be riddles for mini games, well as far as Q in the alphabet:
A
ttention space cadet, we're sealing up the ship! Strap in, start the countdown - we're ready for a trip
B
last off! Let's get ready to race. Can you be the first to steer your ship to space?
C
ongratulations, your first mission is complete. Next stop is the moon and there's some aliens to meet.
D
ancing is our favourite, we hope that you'll join in. Left, right, up, down and don't forget to spin!
E
xcellent dance moves but we really have to run. We've left you a mission, we think could be fun.
F
ind your way to our spaceship to further your adventure. But watch out for the craters or you'll not be able to get there.
G
et inside the ship, the adventure has just begun! Flying across the solar system we're headed for the sun.
H
ot rays of light exploding all around.... (not sure)
I
t's time to land on Mercury, the heat too much to bare. Quickly find () and get back in the air.
J
umping on to Venus, to collect ()'s pet. That rain is made of acid, be careful - don't get wet.
K
eep on with the mission, through the clouds we fly. Next we are on to Mars, that red dot in the sky.
L
anding is a challenge, the air is really thin. Direct us with the parachute, make sure we don't spin.
M
ars is like a desert, but one that's really cold. Explore this world before us, to find the secret it holds.
N
ow you've found the secret from the valley floor. It's time to relight the rocket, to Jupiter we soar.
O
pen up the space hatch, and get in to the pod. We're off to a belt of star like bits and bobs.
P
assing asteroids and comets, small worlds of ice and rock. Gravity almost nothing, you'll fly instead of walk.
Q
uick, we need to rescue (), the Jupiter we go! The largest planet out there, with four big moons you know.
I was wondering which of these narratives / riddles would lend themselves mostly to the endless runner format I have decided to prototype first. My thought is it will either be F, or P. However with P being about "flying" I am wondering if this might be too complicated for the first step, so I decided to create art work that could exist for a moon like atmosphere, craters and the character that will be controlled.
The art work

The above shows a quick sprite animation of the character jumping as I wanted to get this motion for jumping over the craters. The next step was to create the background and craters that the player needs to avoid: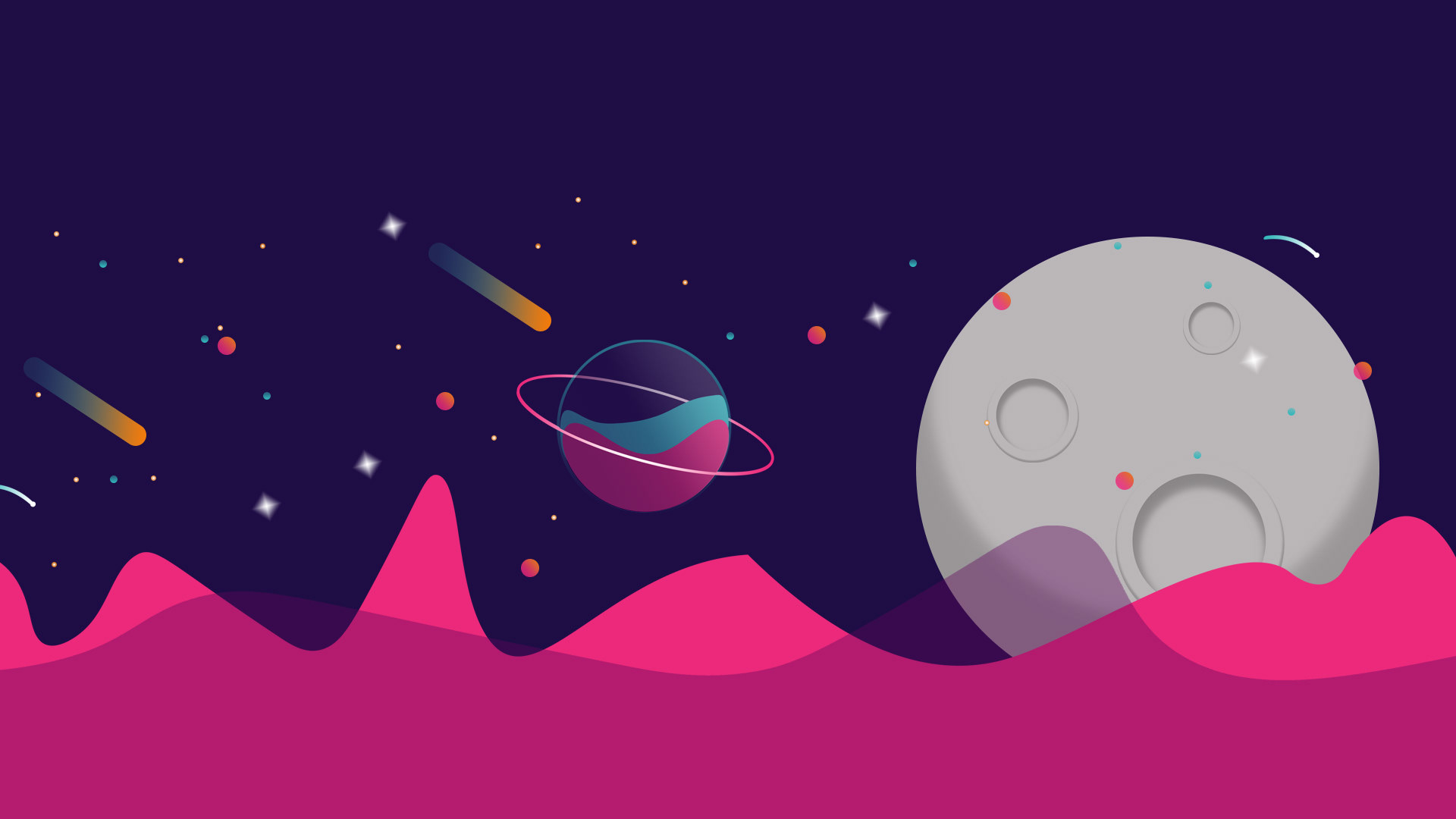 I decided to put the craters in afterwards so I could see how the animation of the character jumping worked within the animation and these could easily be placed after. 

I then used the art work to create an endless runner game in Proto.io. I know proto.io isn't really used for this type of thing typically, however I have managed to get a good grasp about how to make animations of this type work through exploring in the past. I was able to create this key controlled animation which you can find at the
following proto.io share link
It doesn't actually work like a normal game as it is all triggered by the keys pressed:
Enter = jump
Delete / Backspace = to trigger the oops try again screen if you fall down a crater
P = to restart the game after the oops try again screen
It is a very simple game concept and at the basic form. I am wondering if this would translate better in 3D, or from a first person perspective, especially to be able to add any movement in besides jumping as I feel just jumping could get tedious / not very enticing for repeat play. However this has given me a potential wizard of oz and mk 1 prototype that I can show alongside the pilot suit (although it needs to be adjusted to fit properly!) and hopefully mini suit next week. I also have a tutorial with Graham this week coming to show him the progress I have made.
What next?
I want to get this wizard of oz prototype with limited functionality tested either as a pilot with other people, or preferably with some test families (who I need to fully recruit!). I am also going to contact Tracey at the V&A about the possibility of getting the project tested during the Toy Testers V&A session. I need to adjust the first prototype of the adult suit to fit, so that it is usable for pilot testing. It is also time to make the first mini suit!