An important part of developing my idea is to get feedback from families (both parents and children) to test the concept, usability of the app and to gauge the reaction to the gameplay. I went to speak to the V&A about getting the project in to Toy Testers on the 4th March or early April, however I knew that with the amount of work still left on the project before it is ready to be tested that the early March session may not be feasible. During the meeting with Tracey, I showed her my initial sketches and photo of the pilot suit, as well as the early MK1 game play prototype. She explained that ideally it would be the early March session because the April session would be slightly different. However there could be a chance to get the project involved in part of the V&A learning programme for the videogames exhibition. Despite the exhibition not starting til 20th April and that being close to the deadlines, I said that I would still love to be involved with my project, but perhaps it would be in a different context to the user testing I had in mind. 
Unfortunately, not being able to involve my project in Toy testers, means searching for more families to involve in my project, as I had this in mind from October. It's just unfortunate that cracking the technology element of this project hasn't been as quick as I was hoping, despite my efforts!
I decided to put a pack together for testing alongside an advert to display on social media to try and get in touch with families that have children between the ages of 3 and 10. I am hoping to get a range in order to test a variety of ages as well as testing with multiple 5/6 year olds which is my target age for the type of games I am thinking of creating. During semester one I was researching testing methods for my dissertation module, and found examples of IDEO suggesting to test with the extreme users, as an idea that works for these users, will typically also work for the mainstream.
(Details of this can be found here)
. I found it really useful for my dissertation project and it really helped to inform the direction, so I am hoping that applying the same method from my design toolkit, that I will find it just as useful here.
Obviously children all develop at different stages and rates, so their age isn't the only factor. Hopefully I will be able to find a range of personality types, and find children to test with who have different motivations for playing within the KASE framework, or that enjoy different types of games.  
The testing sheets
I decided to update the design and illustrations to go with the sketches of the suit as I am in the process of redesigning the way the patterns will look. I have also decided to look again at my project description and title, as I feel like sidekick isn't appropriate anymore. In my tutorial last week, I showed Graham what I was planning to show at the MK 1 presentation and he suggested that I think really carefully about the art direction and ensuring that the project has a coherent design language from the illustrations in the gameplay, to the print, fonts used and the app. This got me thinking more about the "thinglyness" of story books, so I wanted to take this opportunity to explore how it could all look on paper.
Introducing play.suit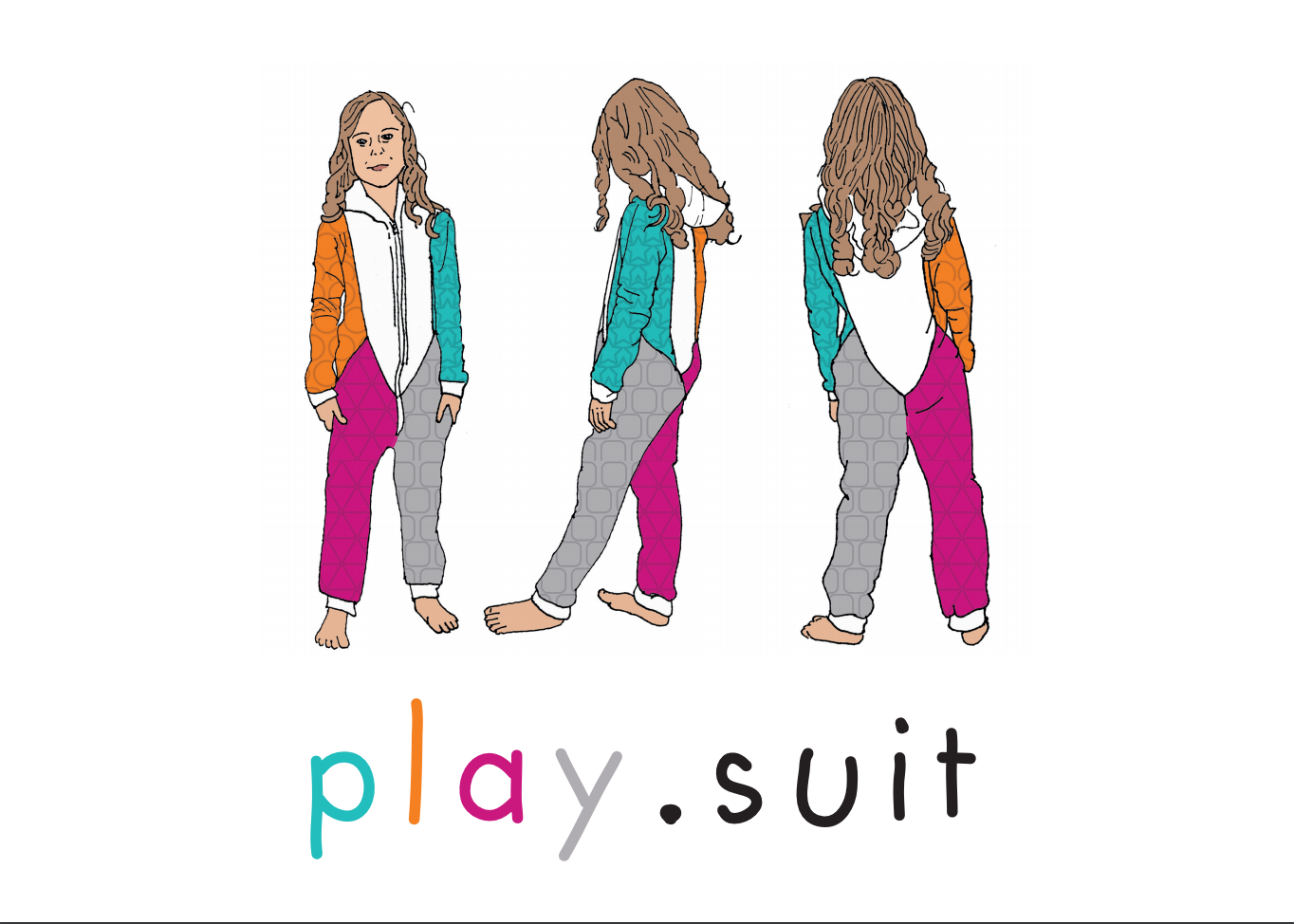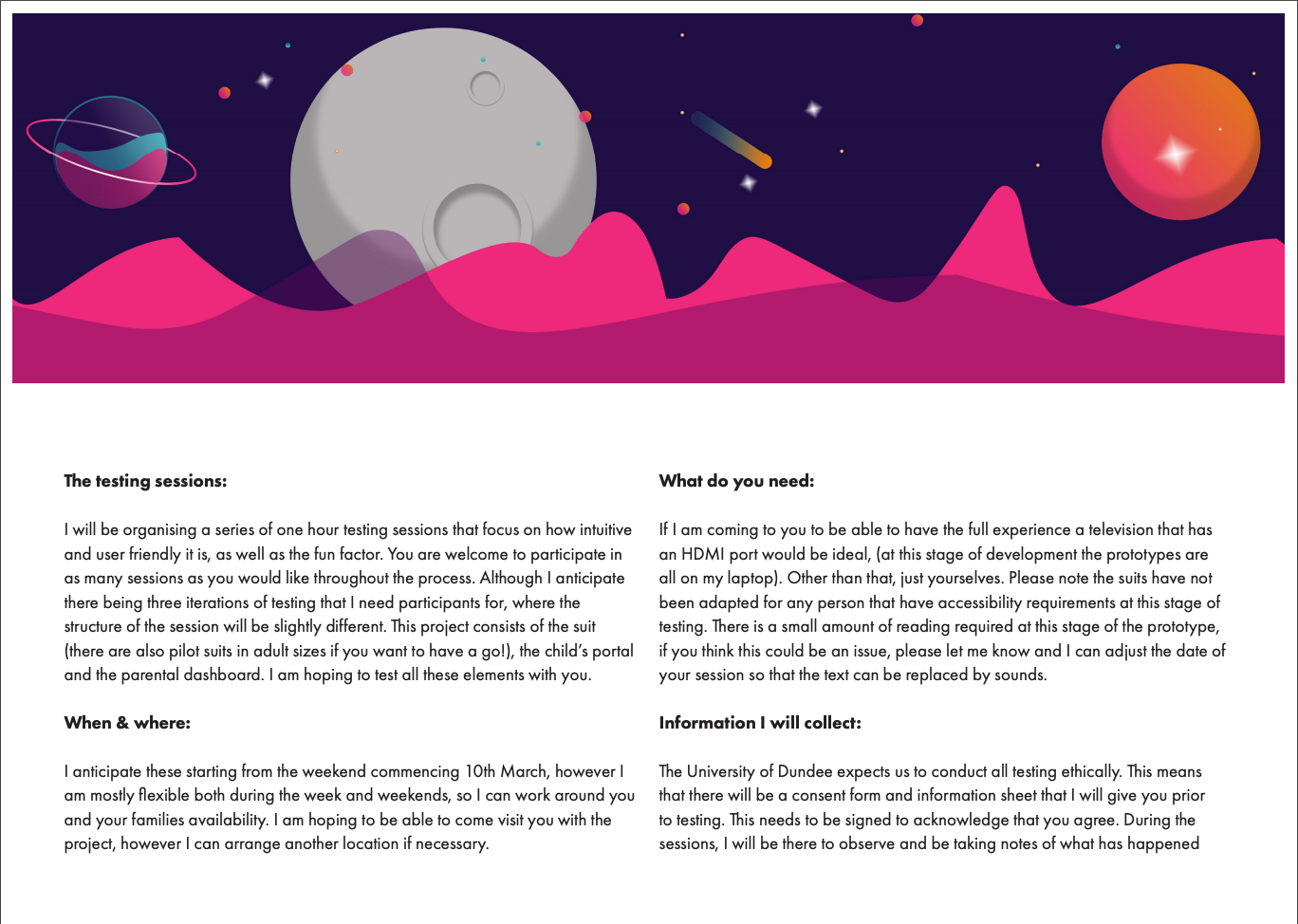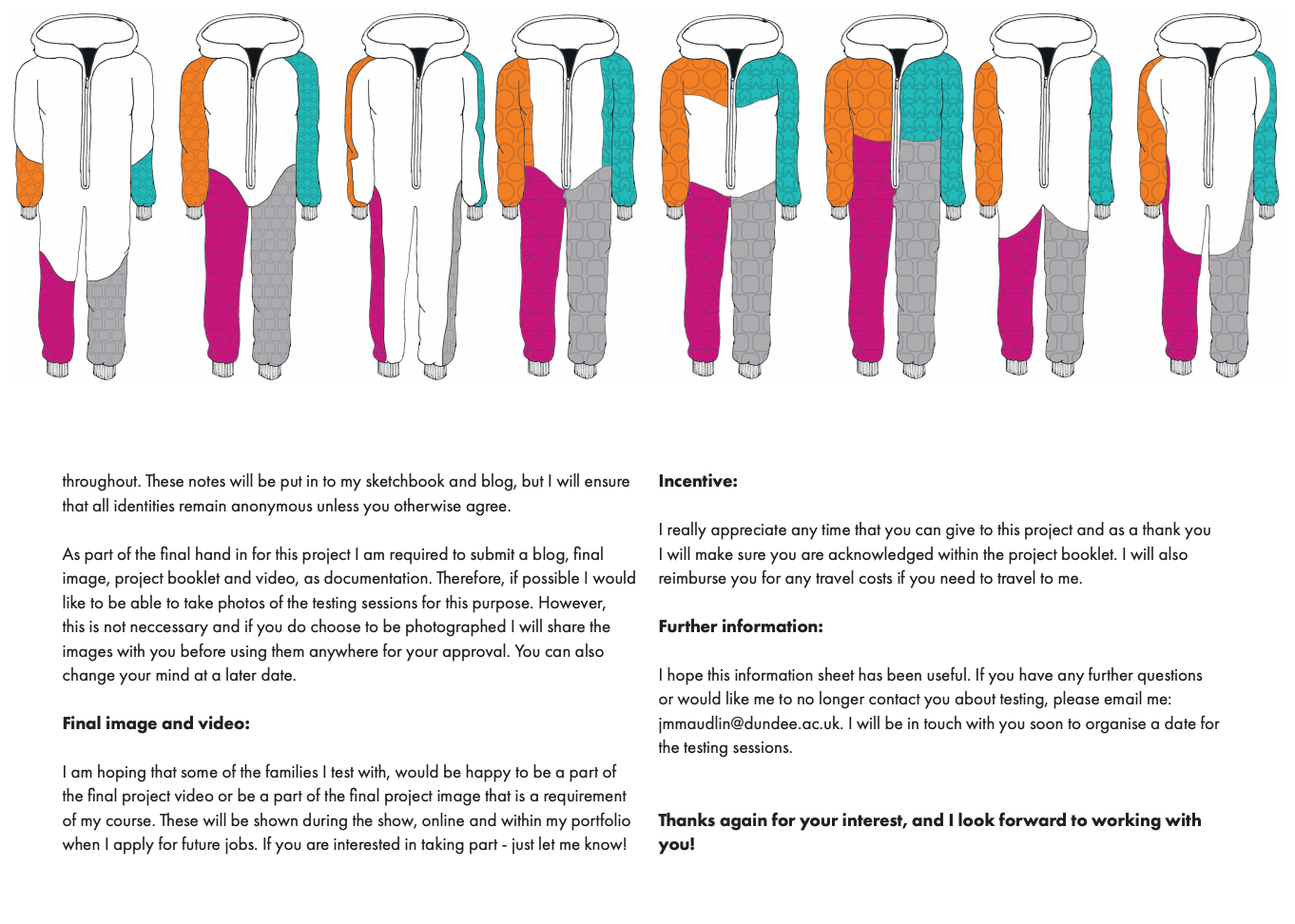 I have also created a slightly smaller about sheet (without the testing information) to send to the V&A as part of being part of the educational programme over the summer, testing out my prototype on one of the family fun days. This is a really exciting prospect - that I really hope goes somewhere! It will be great to continue to get feedback through degree show and before New Designers.
What next?
My MK1 presentation was a couple of days ago, so I am still reflecting upon the feedback from that. Graham and Chris suggested starting the experience I am wanting to show mid way through the alphabet (Like F or G). However, I feel that with a game concept that has different controls to what we would expect in terms of interaction patterns, it would be a good idea to find a way which doesn't place the game at any particular stage, and can allow for it to appear more random (when actually it is a fixed experience)
To progress further I am hoping to hear back from families that want to test to be able to set myself a next deadline as such. I also need to make some progression on the child's suit and pattern, as well as deciding upon a design (prints, pattern etc...) The sheets I created for testing got me thinking more about font usage, so I intend to have a look at how to create my own font. I feel that perhaps if the game illustrations will be drawn by hand, that maybe my handwriting as a font could help to enhance the consistency of the design language, whilst keeping the illustration and story book feel. 

In addition to this, I am aiming to do a few unity tutorials to learn the game engine, specifically designing the environment / level and trying to apply my own designs in to the game engine, to get a feel for how to use it. I also am going to make another attempt at connecting via airconsole or arduino, to see if this is a feasible platform. Otherwise, I will need to figure out a new solution that I can either quickly learn, or use something like Processing which I feel relatively comfortable with.