This week has been all about putting the feedback from the testing sessions in to action, pushing forward with the tech, refining the finer details of the suit and giving Zee a voice! It's been pretty full on but really exciting to see it all coming together. 
The final prints
I started the week spending about three hours at the heat press getting the final prints put together. It was a bit of a delicate job as I had to tape together two A3 sheets of sublimation printed paper to make sure the prints would be large enough with out a really noticeable seam. I have decided to prototype a working 'light' version of the child's suit, as well as a visual representation of the 'dark' version.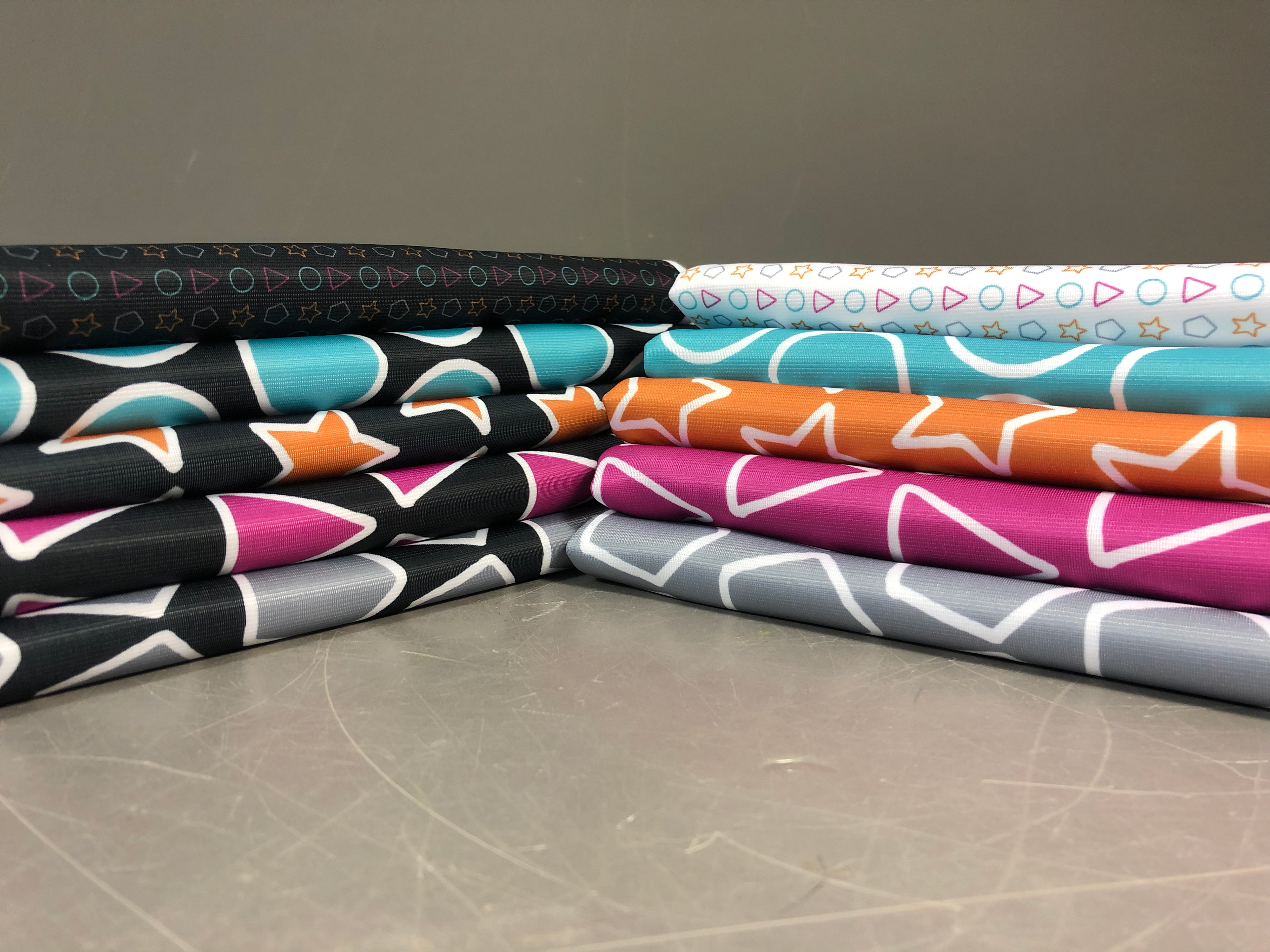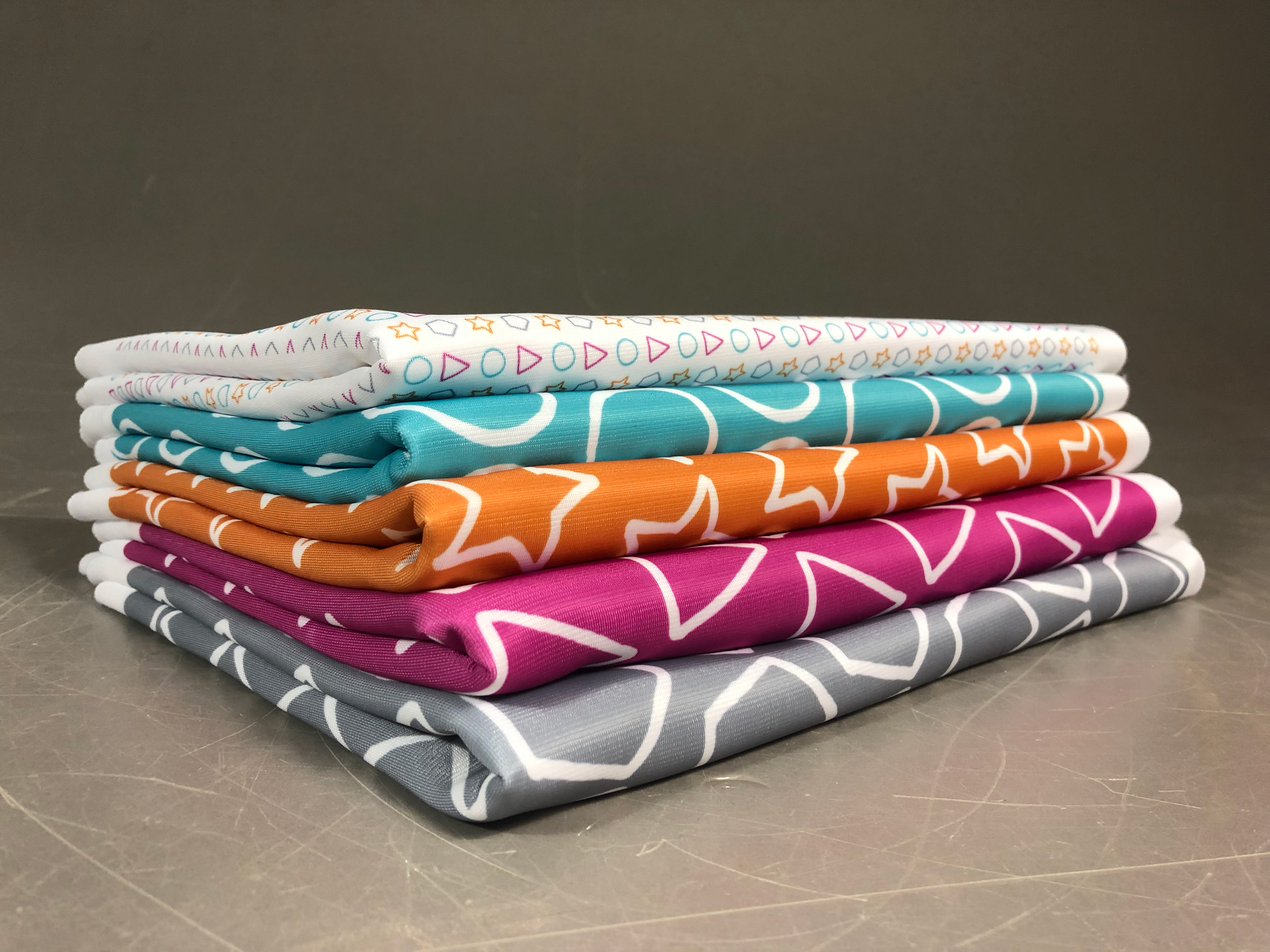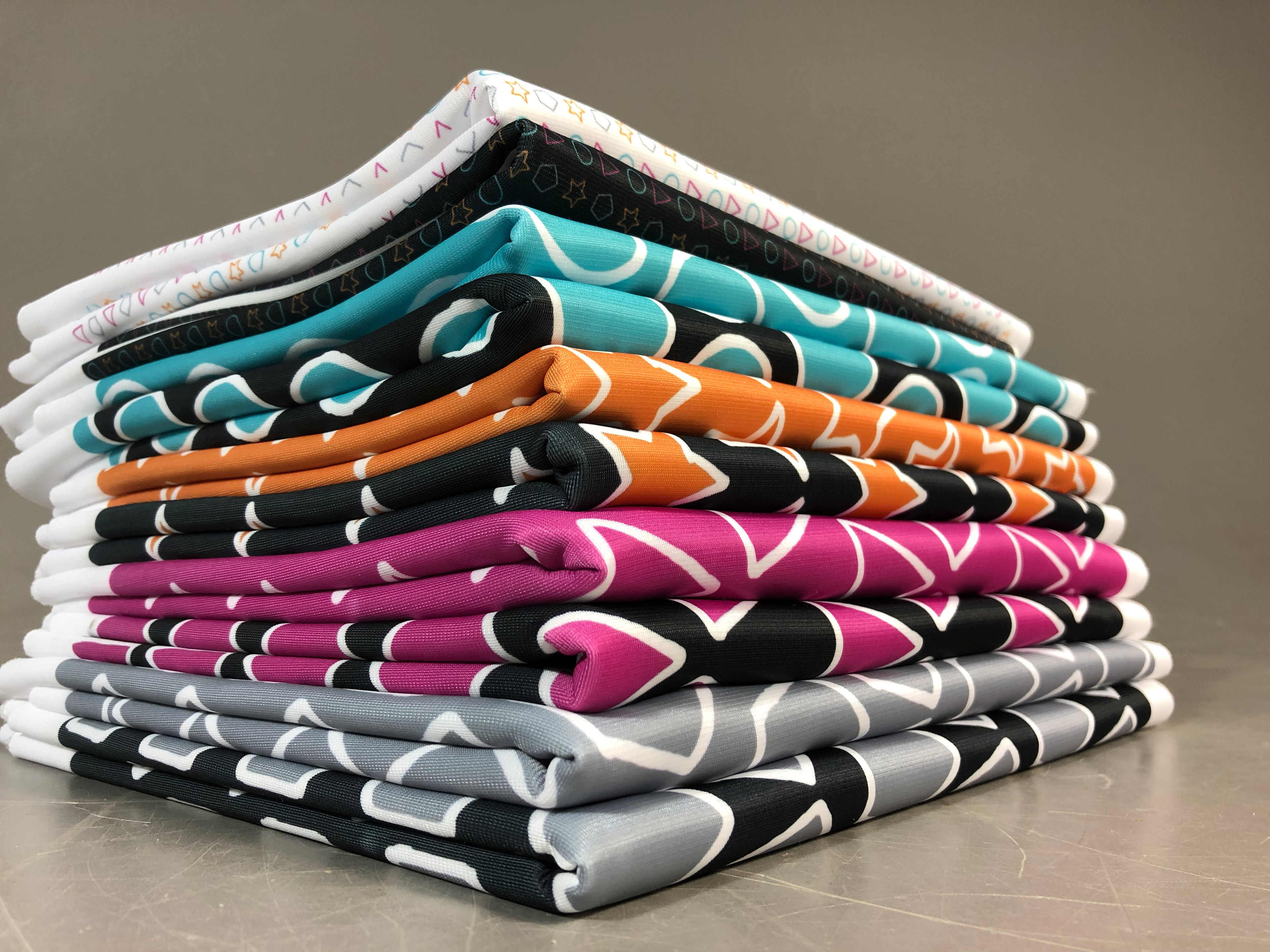 I was really happy with how vibrant they have come out, and really enjoy both the light and dark versions aesthetically. I decided to continue to offer an alternative as a way of getting my idea across that this part of the suit could act as a skin or a fascia for the surrounding tech and the limbs which are important for the game play. That this could be an adaptable concept, with various different skins or fascias that could translate in to other interactive adventure stories like play.world.
The next step was to think about the finer details. I have been wanting to add magic with personalisation features which appear in the app. But I also want there to be an element of this with the suit. I was thinking more about specific branding and labelling (including important instructions such as "remove sensors before washing", and decided to design some labelling to go on the inside of the suit along with the QR code to set it up, as well as some tabbed branding for the side.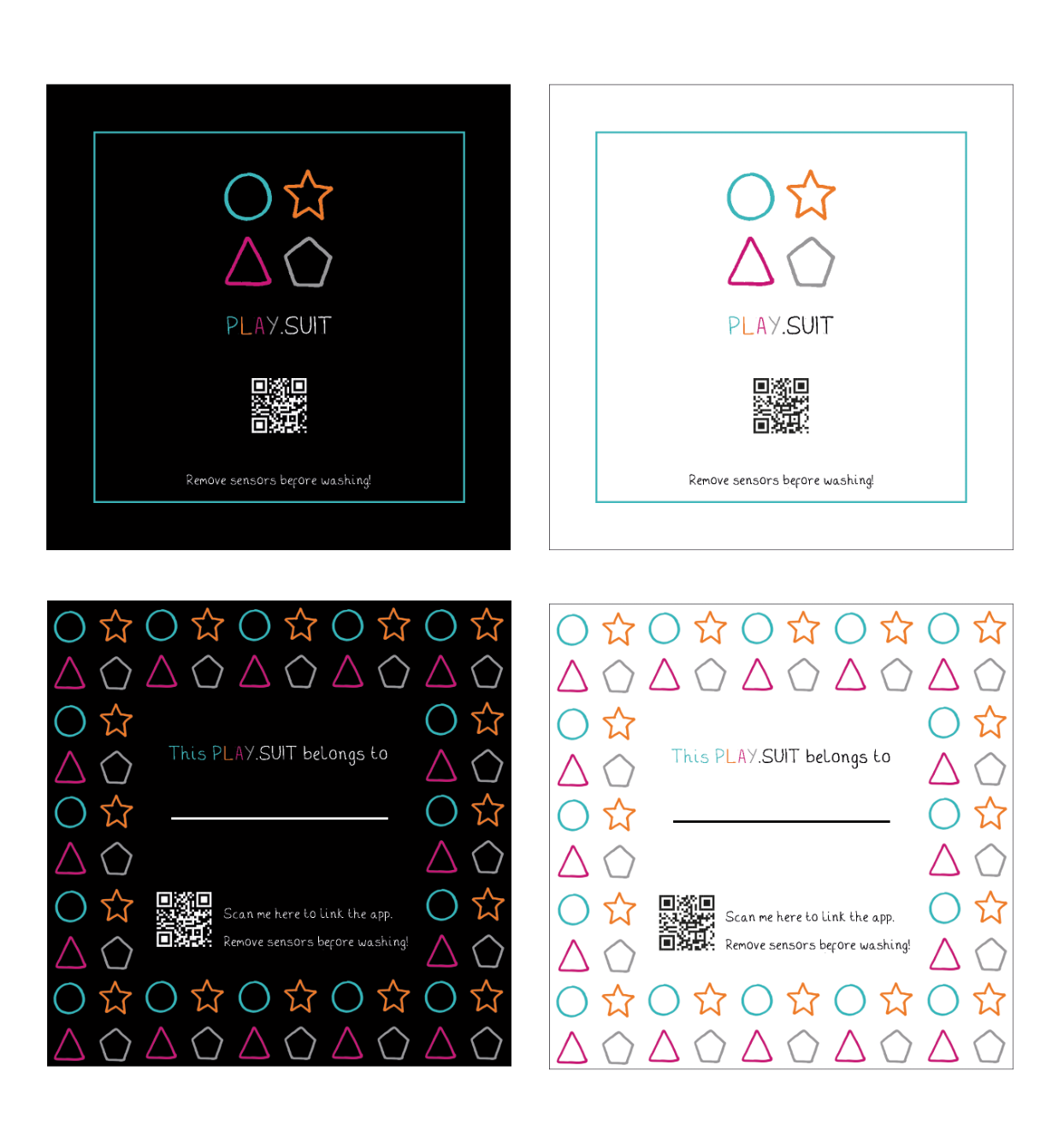 I was thinking of incorporating the branding and a box where the child could write their own name to personalise their suit. Making it feel like it belongs to them. I experimented with the designs a little more until I decided upon these for printing.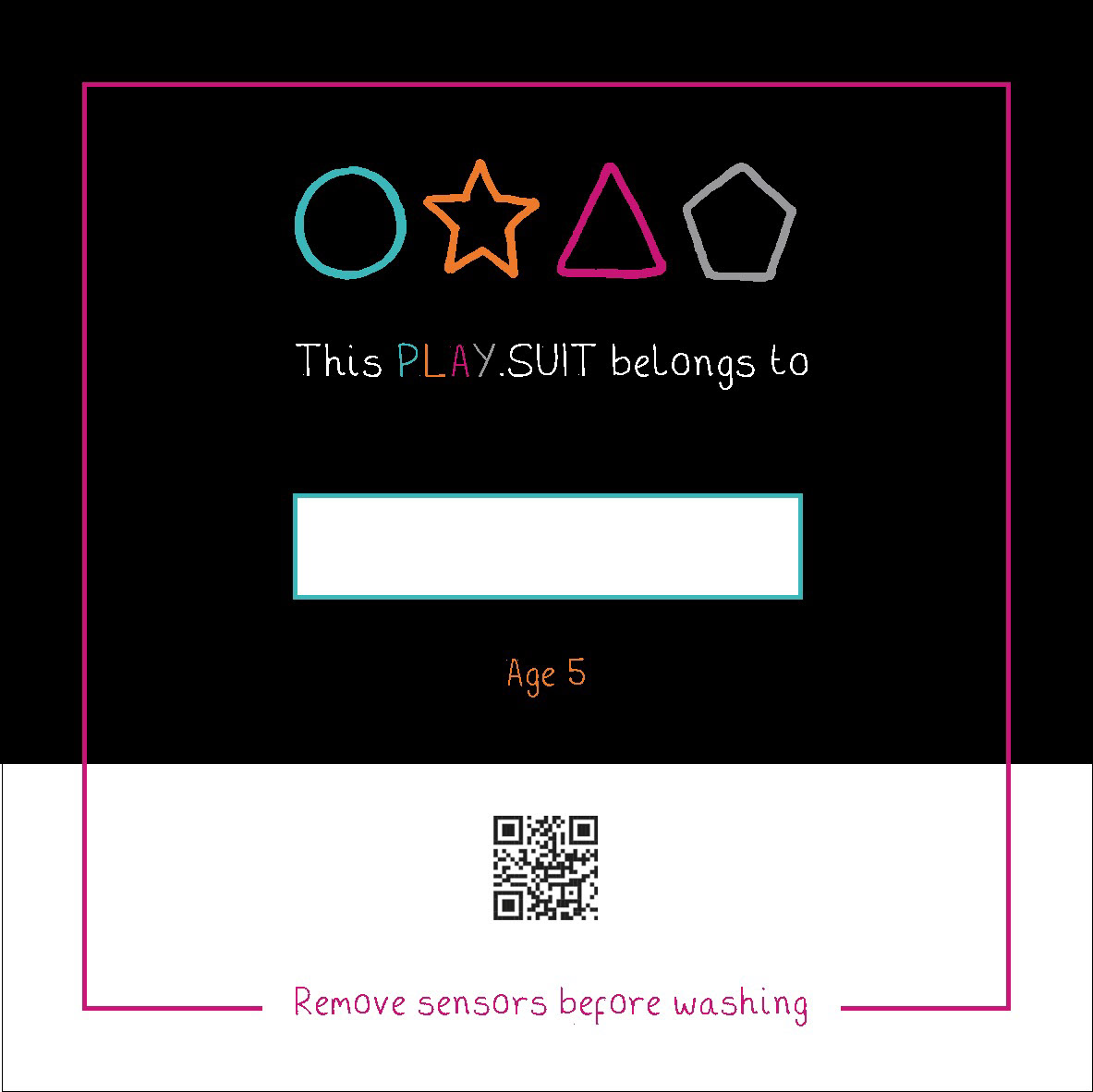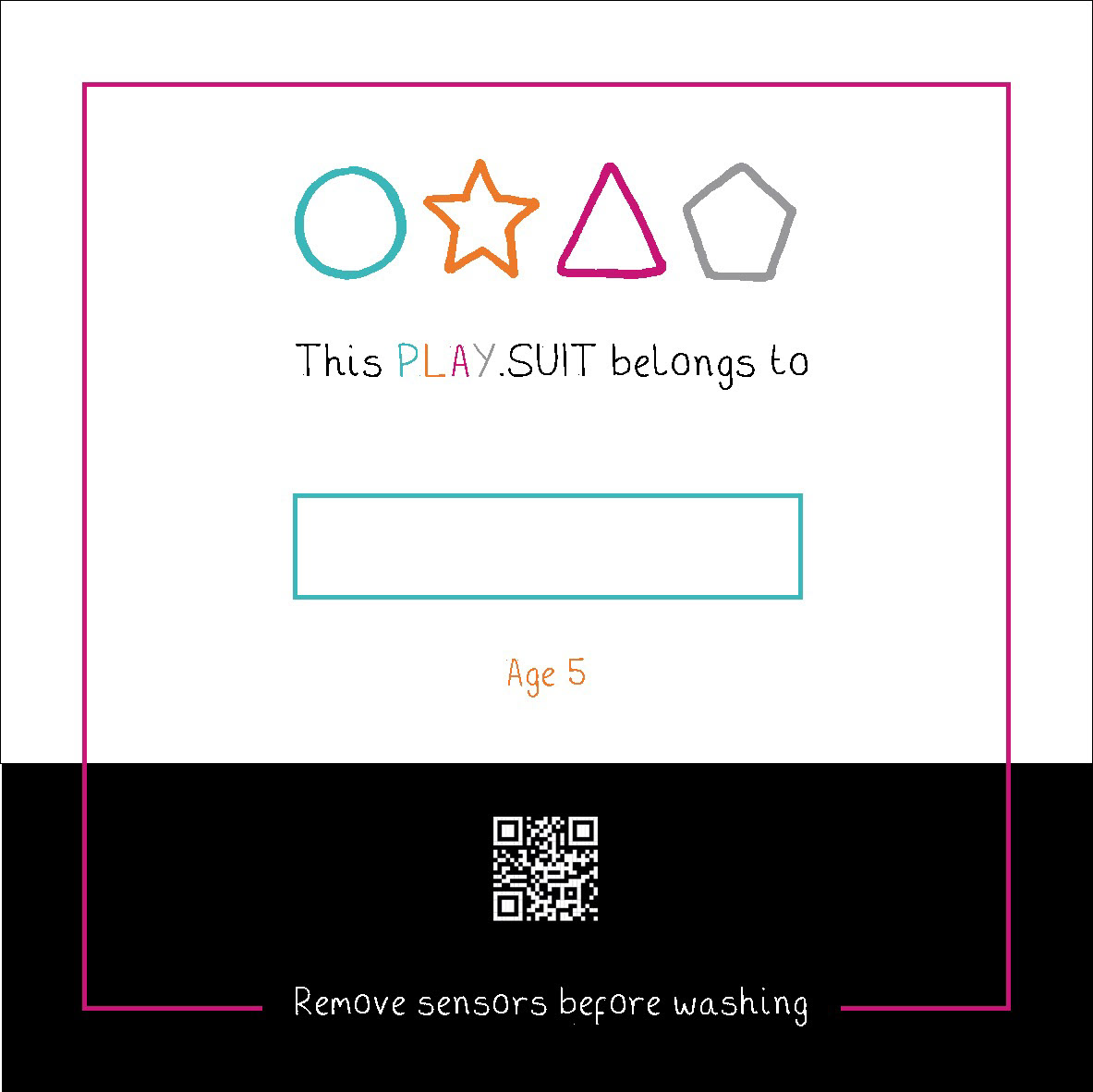 And accompanying tabs for the edge of the suit: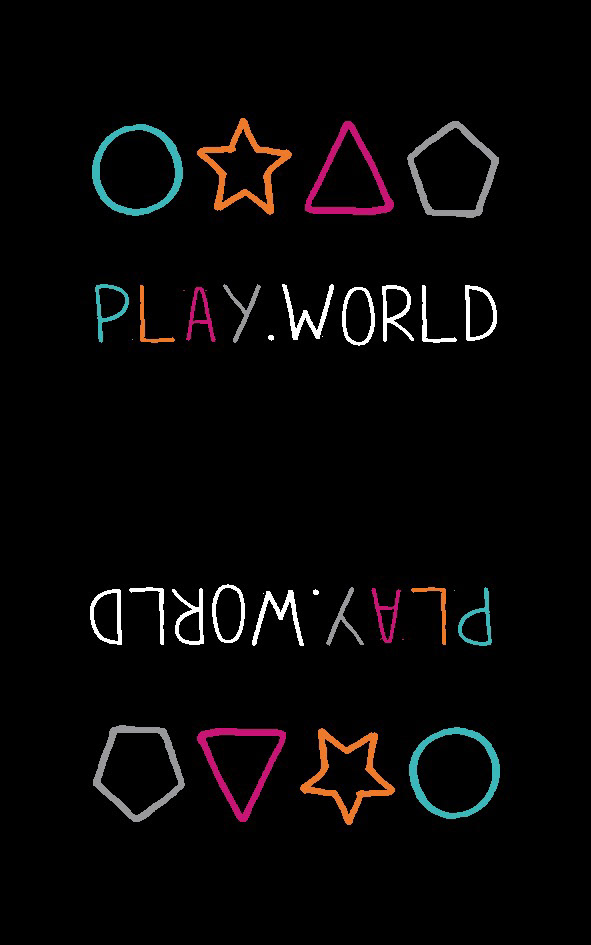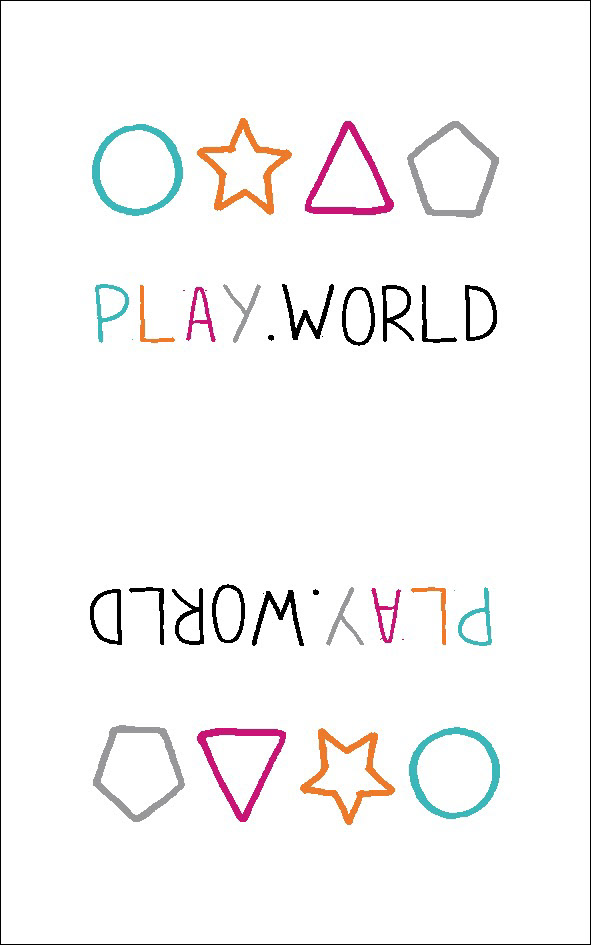 Unfortunately I experienced more issues with the sublimation printing, during this process. With the dye either not adhering to the fabric (which is the fabric used for the rest of the suit), or being unreadable on the other fabric. I then chose to use some of the microfibre leftovers that I had from the other week, and the print looks great on them!
Putting together the suits
Luckily the pattern is really well established by now, so putting together the suits went pretty much as expected. (Unless you count managing to snap three sewing machine needles in one sitting - this really is not my month!)
I did also experience a few issues with my "finer details", which make them look a little like an afterthought. The microfibre fabric frays really easily and not realising this til too late I didn't anticipate what I would need to do to make them more hardy. The tab branding is also really large when you look at it compared to the suit.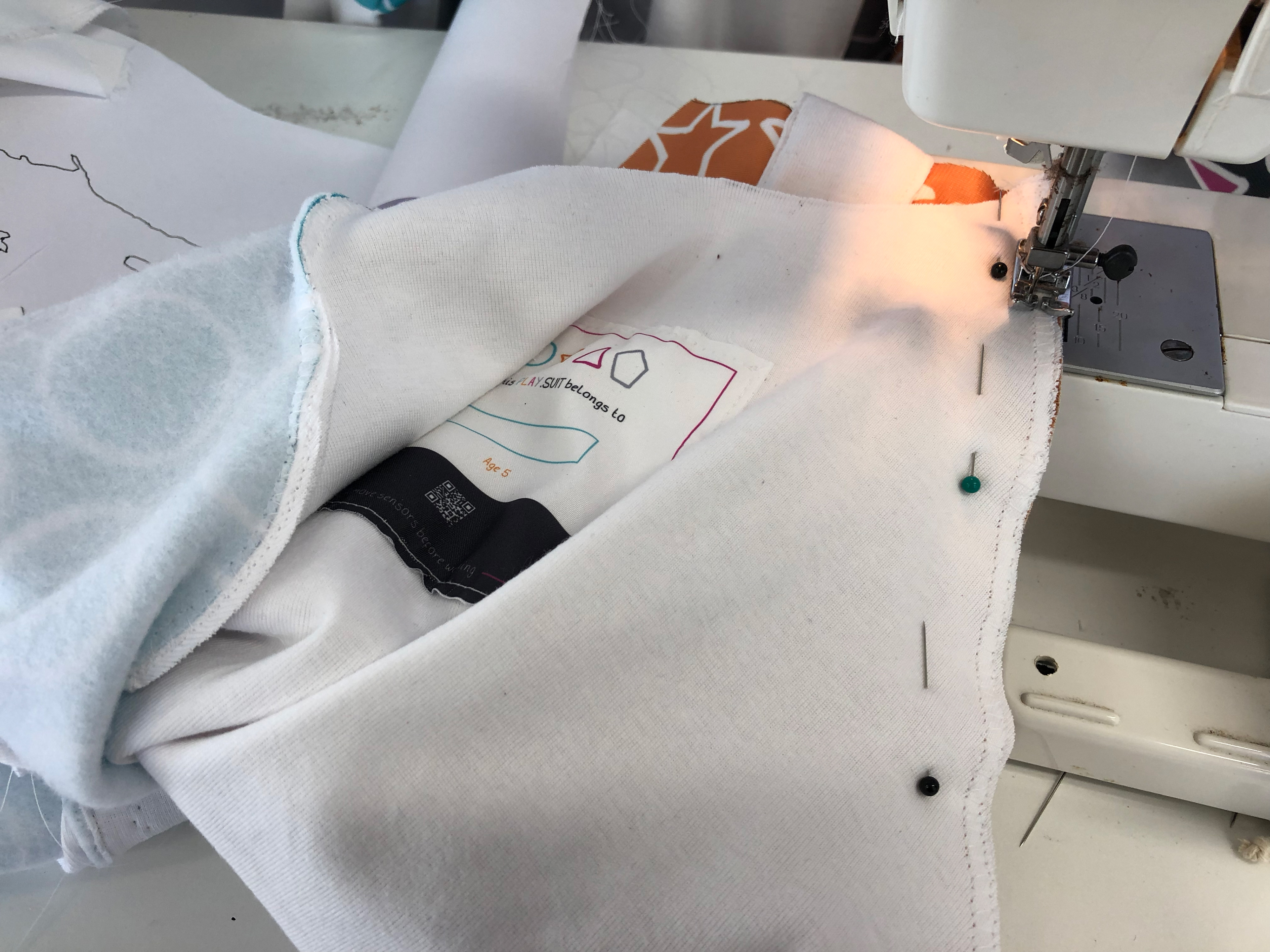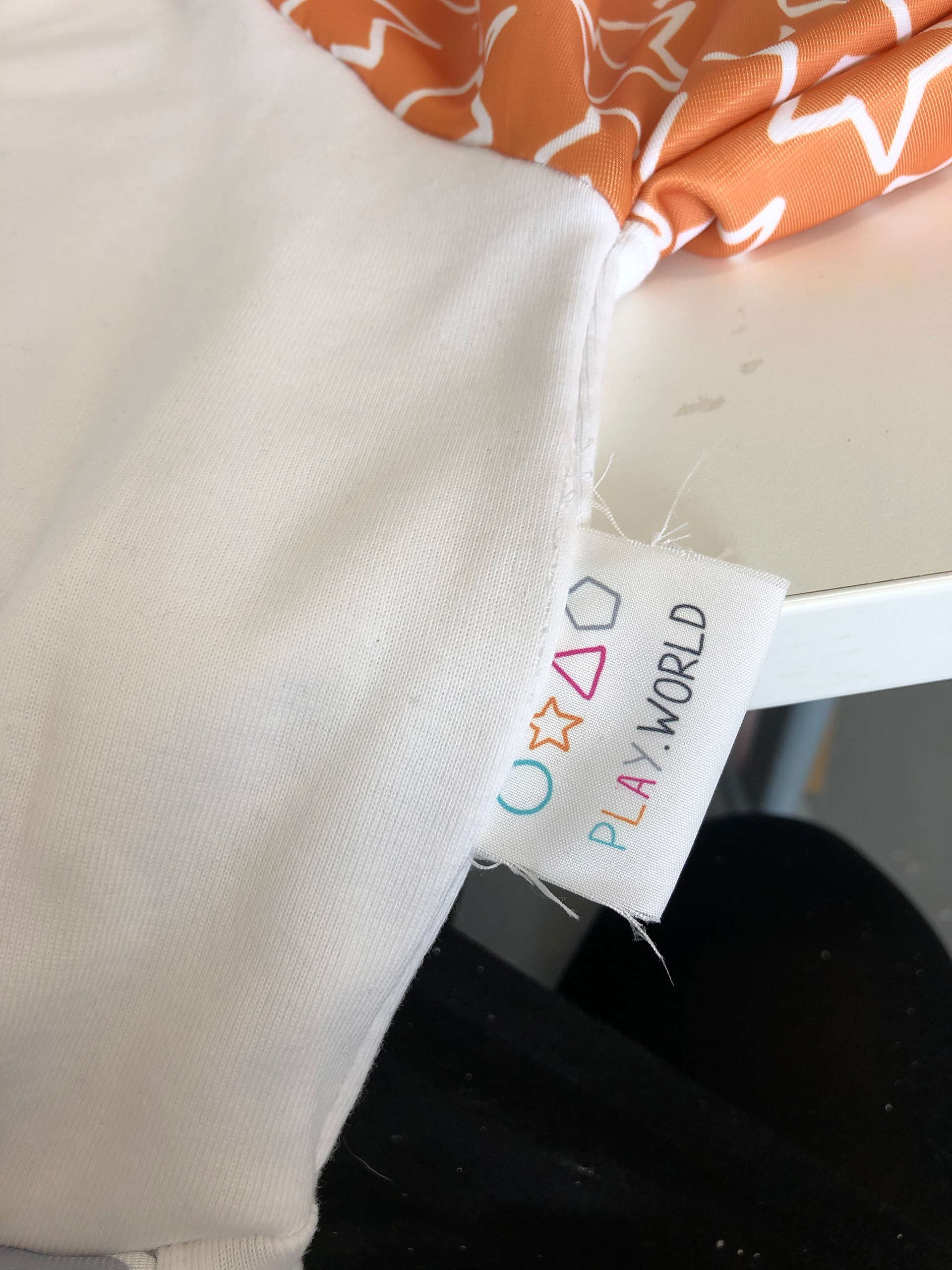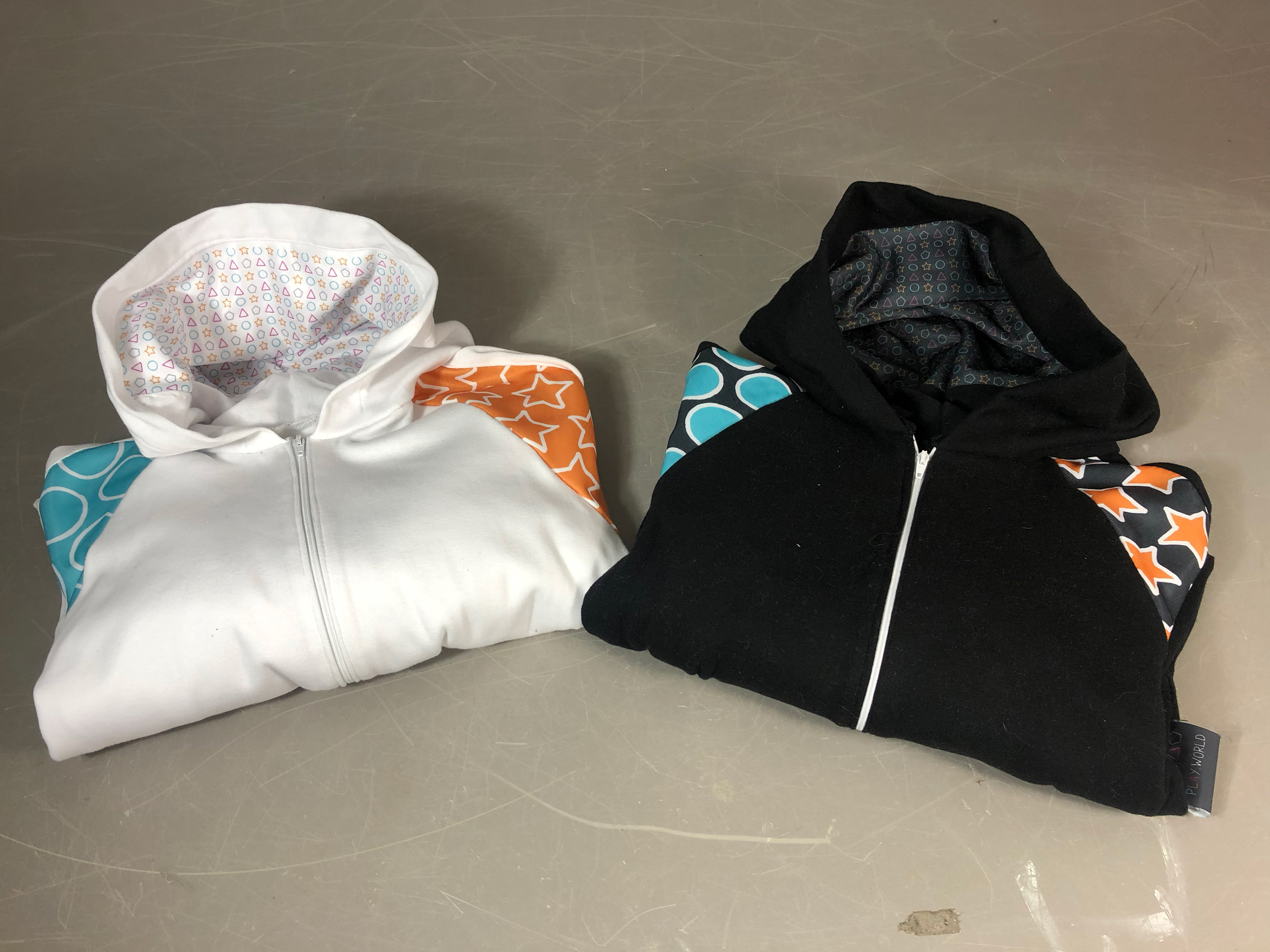 That being said, I think there is a real chance I will need to potentially make a final final prototype for display. I have done my best to make the suits as secure as possible, but not being a seamstress does mean that there is potential for bits to rip when filming with Caitlyn. I don't really want to restrict her movements and get a real reaction to the experience during the video, so I have scheduled time to ensure I have time to put together a final final one if needs be. I also made sure I printed enough fabric, so at least that avoids that issue!
Getting prepped
It's getting closer to taking my final video and image, and I wanted to ensure it was art directed the way I had in my head. In my mind I want quite a minimal looking setting with a few pops of colour. My idea is to use some book shelves I have at home (that probably should be part of a child's bedroom and not and adults), along with my screen, to set it up like a bedroom. I also popped to see Ruby at Dreamland today to pick up my lighting kit, as her about the tabbed labelling and pick up some toy props (such as Sully, Yoshi and Barney) to blend in with my colour palette, to theme the set even more so. Ruby also recommended looking at Contrado (who I was going to digitally print with) for the labels. 
What does play.world sound like?
I've been working on the narration and sound design for a couple of weeks, thinking more about what the play.world could sound like, what Zee the character sounds like, and finalising the last element for the project. My friend who used to study sound production has agreed to come in and give me a hand to show me around the sound studio, so that I can develop what I have been working on so far. When speaking to Graham in my last tutorial, I mentioned I was hoping to go for a Late 80's, early 90s 8-bit gaming Mario world kind of sound. However with the game experience I am prototype taking the direction of the Jungle / in the amazon theme, this has been quite tricky to translate.
I have been working on a script for some time, and finally found the voice of Zee when listening to a work colleague speak. She also works at the Science centre as one of the visitor assistants and frequently gives tours to children. She has one of those engaging and animated voices, that sounds friendly and welcoming. Which felt like a perfect fit.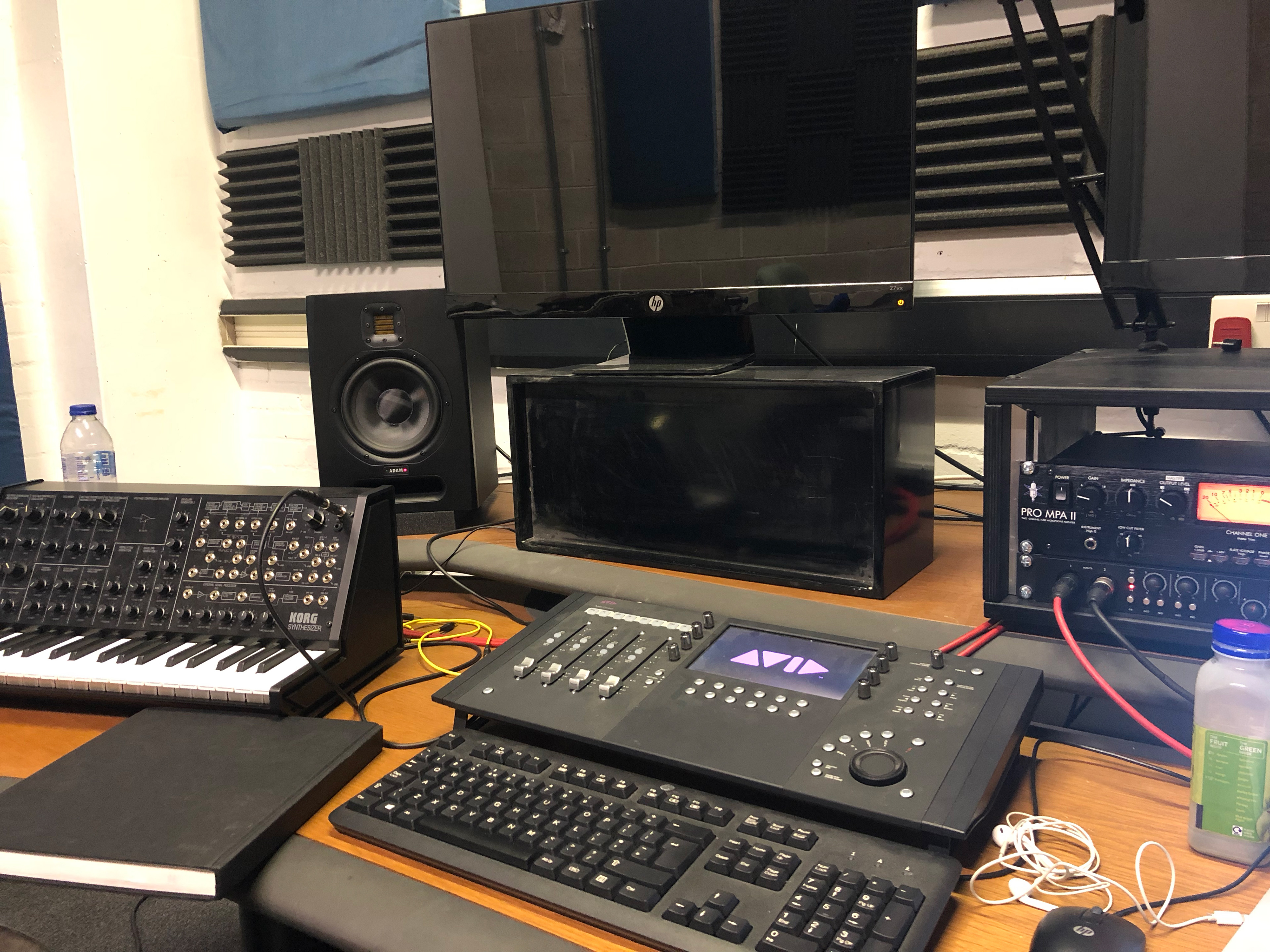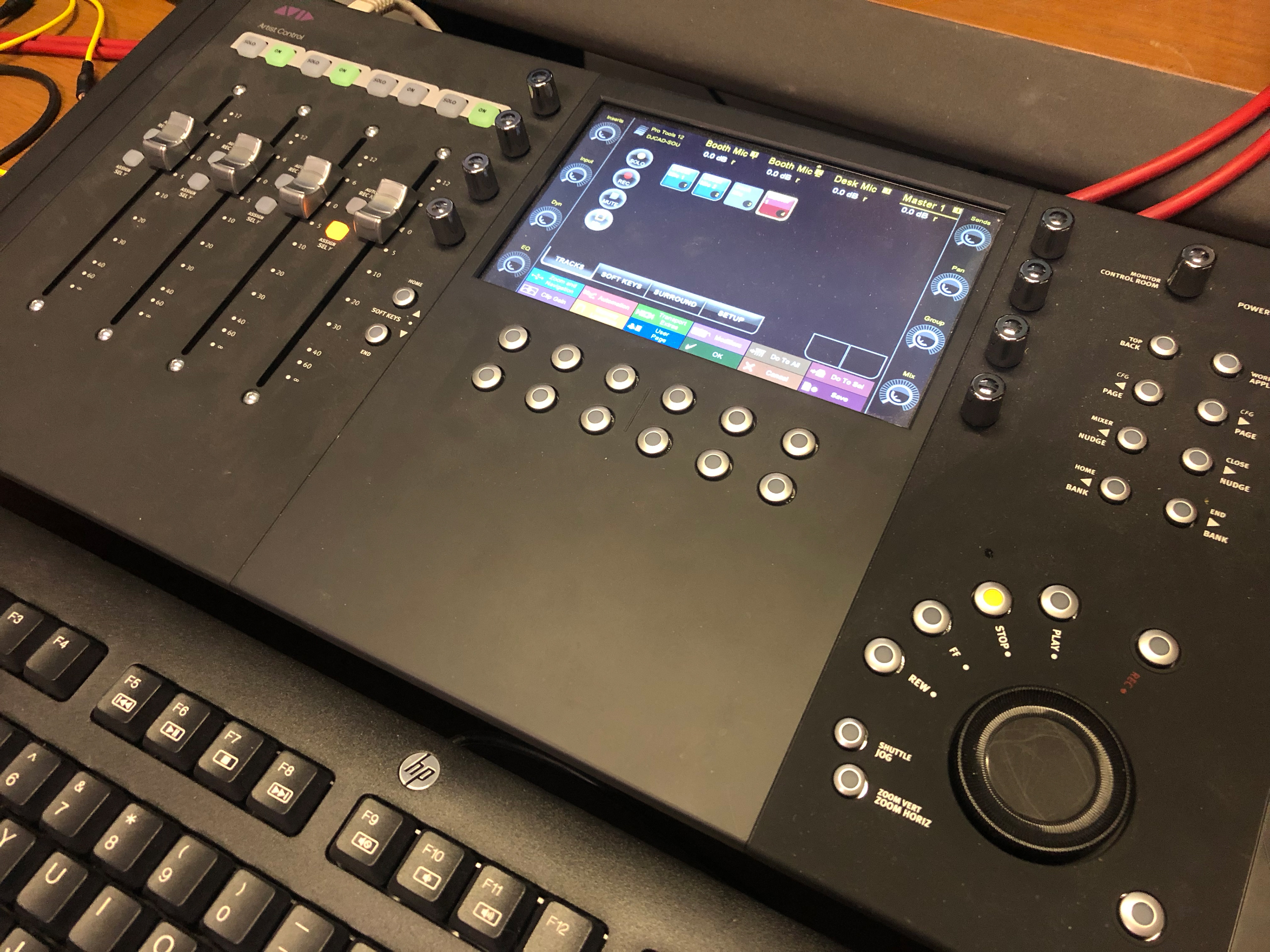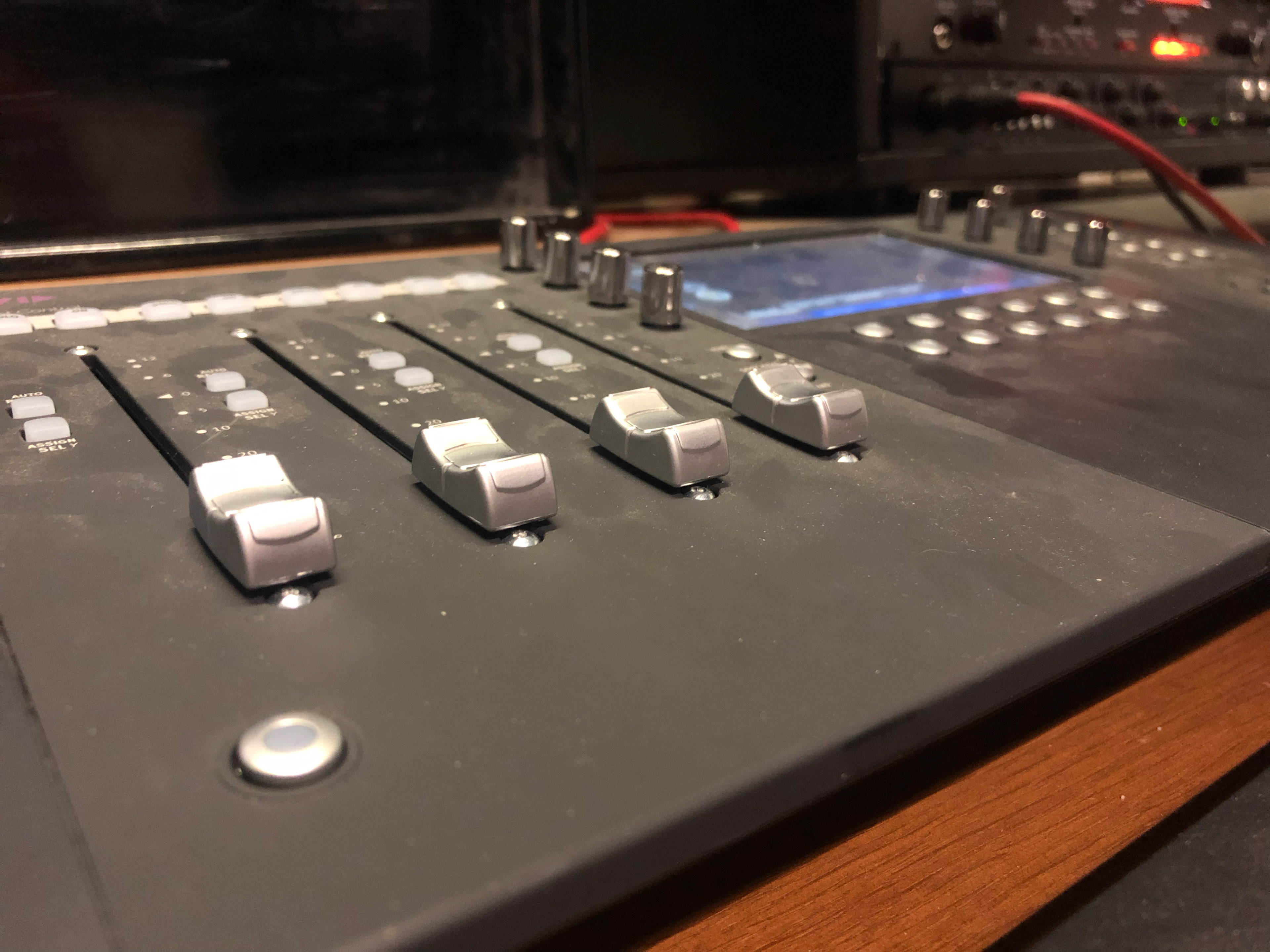 Whilst all of this has been going on, I have also been thinking more about the feedback that I got from the testing session last week in terms of thinking about the goal setting and rewards system and developing more of the game. I also really want to try to get the rocket animation on the launch screen connecting to the game screen as soon as possible. 
Setting goals
My app had a bit of a mishap, in that features that have been working since day one, no longer appear to play. I spent about half a day in Proto.io trying to fix it, but realised that with the art boards I have, I might be better off just re-designing in photoshop and then lifting it over to proto.io as soon as I get a chance. Not really what I wanted at this stage, but luckily I've been working ahead of myself with other deliverables to try and ensure I can tackle these kinds of issues as they arise.
I thought perhaps about having a few slight changes to the design in the process, and thinking the on boarding processing could too be simplified. It was during this redesign that I realised a bit of a fatal flaw in the app I had created, that it detailed two different journeys, but didn't share a common part to the app. It has made me realise that I need to go back to basics and start again from the dashboard. Adding in the set up and launch sequence as part of that dash.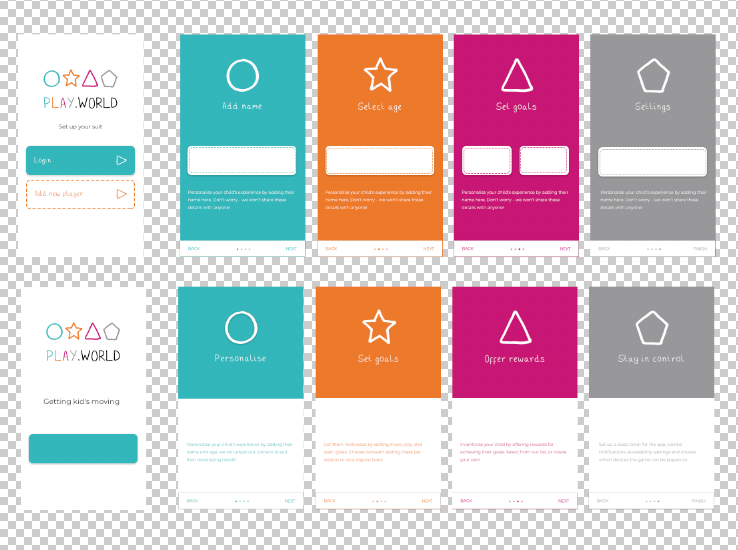 The rocket
I managed to get the launch sequence working, which is really exciting. I decided to redesign the rocket with a hand drawn version, that I then scanned in and coloured digitally by using two separate animation screens, the launch button on the app triggers both animations of the screen of the app and then on to the TV. I am actually really excited about this, as I managed to get it working pretty easily, and it makes me feel a bit more confident about my tech abilities!
What next?
It's the final week to go before the first set of deliverables, so mostly I am going to be working on those and just pushing to the final finish line. I have a lot more of the tech work to do than the physical making now. The first step is the app really, as losing my progress and then realising the fundamental flaw, were probably the opposite of what I need right now. However, I need to ensure the final bits for the game are put together. I have most of the art work complete now to go with my jungle theme, so really it is about getting it all together.