This week has been mostly further research whilst I've taken a few days out to celebrate my birthday! I have been trying to understand more about learning through play, and the importance of physical activity within this. I am trying to explore the ways where I can connect my insights from parents, through observation, interviews and the survey, as well as my desk research, to create personas for a family and use this as a way to start ideating, by looking at their needs, pains and what gains my ideas can initially offer them. By combining this with research about how education systems and companies deliver learning through play experiences, I am hoping this will generate even more ideas!
Where my head is currently at
I am still pretty astounded that 75% of children in the UK spend less time outdoors than prison inmates, so I am inclined to create something which encourages kids to go outdoors more often and spend more time outdoors. However, from my observation, interviews and the survey it revealed that this insight isn't purely because products or apps to encourage this don't exist, but there are many other factors. These being:
- Family life is very busy, there isn't always time to go outdoors (although when the opportunity does arise, it is a common activity).
- Many parents find it a struggle to encourage their children (older children, including those who can go outdoors unsupervised) to get off video games such as Fortnite and sometimes use screen time as a way to keep them subdued or give them "down time".

- In urban areas where there is less open space, it can be even more difficult to find the time and get outdoors more often. 
- Parent's were very keen to buy products / toys for their children that would help them learn and aid their development. Something that provides an educational resource for a child in a fun way will be a popular product with parents!
This has me thinking a little more about whether to aim for a project that focuses on the outdoors, or find a way that could encourage kids to be more active indoors. I am thinking more about video games, and if it's possible to use elements that make video games so addictive (WHO declaring "gaming disorder" to the ICD-11) in a way that is more constructive and helps to ease parental guilt about their child's screen use?
- Could the principles of video game design be used (gamification) to encourage kids to be more active? 
- Can video games be more constructive to kid's physical and cognitive development?
- What elements of learning through play can be harnessed and encouraged through gamification?

I decided to look further in to education systems and companies that promote learning through play, and how they are currently tackling and adapting their approach to learning through play in a contemporary digital society. I wanted to look at the education system, and also look at Lego (as they were one of the most popular toy companies mentioned by parents from my survey).

I found that in Finland (who boast the Europe's top education system) their children do not start academic education until they are 7, and instead the focus is on learning through
play in nurseries and daycare centres
. I then began reading the Lego Foundation's Learning through play review
(which can be found here)
 and was able to understand that learning and development through play is all connected. Learning one skill (such as when a baby learns to communicate or learns to hold something) then leads on to being able to develop in other areas. 
The Lego Foundation (Learning through play white paper)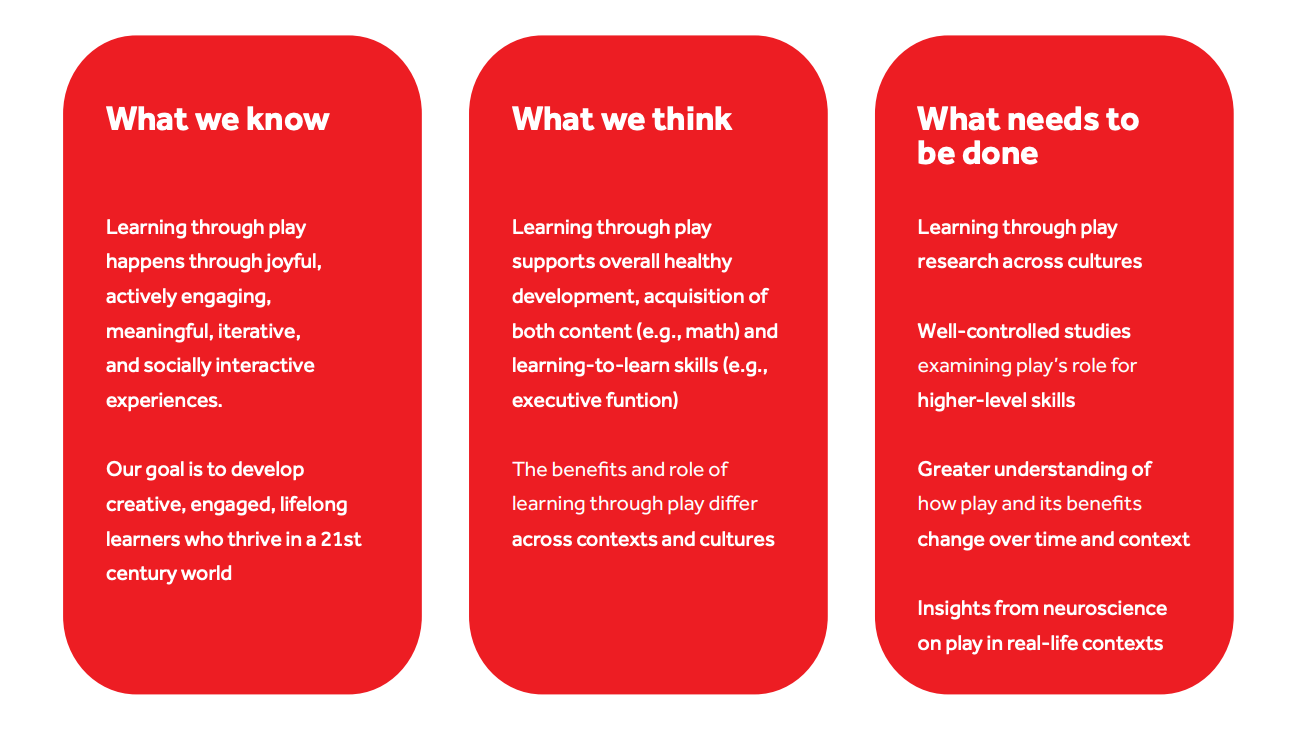 This is an overview from the Lego Foundation white papers, it was a really interesting read to see how they approach learning through play, and potentially how this translates to their product development (including part of what still makes their products popular).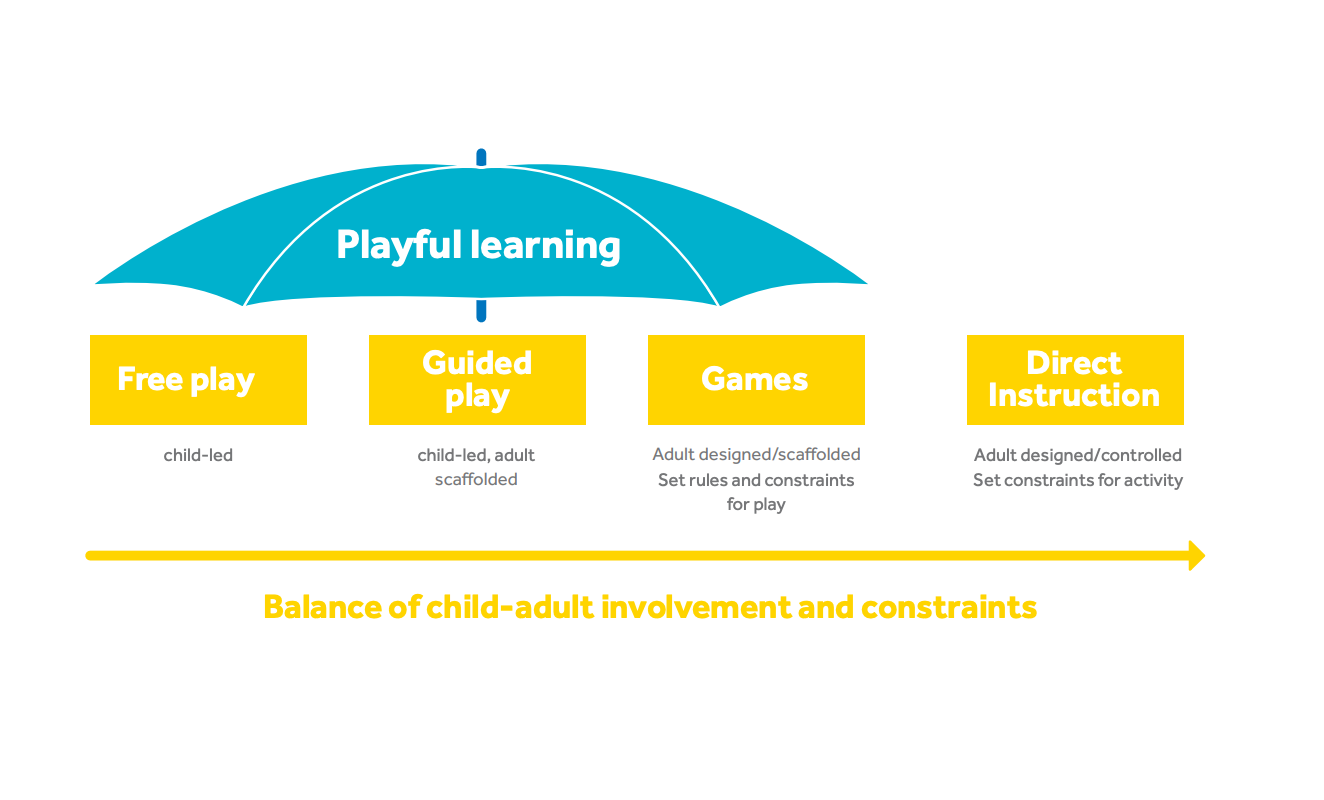 Lego suggest that regardless of what type of play the child is engaged in which Lego suggests there is free play, guided play, games and direct instruction that play should be (whether simultaneously or not), joyful, meaningful, actively engaging, iterative and socially interactive.  The following shows a bit more in depth thought behind these principles, and how I can perhaps relate this to my project: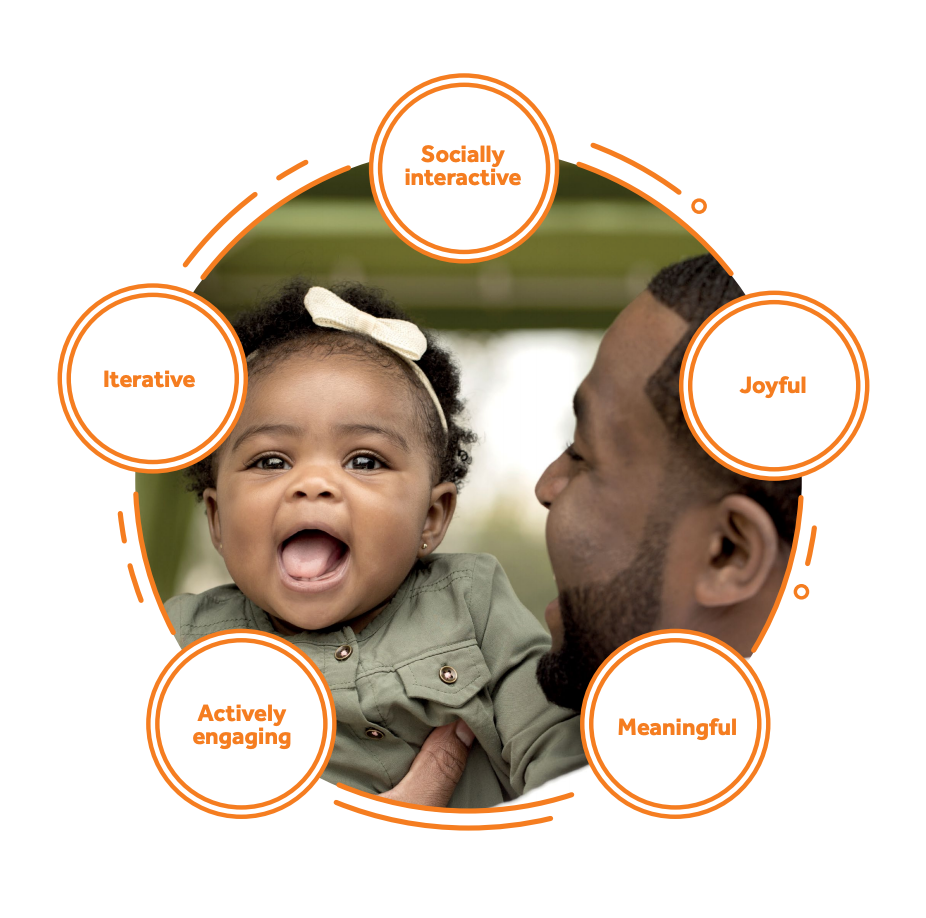 Joyful
Defined by the Lego foundation as pleasure, enjoyment, motivation, thrill and a positive emotion, joy is seen as a key facet of play. That being whether it is over a short period of time or the whole play session. 
The Lego foundation white paper explains that joy (in terms of developmental research) is linked with interest or motivation. So perhaps uncovering insights as to how games and play (specifically physical) can be encouraged and how to keep kids motivated, is also a way to make the experience or product I create joyful. 
It also expresses the importance of learning through emotions such as joy, that is it integral to the neural networks responsible for learning (Immordino-Yang & Damasio, 2007). That emotions such as joy increase dopamine levels in the brains reward centre and is linked to enhanced memory,  attention, mental shifting, creativity and motivation. Therefore by creating a joyful learning through play experience, we can sometimes find it easier to grasp new skills - which is probably why kinaesthetic learning can be really useful for some types of learners.
In terms of exploring how my experience can be joyful, it may be an idea to look at what motivates different personalities and how they play (whether they like to be rewarded, are just curious etc...) and how this can be used to enhance the experience.
Meaningful
This essentially is about finding meaning in the play experience, and how it relates to the real world. This is possibly why I have experienced so much enjoyment through "small world play" when observing with Caitlyn and her friends. Lego suggest that in play, children will often explore what they have seen and done in the real world, and translate this in to a play situation. This type of play is all about thinking about things within a meaningful context and being able to draw on existing knowledge, make connections, and to gain a deeper understanding of the world around them. (This is something I uncovered when looking at the taxonomies of play - things like deep play, fantasy play, imaginative, recapitulative and object play). 
This principle makes me think about the content of the experience, how to create an experience that doesn't just spoon feed the children with information, but encourages them to use their imagination a little more and make their own connection.
Actively engaging
This principle is about encouraging a child to be immersed within what they are doing, by getting them to actively explore within the context of what they are doing, rather than being offered direct instructions. 
In terms of being able to deliver an experience that does this, it is similar to being meaningful, where the child is given the freedom to explore and make their own connections and figure things out. 
Iterative
Neither learning or play is static and it is an iterative process. My guess is this is why parents from my survey suggested that so many toys and games can sometimes be outgrown by children very quickly and the ability to either grow with the child, or have further uses once one skill is mastered, it can unlock another etc... would be really useful to have. A certain amount of multi-purposeness to it.
With iterative play, it gives the child enough freedom to try out new scenarios and different possibilities (giving children agency over the direction of the play).  
I think for my project, it would be good to bare this principle in mind and ensure that the experience isn't too structured and has multiple ways to be interpreted for different levels of development. 
Socially interactive
Although some play activities are solitary, there are benefits to social interaction and children learning and developing their social skills. Whether it is learning how to communicate, understanding how others think and to develop deeper understanding of relationships. I think this could be important to my project, specifically where families have more than one child or to perhaps bring the whole family together. 
The social aspect was something which seemed to be very important to many parents during my user research phase, so I want to ensure that this can be addressed in someway. In terms of an outdoor playground style experience this would potentially be through a combined / shared space. But how could this be adapted to an in home experience, specifically if my target age range is 4 - 10, with specific privacy issues arising from connecting children to one another on social networks / video games / apps etc...
What next?
The research so far this week has felt very insightful and I feel that I am ready to generate my personas for a potential family focusing on the children's developmental needs as well as their wants, and the parents worries and concerns. I also think it might be useful to update my objectives / principles for the design process based on the information I have gained so far from my desk research. I also think it's a good time to start ideating! So that will be next as I want to start getting ideas and sketches together for the sketch prototypes and Guru's day.