I have to present my concepts so far at the interim presentation, so I have spent the rest of the week since getting back from London and Denmark putting my two similar but slightly different concepts in to some kind of order so that I am able to articulate these at the presentation. The videogame exhibition (particularly the room with the wearable controllers and different approach to playing gave me a few ideas about a different type of wearable from what I have been working on - so I wanted to try develop this idea as well as the onesie idea).
Concept one
This is the primary idea I have which is the wearable controller. I have been thinking also about how to re-imagine the screen, whether it could be a narration and story based game, without any graphics. So I created a storyboard to try get a sense of how this interaction and experience could work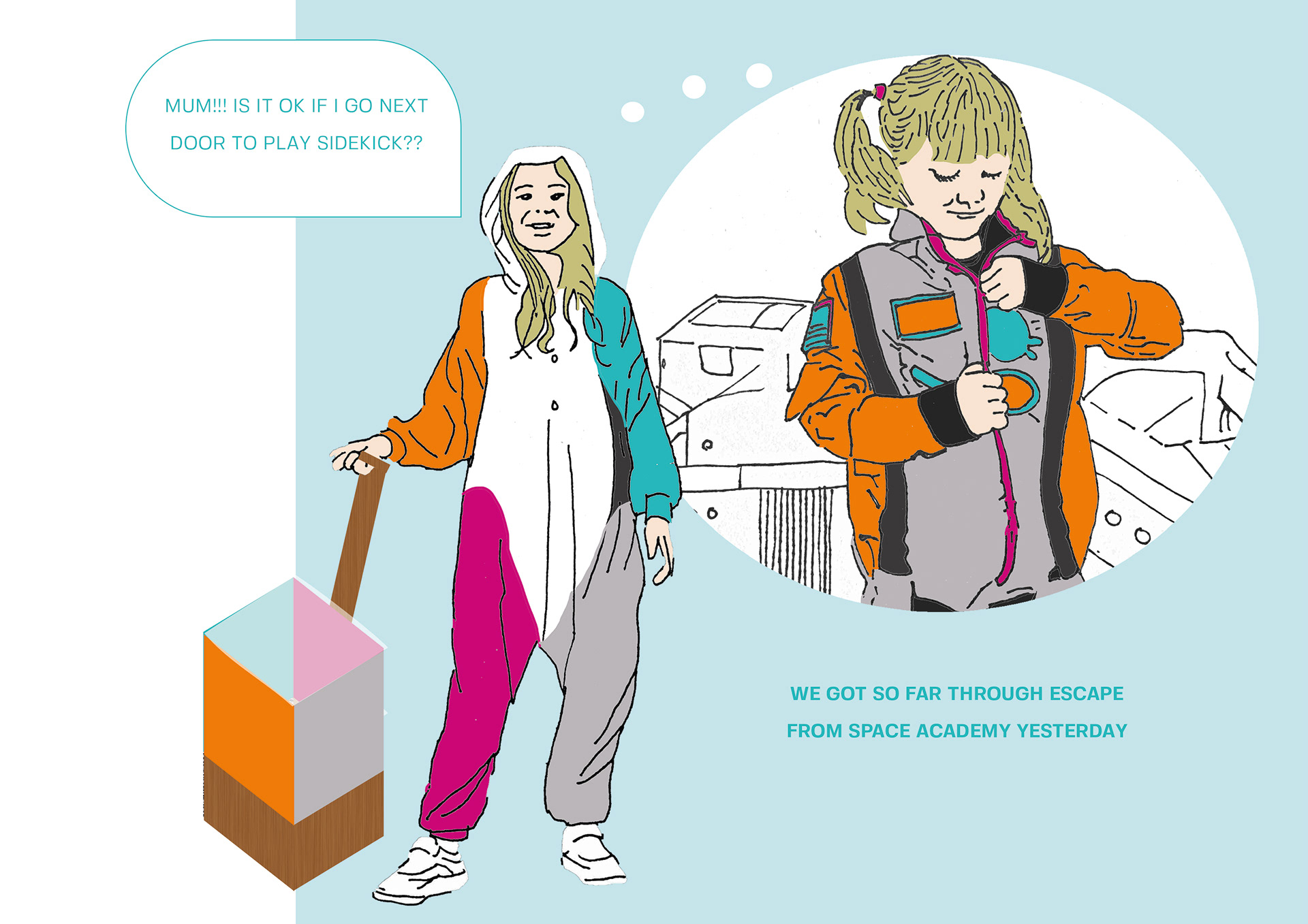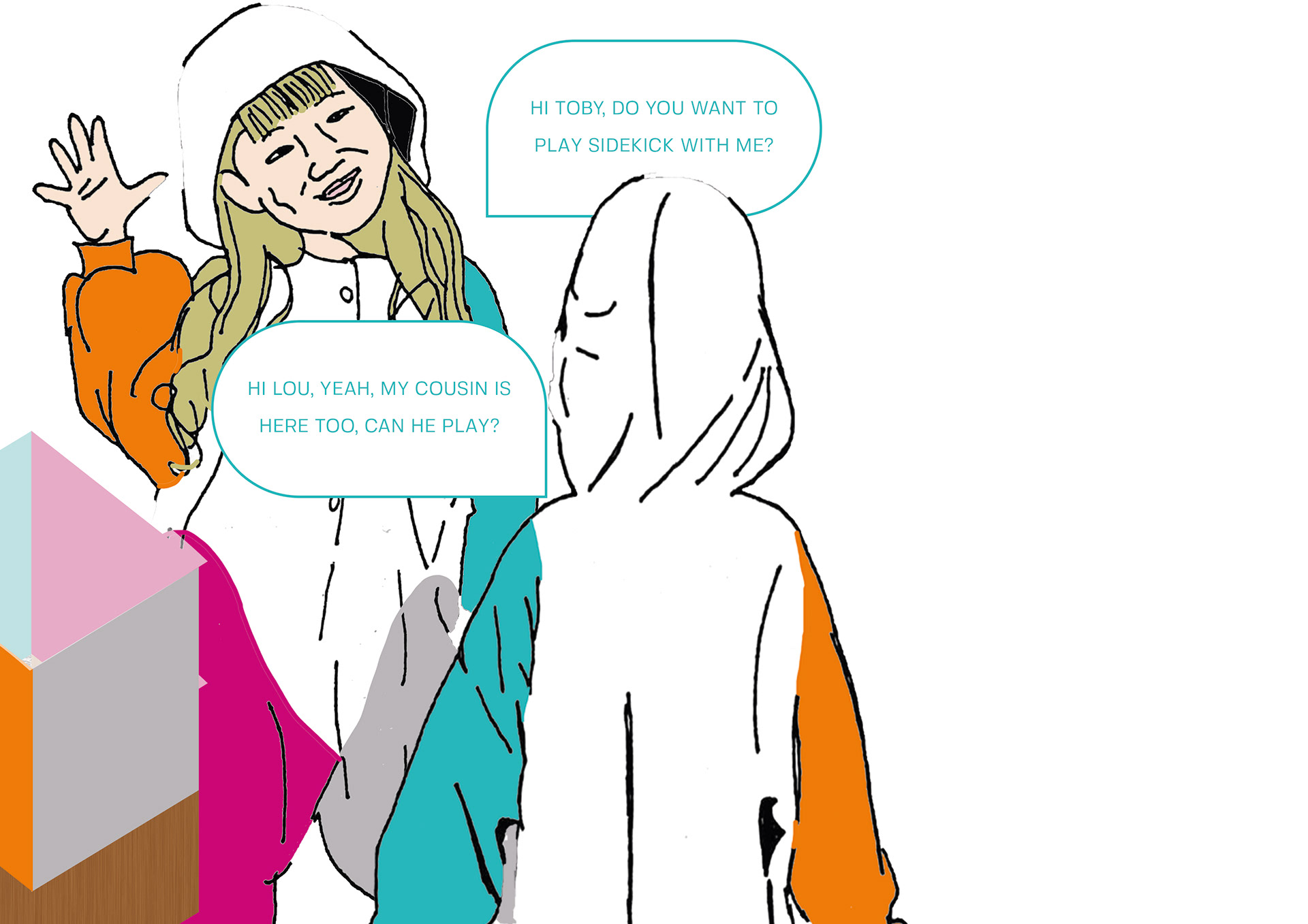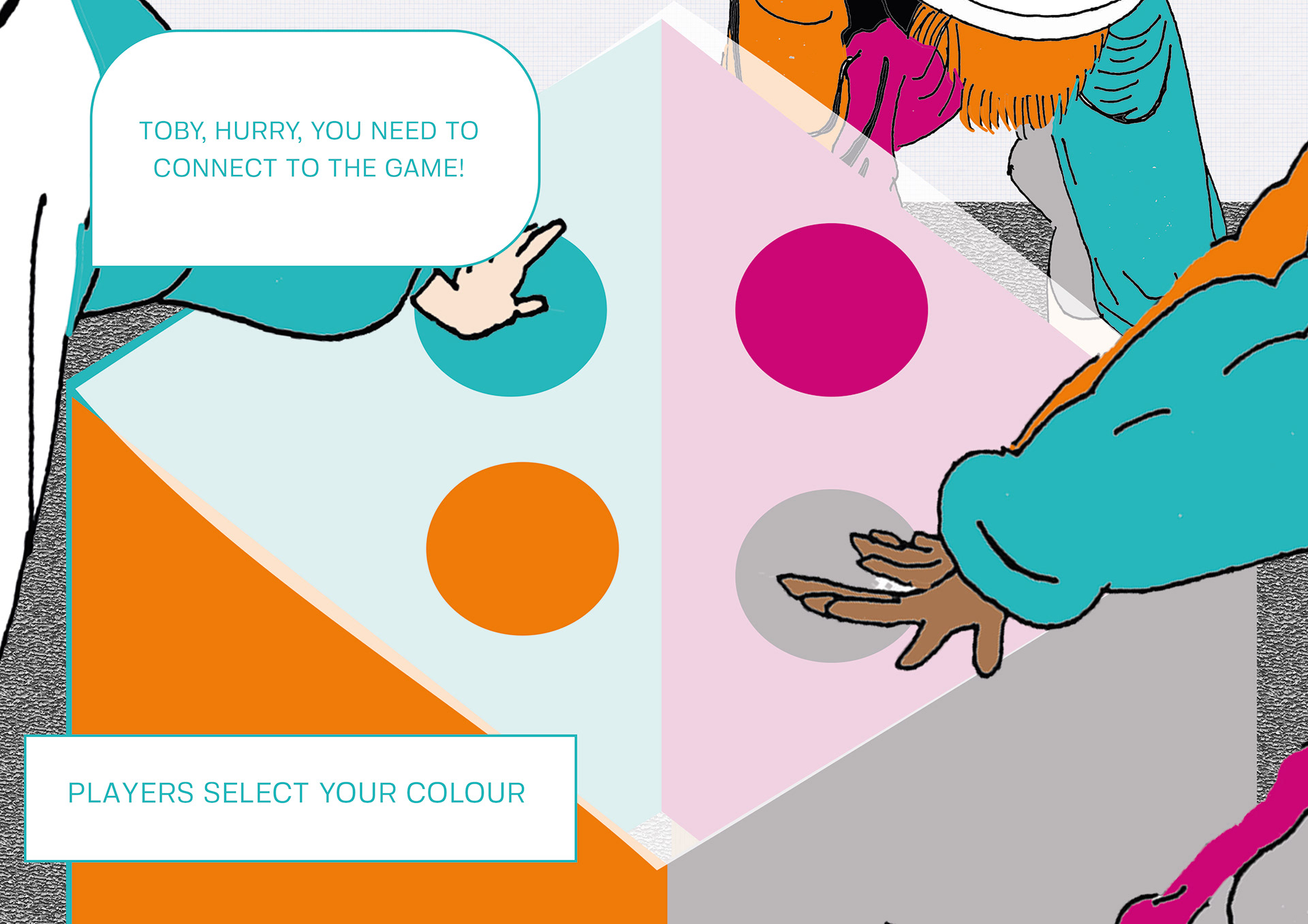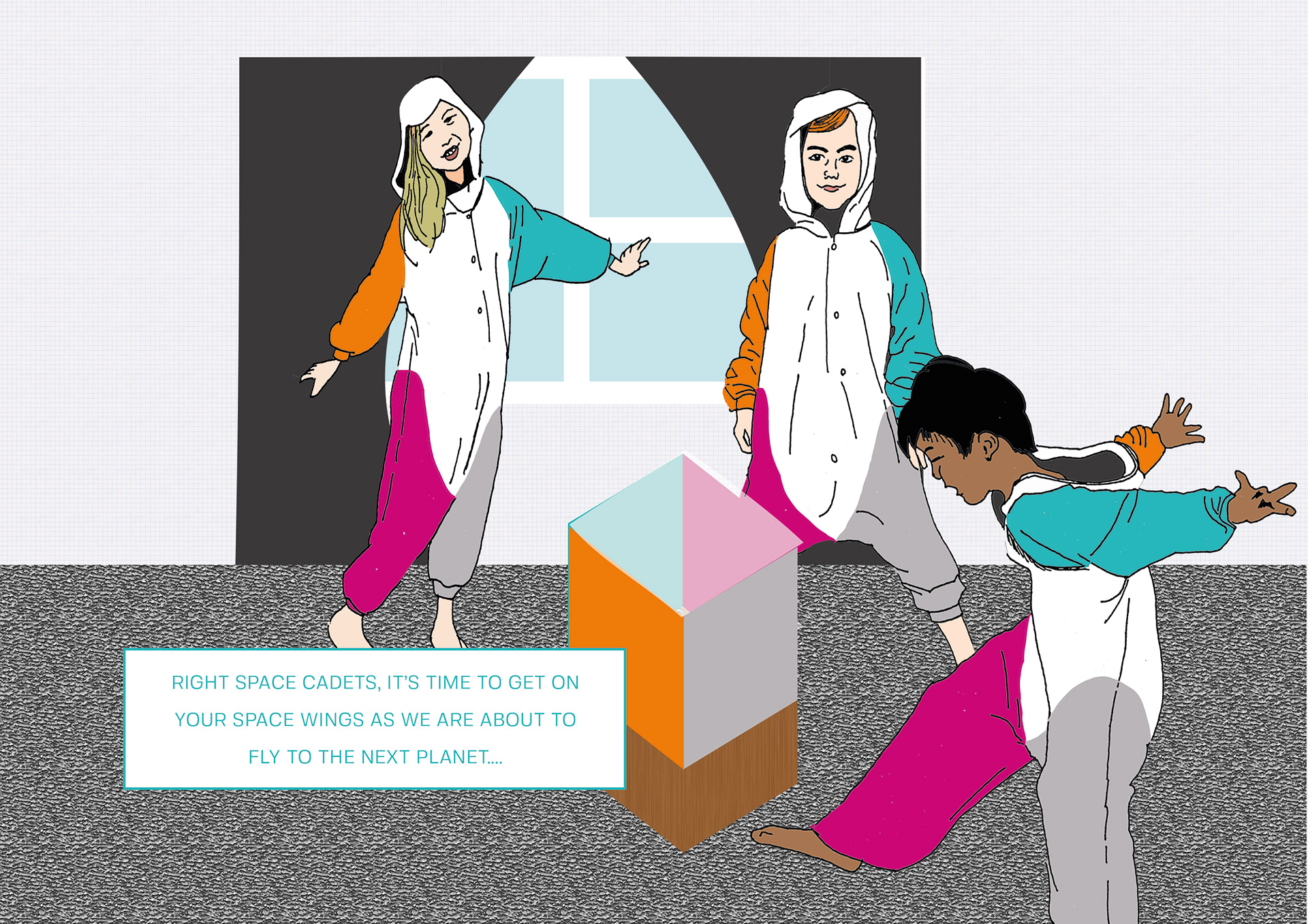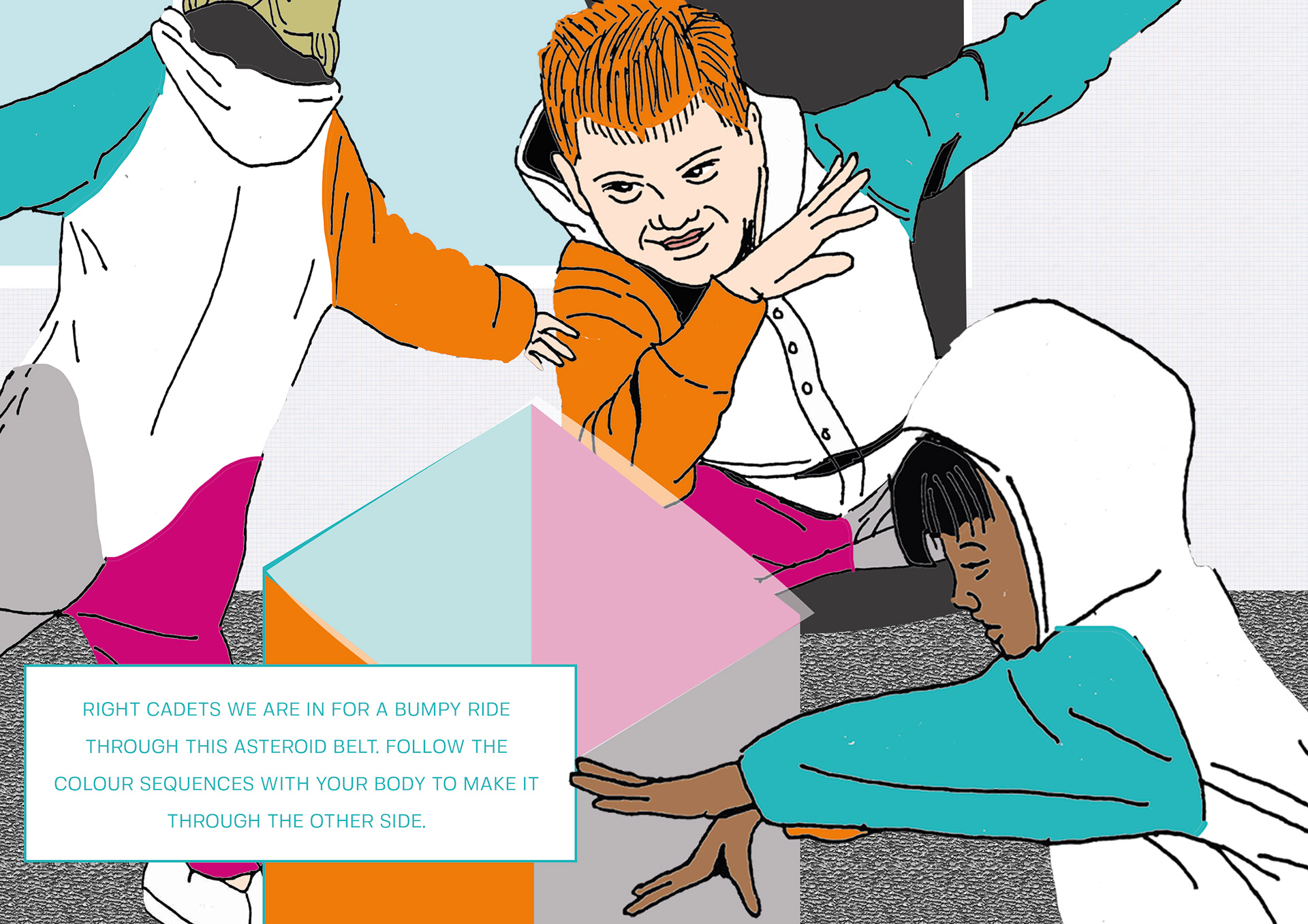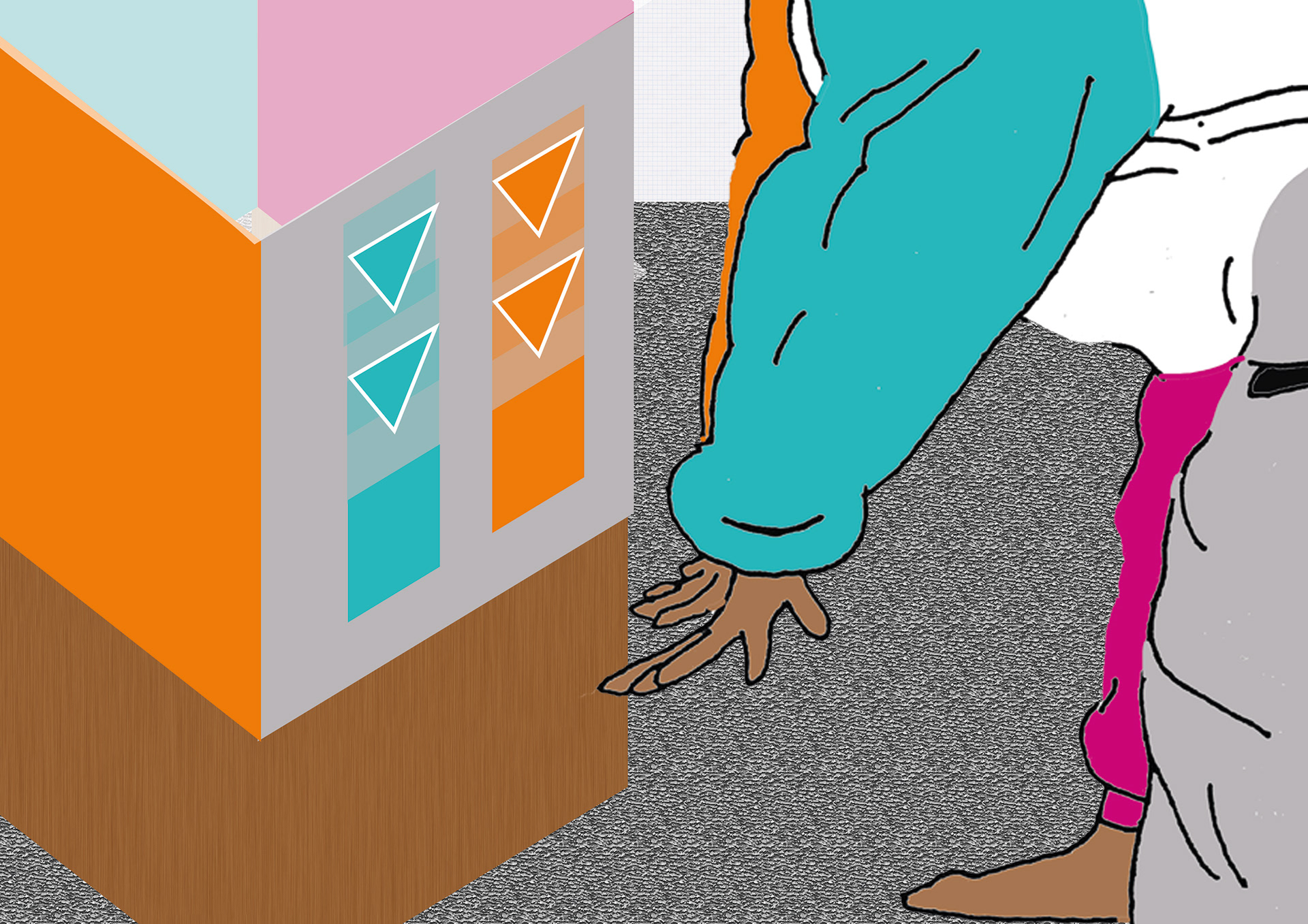 I have been thinking more about how the design of the onesie can read more as a game controller or a piece of tech. I have also been thinking more about how the design can be used to offer more types of interactions. With the Playstation controllers they use shapes to symbolise different buttons that can be pressed that do different things. This got me thinking more about perhaps patterns that could be applied to the limbs of the onesie to symbolise this. 
So I have been generating some potential pattern ideas. From the pilot suit and the dying process, I learned to get the colours I am wanting that I would need there to be some kind of digital intervention to ensure the colours are right. So I decided to mock up some patterns the way I would at my Dreamland internship when I was digitising the CAD's for the factory and inserting the print. This would give me an idea of how it could look if I wanted to go this route: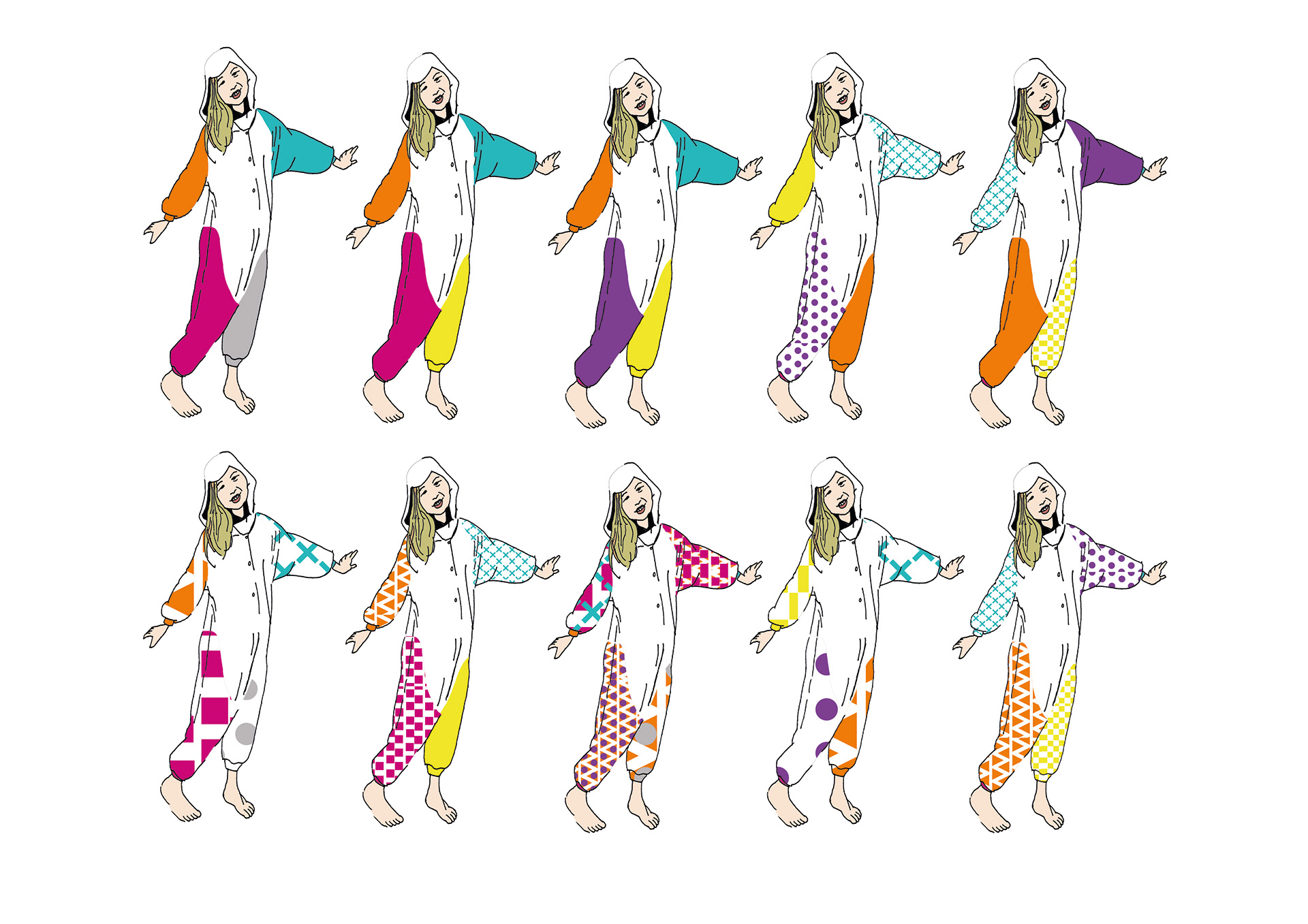 I am still slightly concerned by the accessibility of this type of wearable as it really favours anyone without any type of accessibility issue. However, playing with the patterns and thinking about how these shapes could tesselate got me thinking about the design for my alternative concept.

Concept two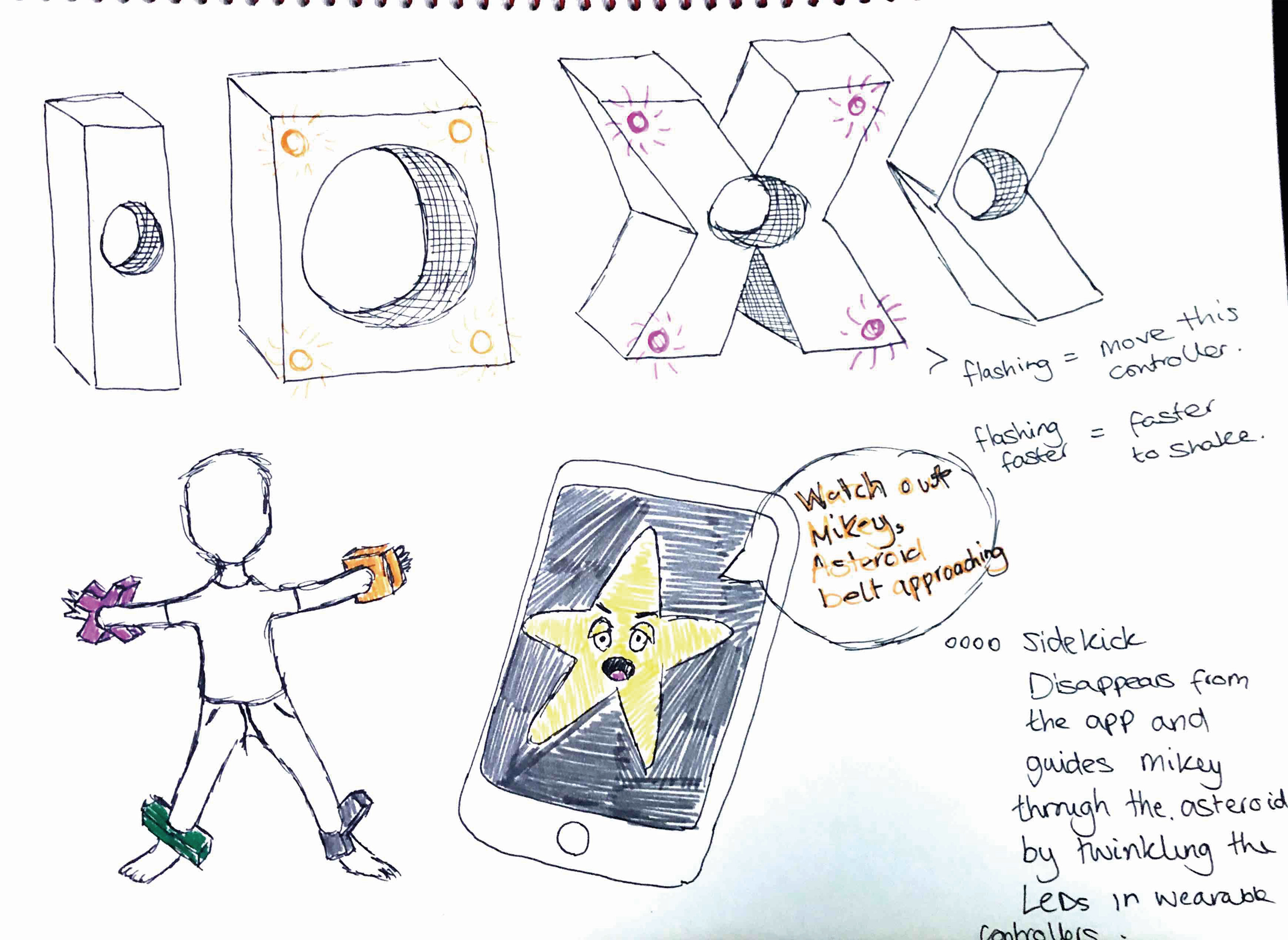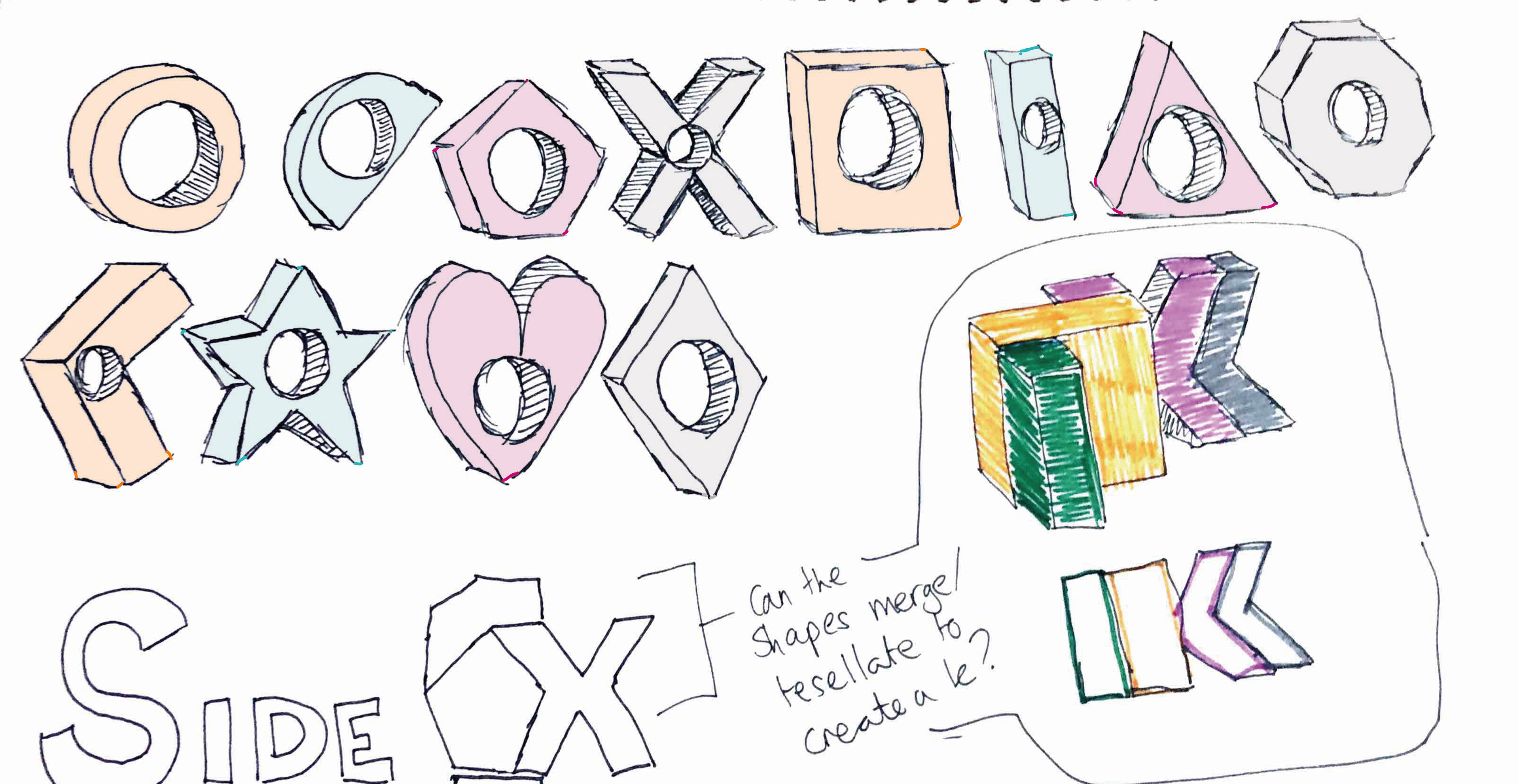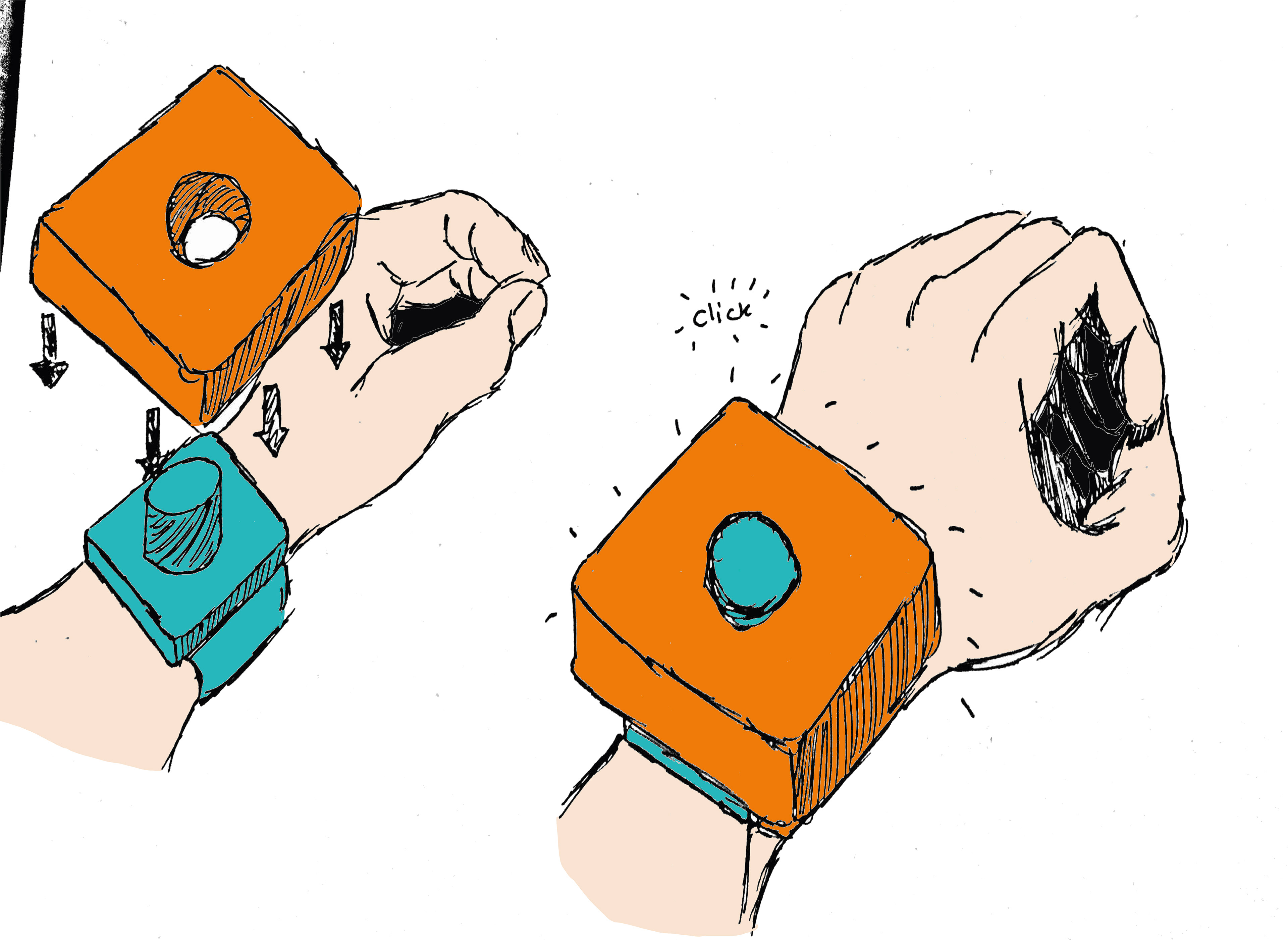 I wanted the shapes to all link together and discovered I could make a 'K' from the Sidekick name which could perhaps form part of the branding. This encouraged me to create some higher fidelity sketches in photoshop of how they could look and then using Lego and cardboard to put together a really quick and easy prototype that I can potentially show alongside the pilot suit to gauge what is more appealing. The thought is that each controller can have LED's or speakers inside, so that you have to react to the controller which is making the noise or flashing lights to play the game. (This idea was inspired quite heavily by the aliens game with the lever from the V&A exhibition).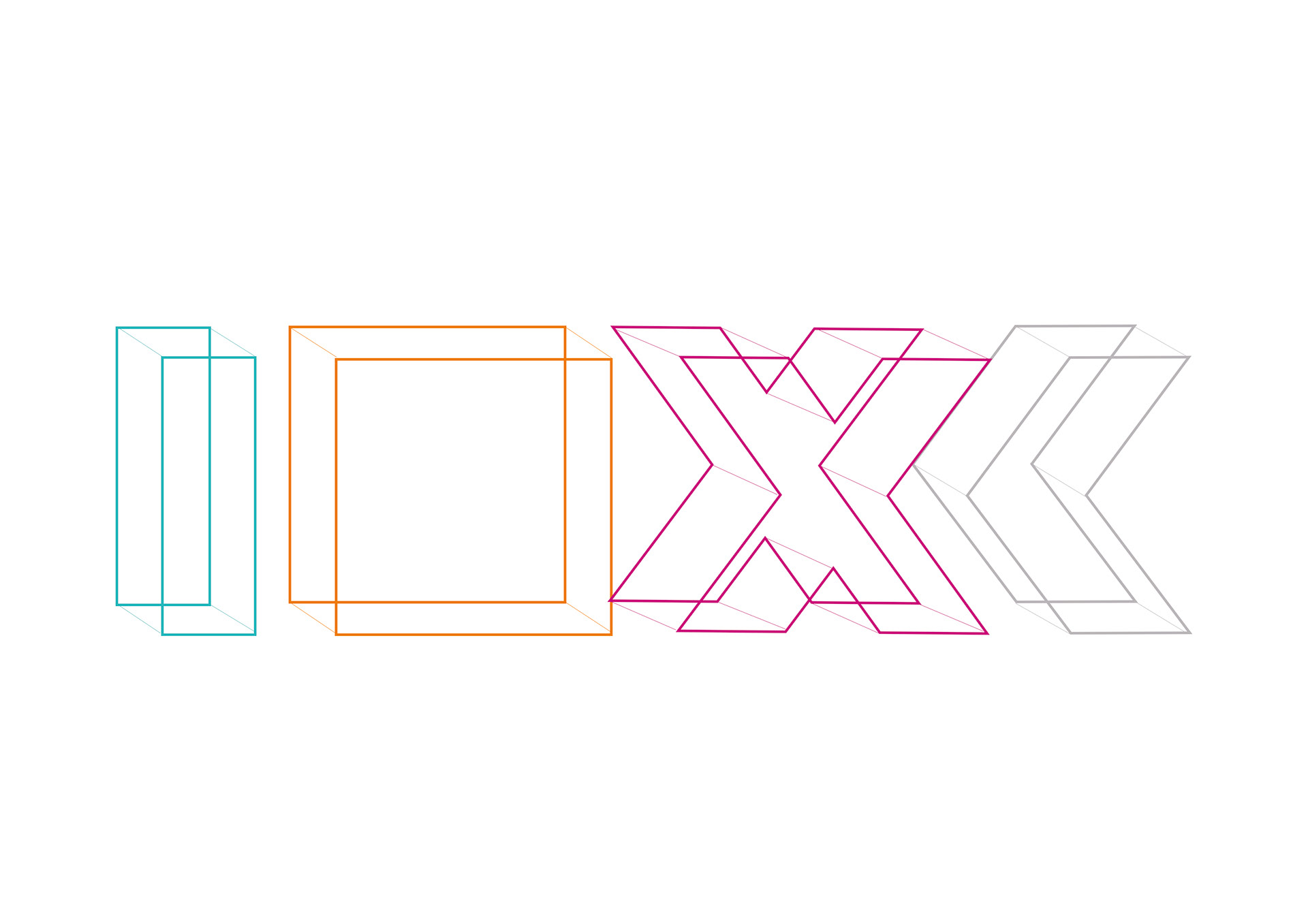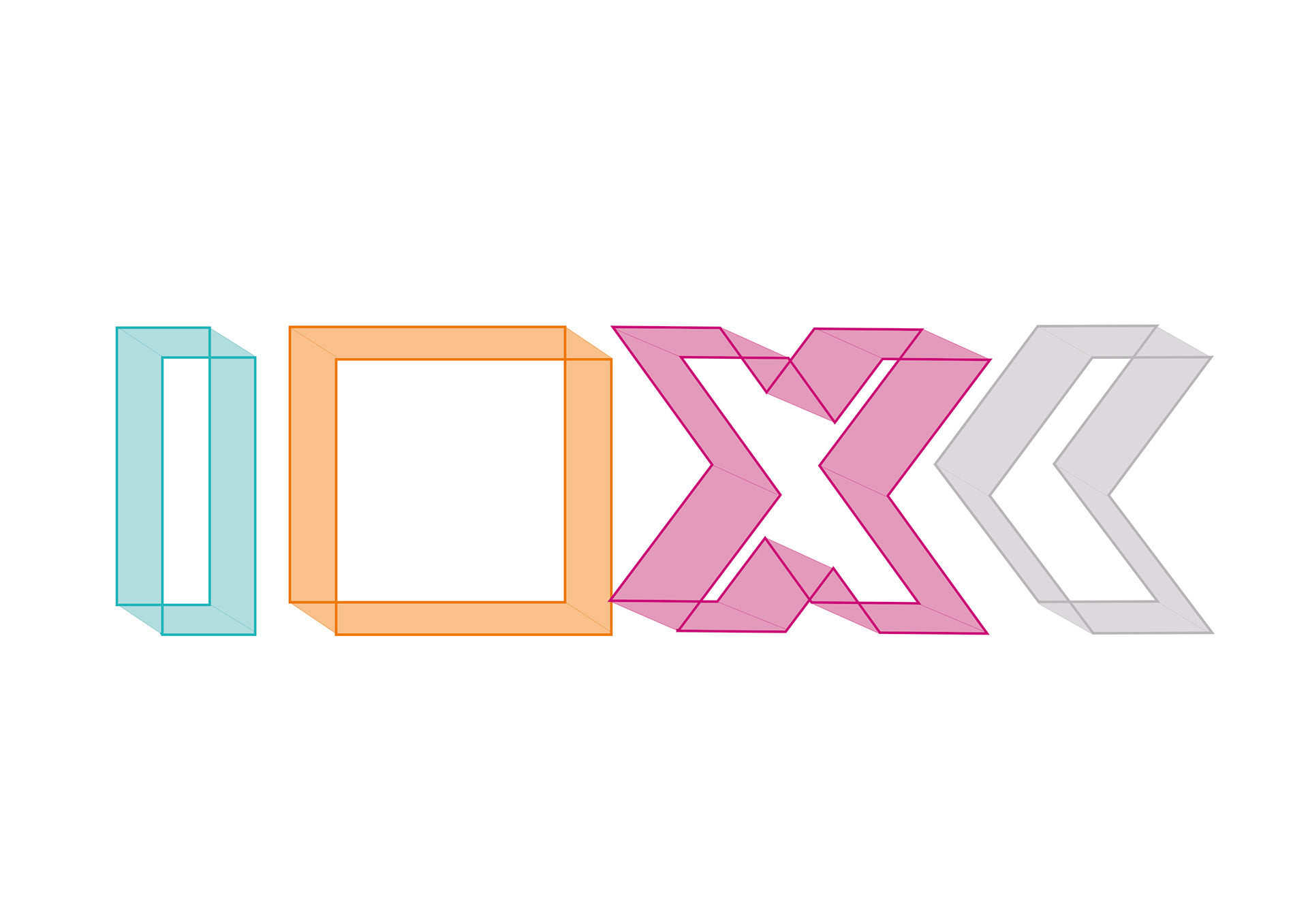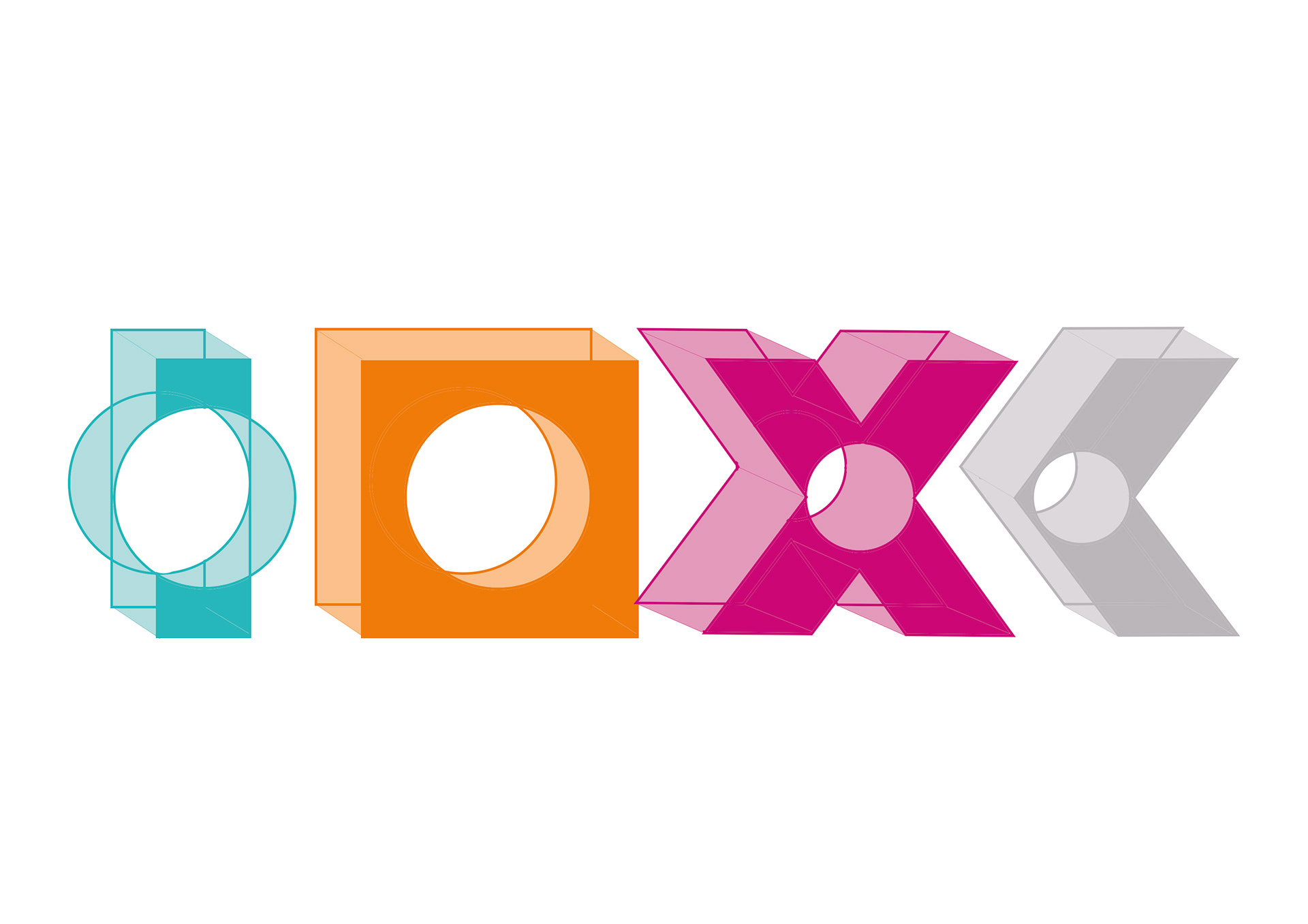 I then decided to start putting together a Lego and cardboard prototype of these options. Initially I was thinking that the wrists or legs could go through the centre of the controller and this could clip together, however that may cause different issues for each controller depending on the shape. So I have decided to go for the wearable wrist strap where the shape controllers slot on.
I made the wrist strap out of Lego and some elastic, and the controllers have been made out of cardboard and paper.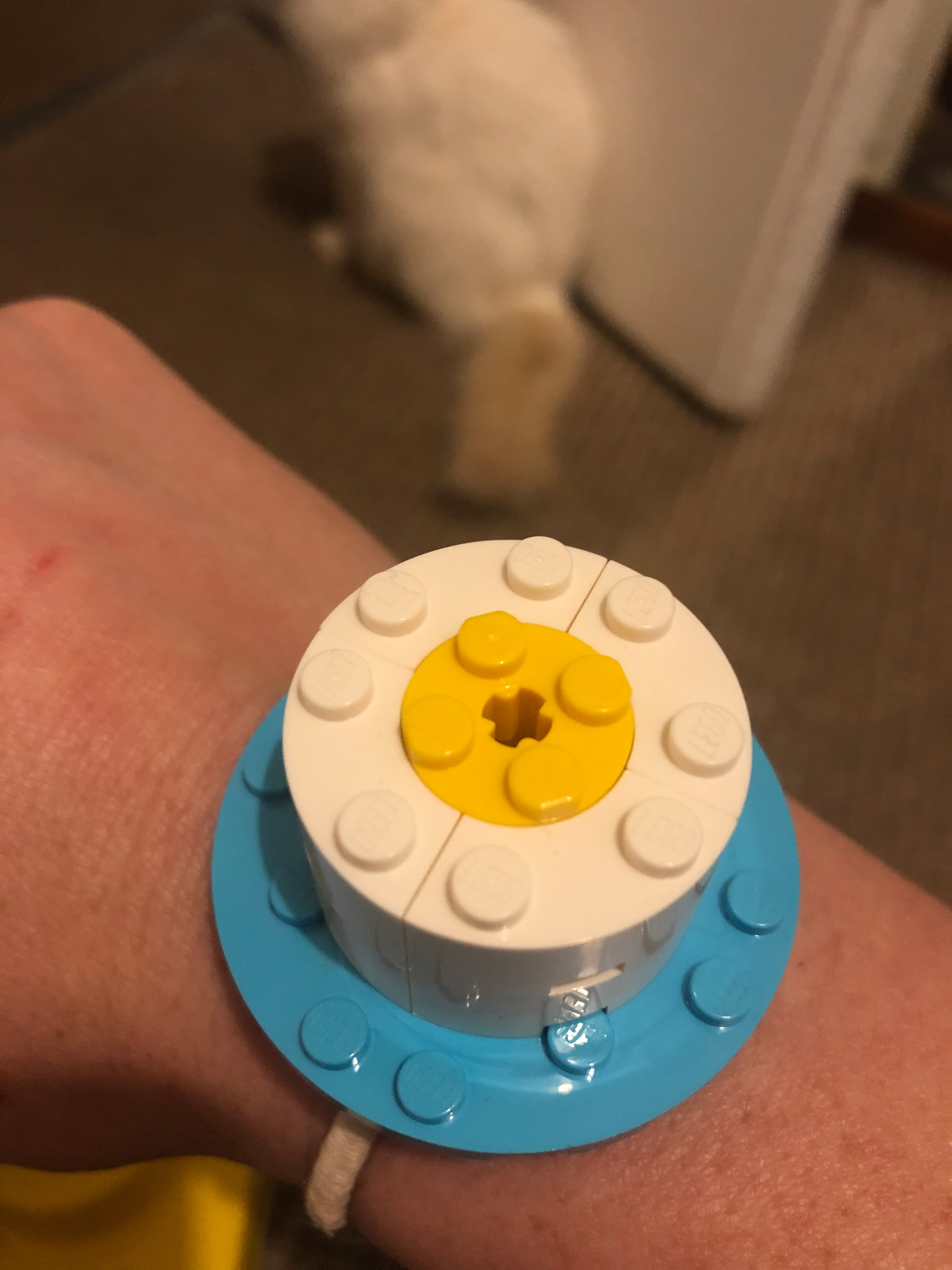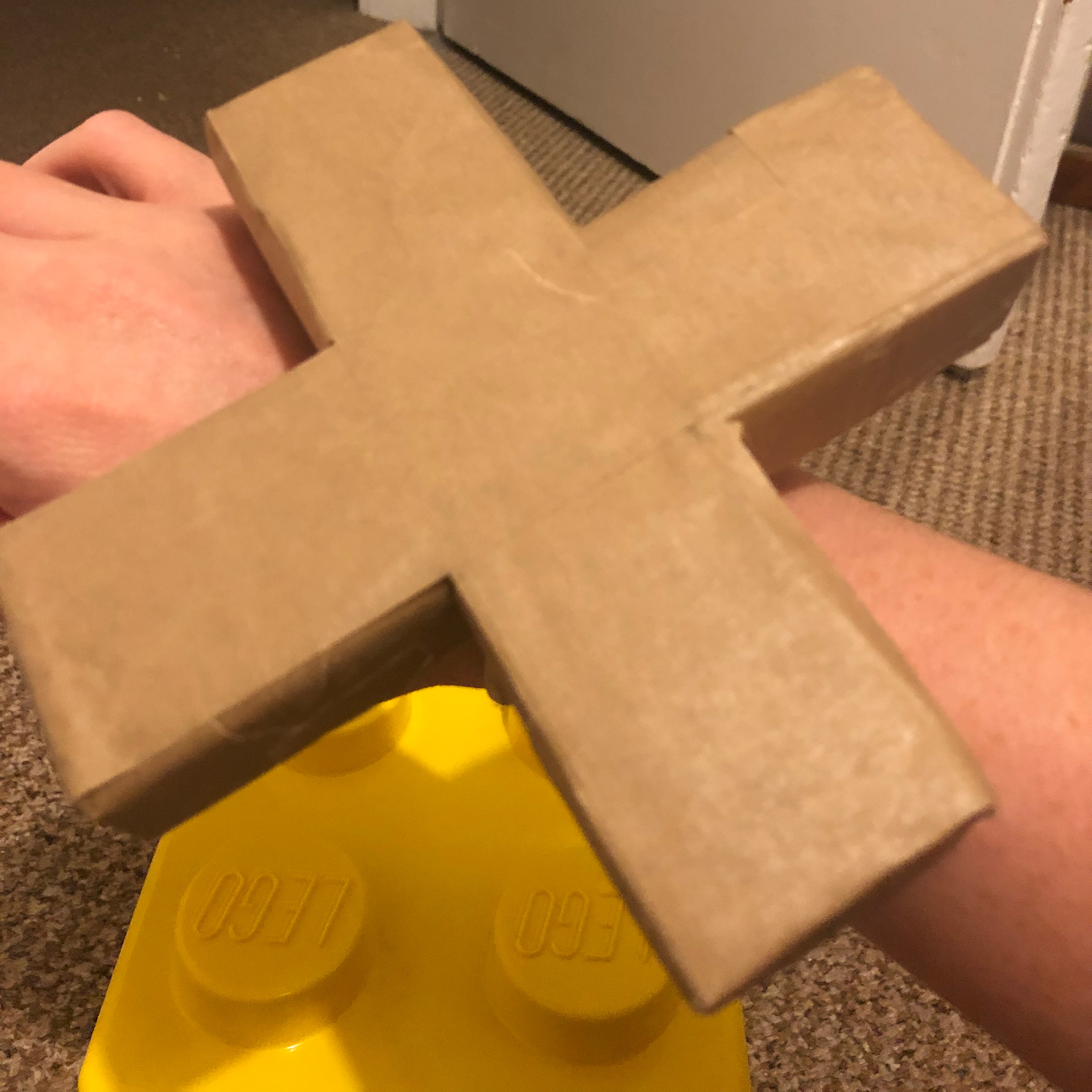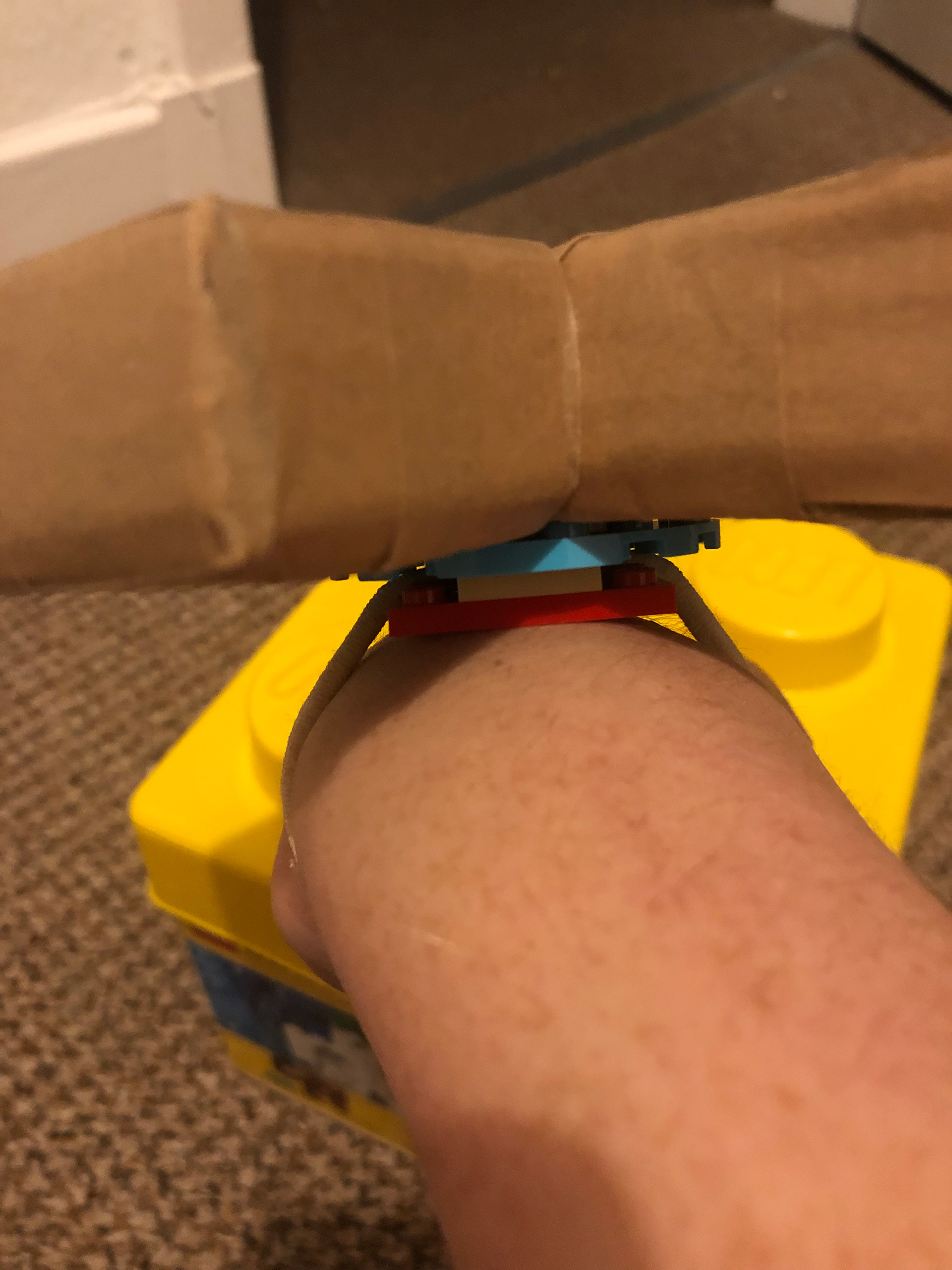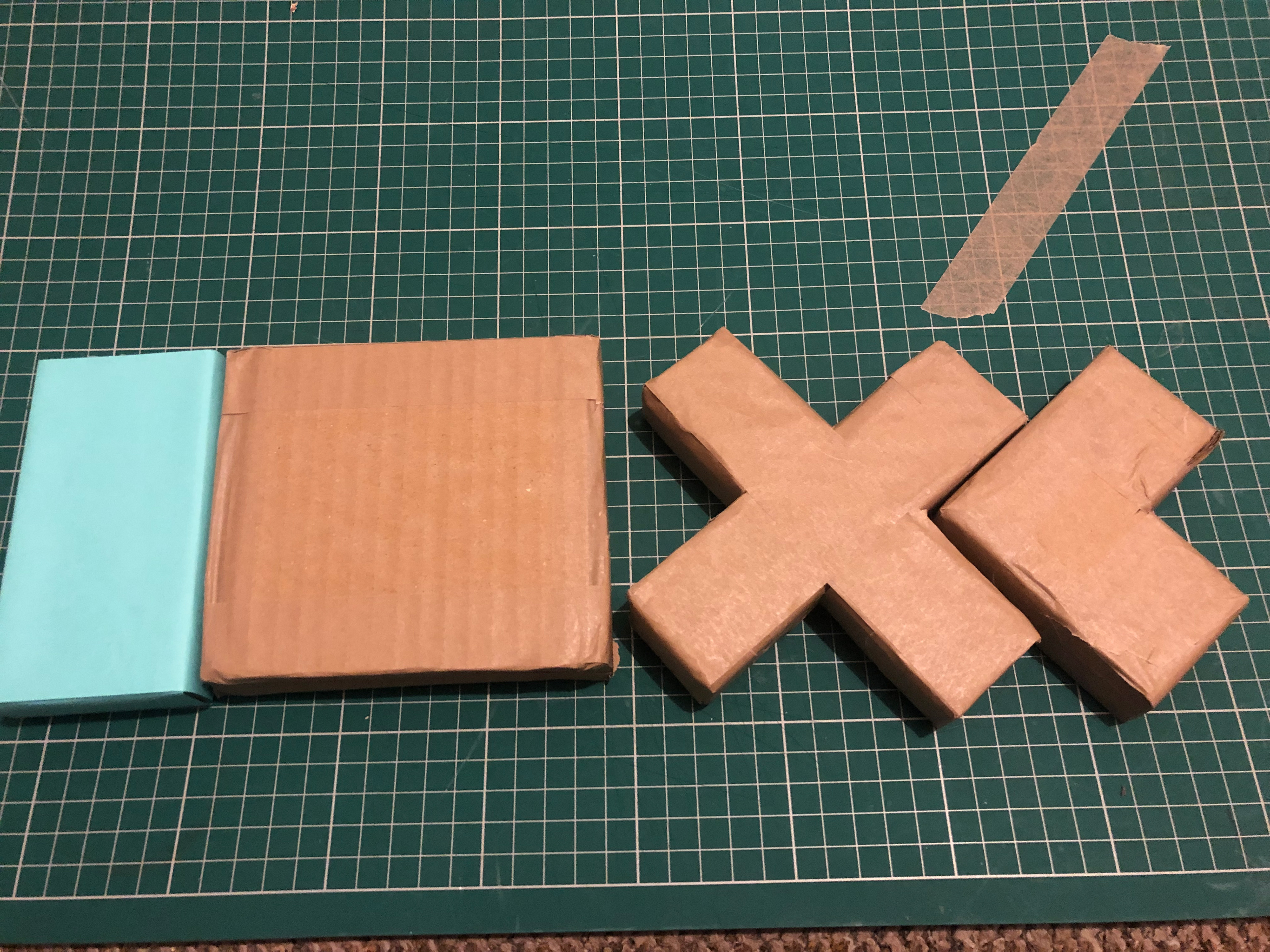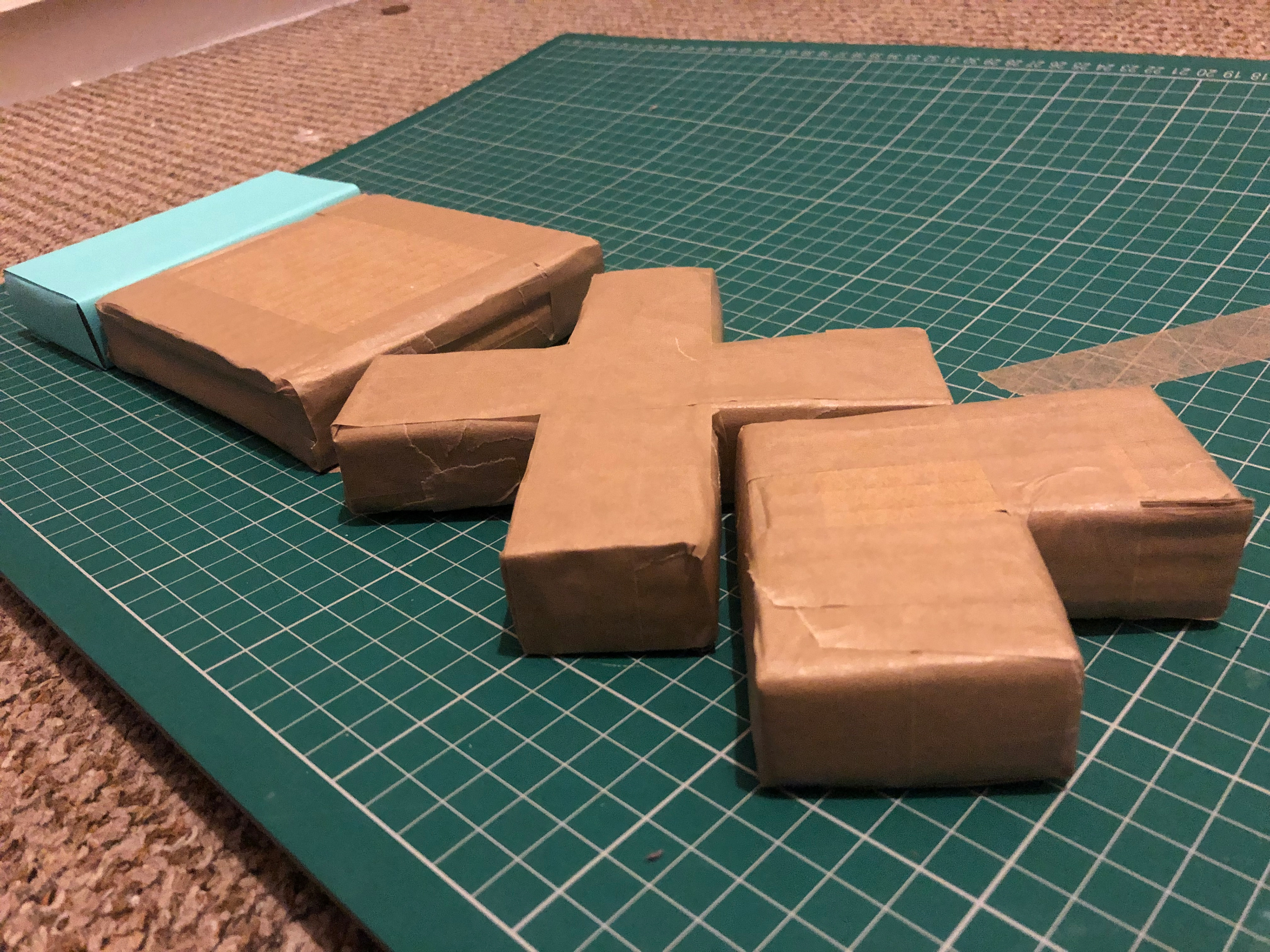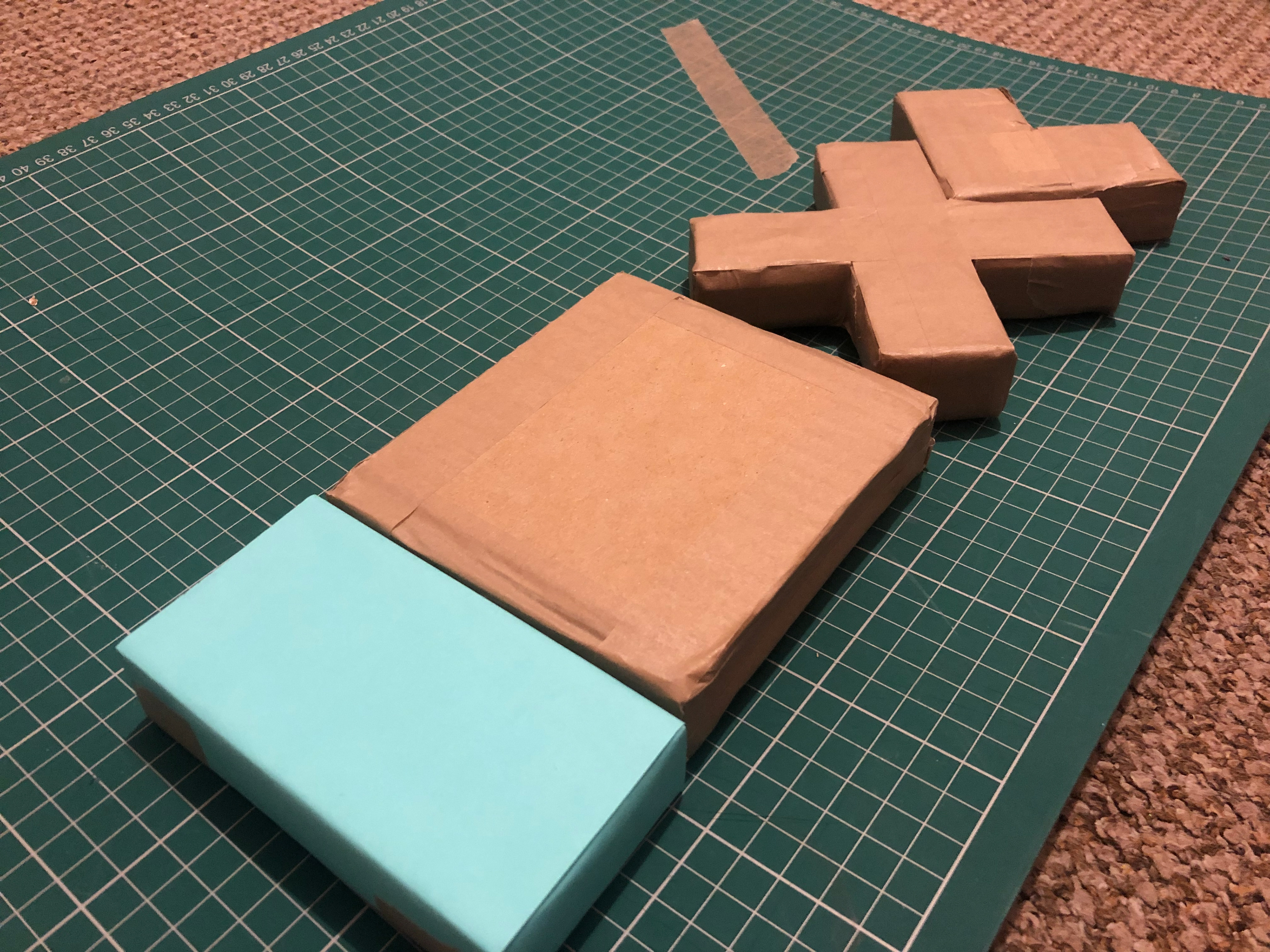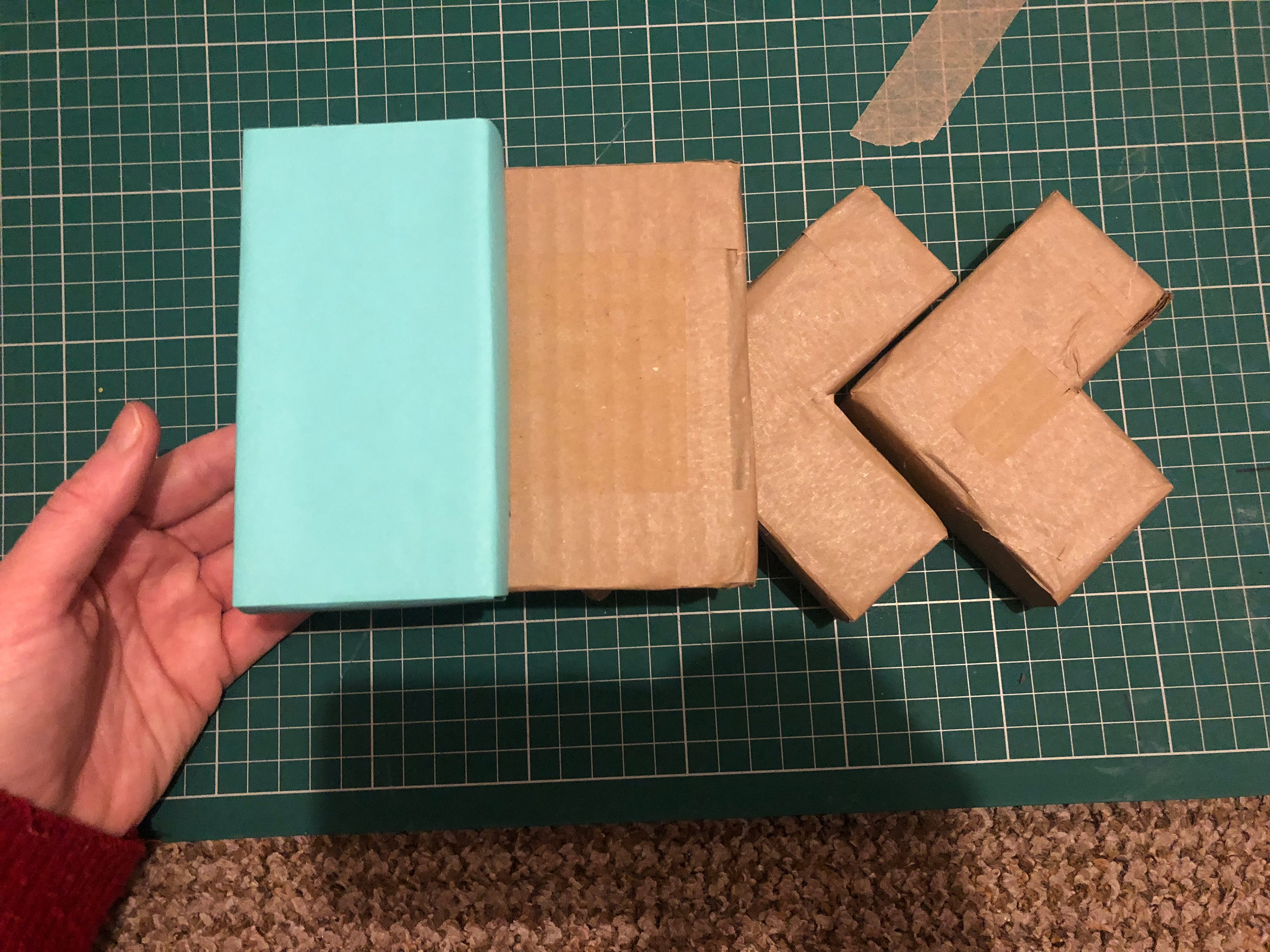 Having tried them on myself, I feel they would definitely need to be a lot smaller especially for kids. I am also concerned about the weight of these on a child's arm and legs as it may prevent them from being able to play for as long (although the sensors in the onesie may also be as problematic). I really do like the idea of them stepping in to a character as well, which I don't feel this option has the same impact of. Therefore I believe my preference is concept one. However, I want to use these prototypes to go back to the parents I have been speaking to and get their opinion, as it's not me I am designing for - so my preference doesn't overly matter. It will also be great to get some feedback at the interim presentations that are coming up next week. 
Branding
I have also been thinking about the branding, as I feel this type of product would require a strong brand influence and design language to be able to interpret as a piece of technology (especially the onesie), so using the patterns and shapes I have been working with for the concept two prototypes I have put together a style sheet which shows some of my options.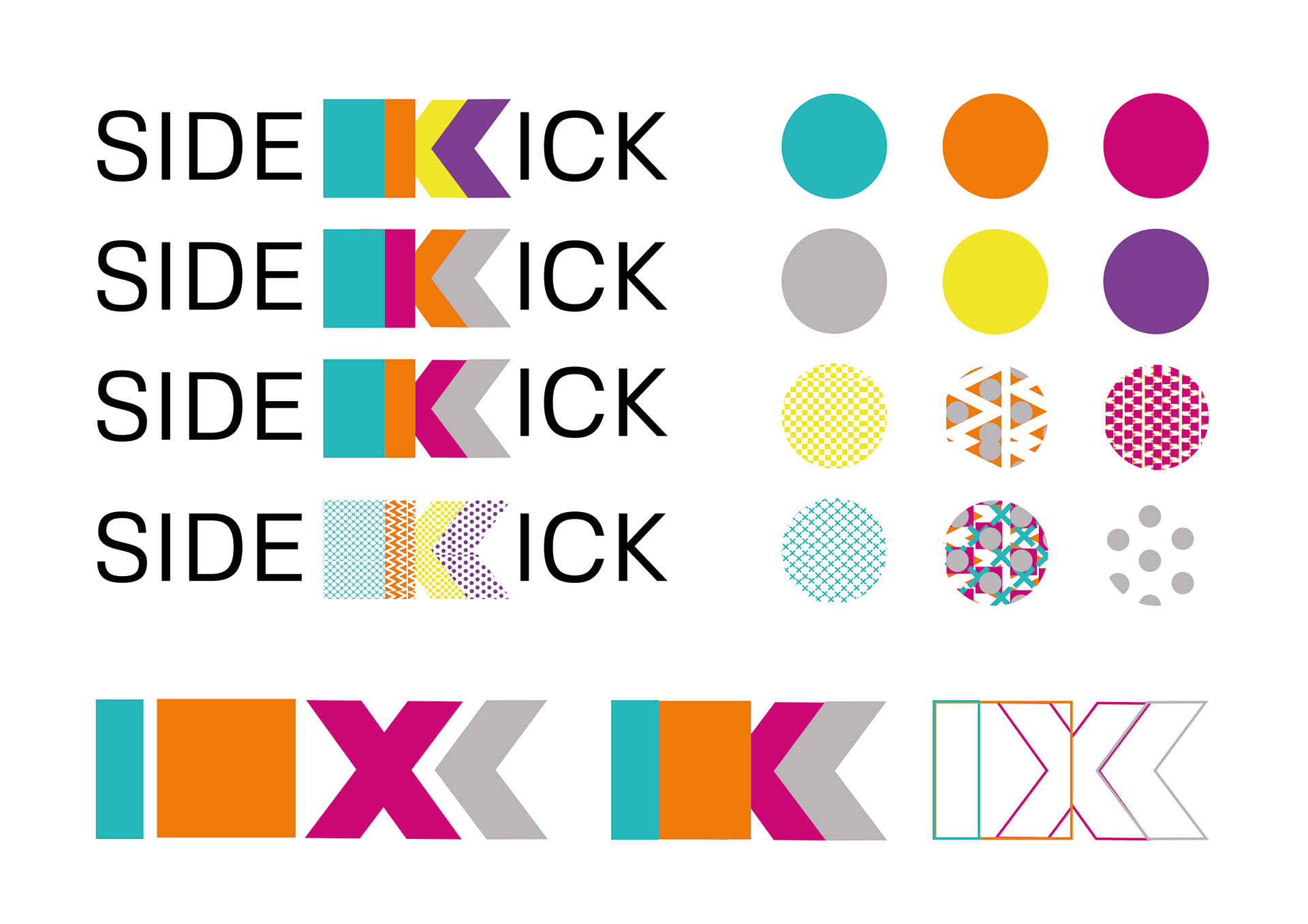 What next?
I have my interim presentation next week, and then I will be focussing on my dissertation over Christmas because that is due in just over a month! However, I will be using it as a time to speak to some parents about my concepts and potentially Caitlyn and Michael, who are the kids I have been working with up to this point. I think it is important for me now to reflect on a semester of a lot of research and how it all relates to one another. I think I have the following questions I would like to ask myself and have an answer to.
- What problem am I trying to solve?
- Whose needs are the most important and do I want to meet?
- How does either of these concepts solve that problem or address it in some way?
- How do all of the similar pieces of research slot together and how do they link to this concept?
- What is the difference between how I will use my personas and how I will adopt the KASE matrix?
- What is the story I am trying to tell? What is my narrative and whose journey through my product is the most important to showcase?
- Am I meeting the objective I set for myself, or do I need to re-evaluate these?
Either way, whatever response I have to those questions, it is time for me to focus!