This week I have split my time between getting the pilot suit ready for the MK 1 presentations next week, and beginning to design the companion app for parents to use. 
The Pilot suit
The pilot suit didn't take that long to adjust. I just needed to take it in and up a little bit, because it was huge before. I also put some elastic in the sleeves to make it more fitting. I did realise through this process that the suit not being fitted (although it makes movement more free) there are instances where the bagginess could potentially cause mishaps. This is something I was cautioned about by Andy, when I went to a co-design session at my former internship and I was asking him about how he felt his children (who are 2 and 4) would find this. He explained that if it were too baggy, their lack of co-ordination could cause accidents. Nevertheless (apologies for the mirror selfie) but this is the pilot suit. 
After this suit was finished, I quickly decided to look in to potential adjustments to the pattern to make it more slimline fitting and also more activewear looking than a onesie which makes people think of lounging around and wearing pyjamas. I started sketching ideas out (as you can see they are popular with the cat, no matter how many times I tried to retake these he sat on my sketchbook - must get updated shots!)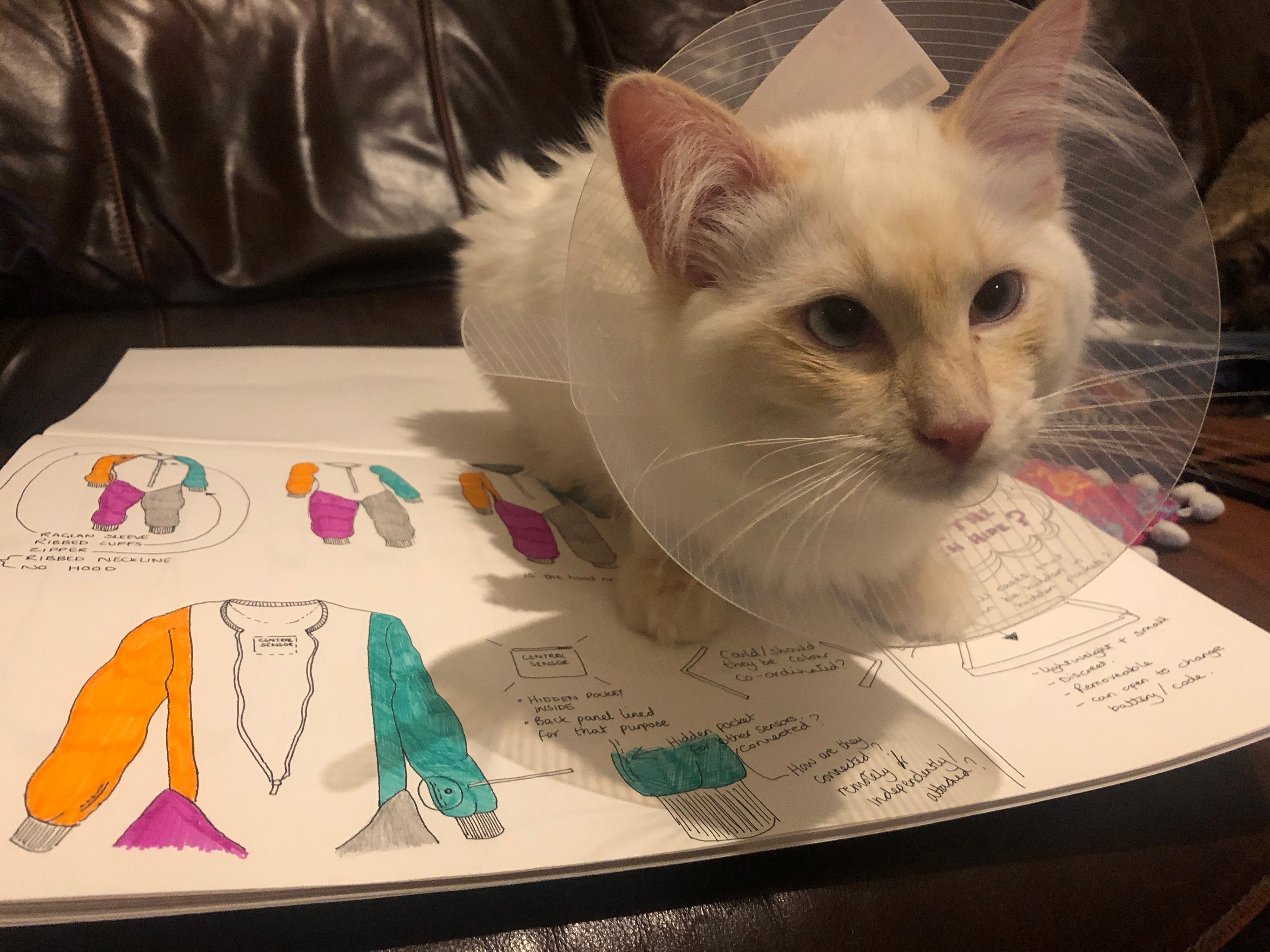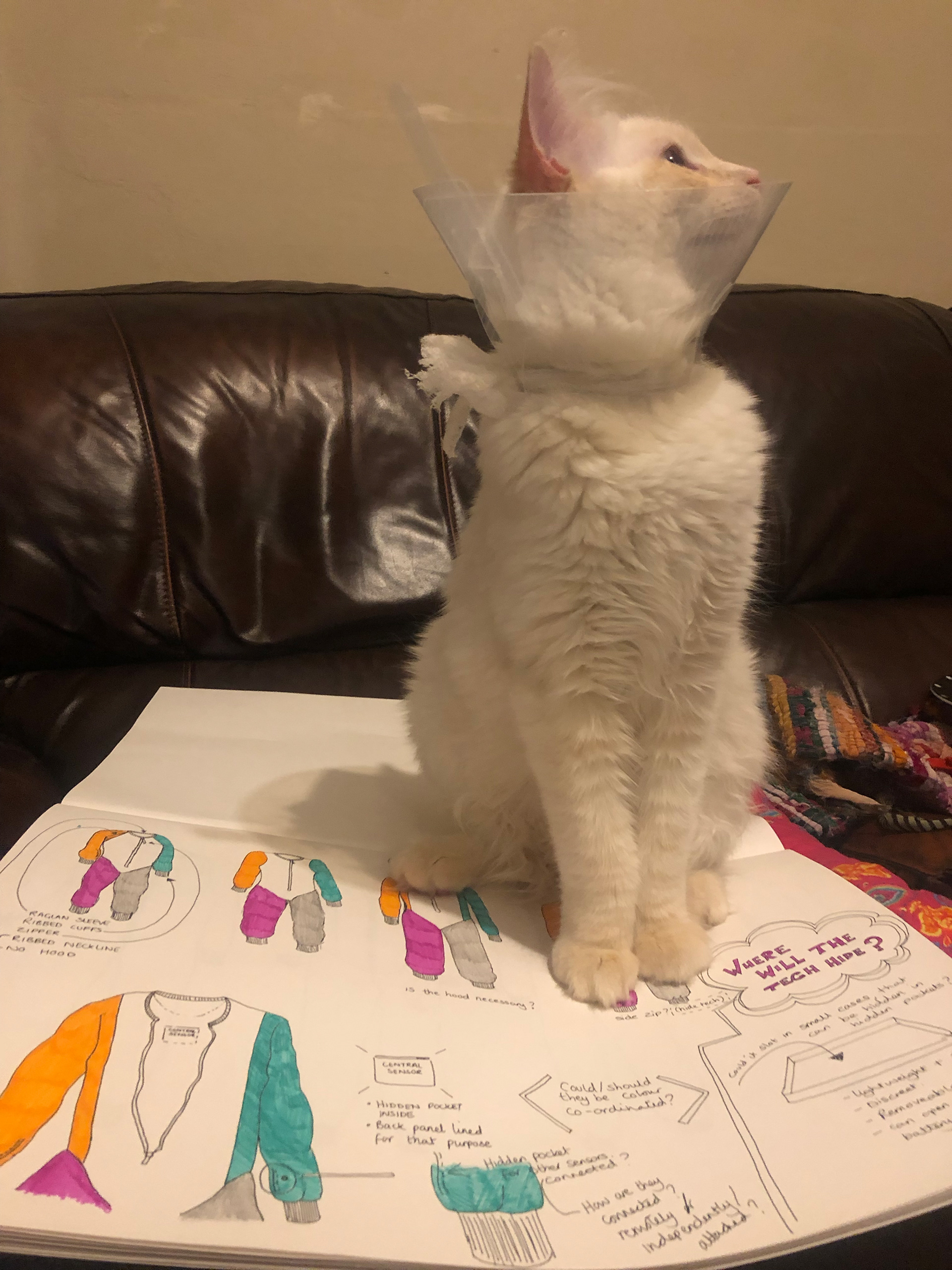 I have taken the advice from the co-design session to add a zip in to the front, to make it more secure and easier to get in and out of then buttons. I have also decided to explore using a ribbed cuff rather than the elastic for a more professional looking end product. It will also give the limbs a little more structure and I feel it gives more of an active feels than a pyjama feel. I have considered the idea of removing the hood as it currently has no real purpose, other than aesthetically and because from experience when observing the kids during my research phase, they really loved hoods and pockets in their clothes!
I have also been thinking about where the sensors could go and how to attach them to the suit. I am thinking a series of hidden pockets with colour coded sensor packs which can be removed when washing. These could either be hidden zips or internal pockets with poppers etc... I think firstly I need to see what tech I will be using, if arduino and battery pack or whether it would be a phone sensor for the purpose of the prototype. This will determine the size of the pockets and where they should be located. I am thinking at the back of the limb or the inside would possibly be better. Although if the sensors are solid and potentially breakable, they will need to be protected against collisions whilst the child is playing and moving in the suit. 
I am thinking of experimenting with different patterns for the different colours in terms of construction patterns and also what could be printed on them. I am thinking of sticking with a shaped theme as I am taking inspiration from existing game controllers and trying to translate this in to the suit.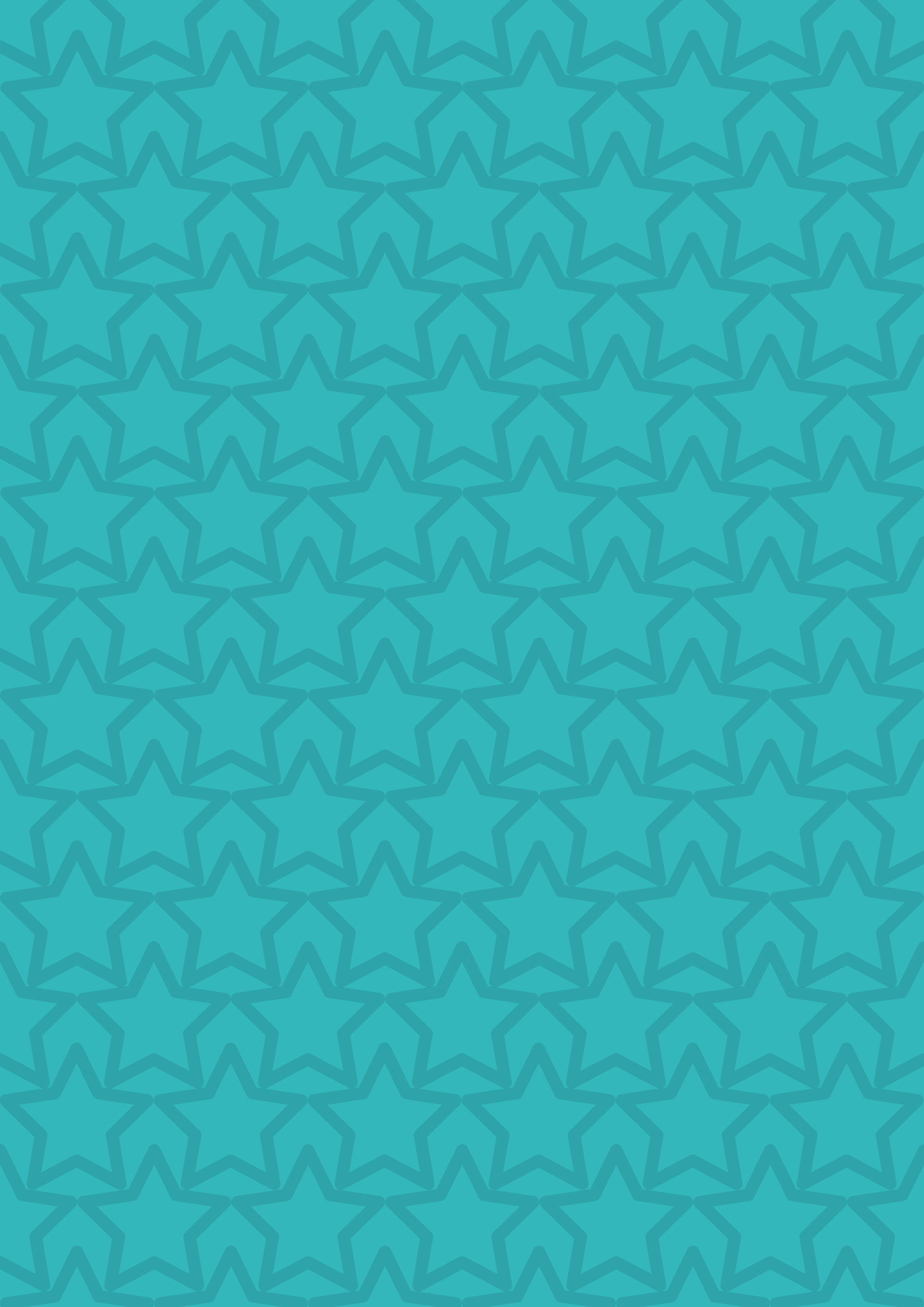 I am thinking of using really simple repeating patterns that have been inspired loosely by tessellation (although this star doesn't exactly tessellate - however the triangle and squares above do / could. I want to see how this will print digitally, as I think this might be my best bet to get a really nice finish of this type of print on fabric. I have found a company called Contrado who can do a sample pretty quickly, and this will give me an idea of how it will print. The plan then is to visit textiles and see about printing this for myself. I would love to learn more about the process of printing fabric, and get more involved in this. 
I wanted to make a start on the app so that I have something to test and gain feedback from by the MK2 presentations. I started this by creating a moodboard of fitness tracker apps (both adult and child friendly) and getting an idea of the sorts of information that the technology I am using can provide, the parents would want to see and what is relevant and important. Data and statistics need to be kept as simple as possible to make them easy to use and to read. So simplicity is really what I am looking for.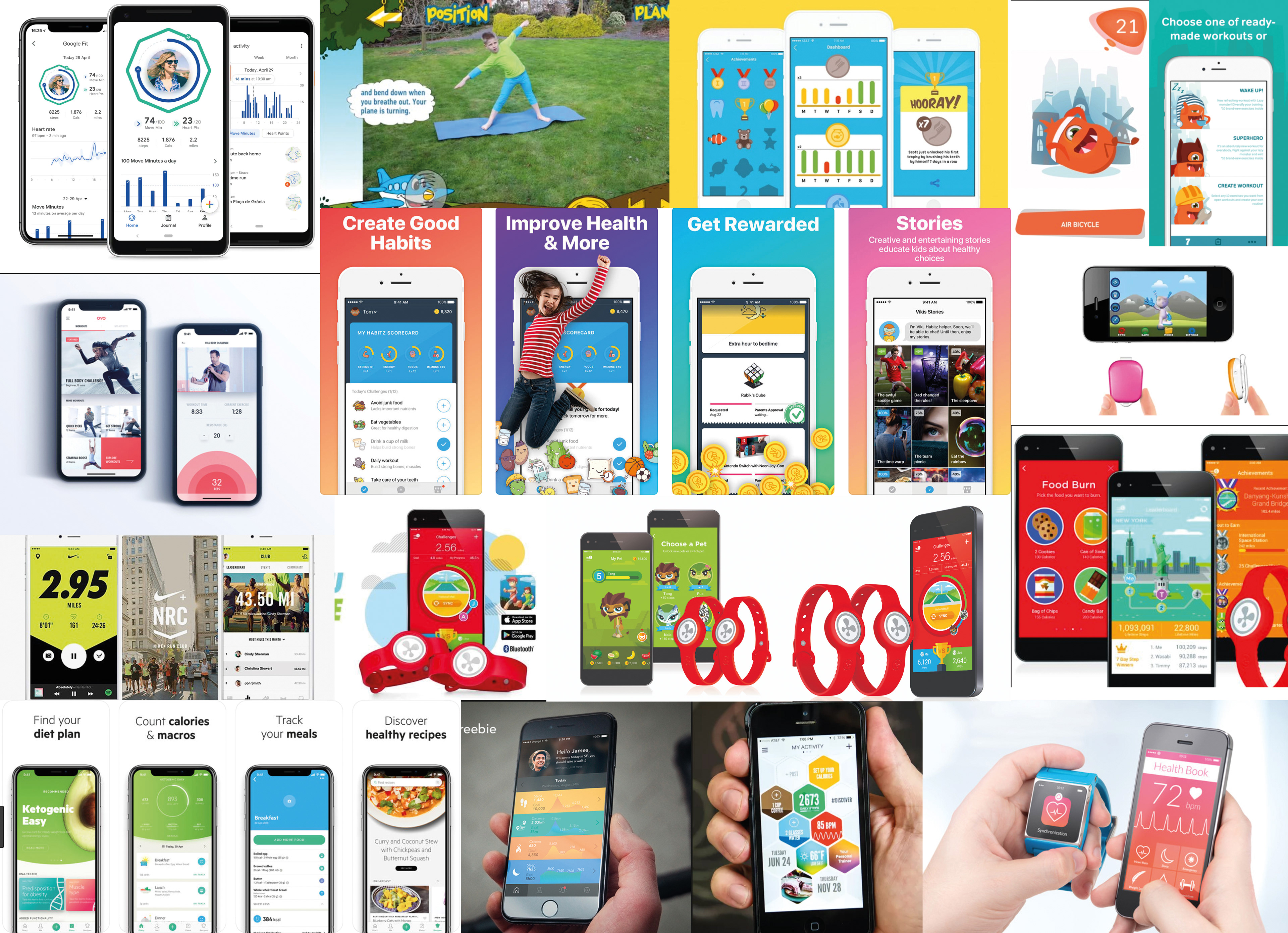 After creating the moodboard, I then started sketching out the ideas that I had and thinking more about which particular experience I want to show and what is the most important. I am also considering how the games can maybe be ranked, what goals parents may want their children to achieve from this experience, and what learning through play competencies I am able to incorporate, as well as how they are measured (AI / machine learning, particular rankings etc...) and what reassurance parents have that these are key indicators of their progress. Ultimately the parental reassurance to alleviate the guilt some feel from the excess of screen time in their child's life, is the main pain I am attempting to address. Therefore, getting those key indicators right is important. I think it might be wise at this stage to speak to some parents that I know, explain the concept, and ask what they would like to know about their child's progress in this kind of experience.
I have also been thinking about the particular experience that I want to show at the Viva and degree show, as I am aware that my Viva in particular will be split between demonstrating the app, game and product and I only have a limited time. I like the idea of being able to show how the app and suit are connected, so I have been considering a set up option to show as an experience. This could either be web based during the order process, or perhaps through scanning a QR code that is on the suit and setting it up there. I want to create magic moments for the child, by allowing personalisation to happen and I feel that at either of this stage would allow for this to take place.
To get a feel for what might work best, I decided to sketch up some really quick storyboards: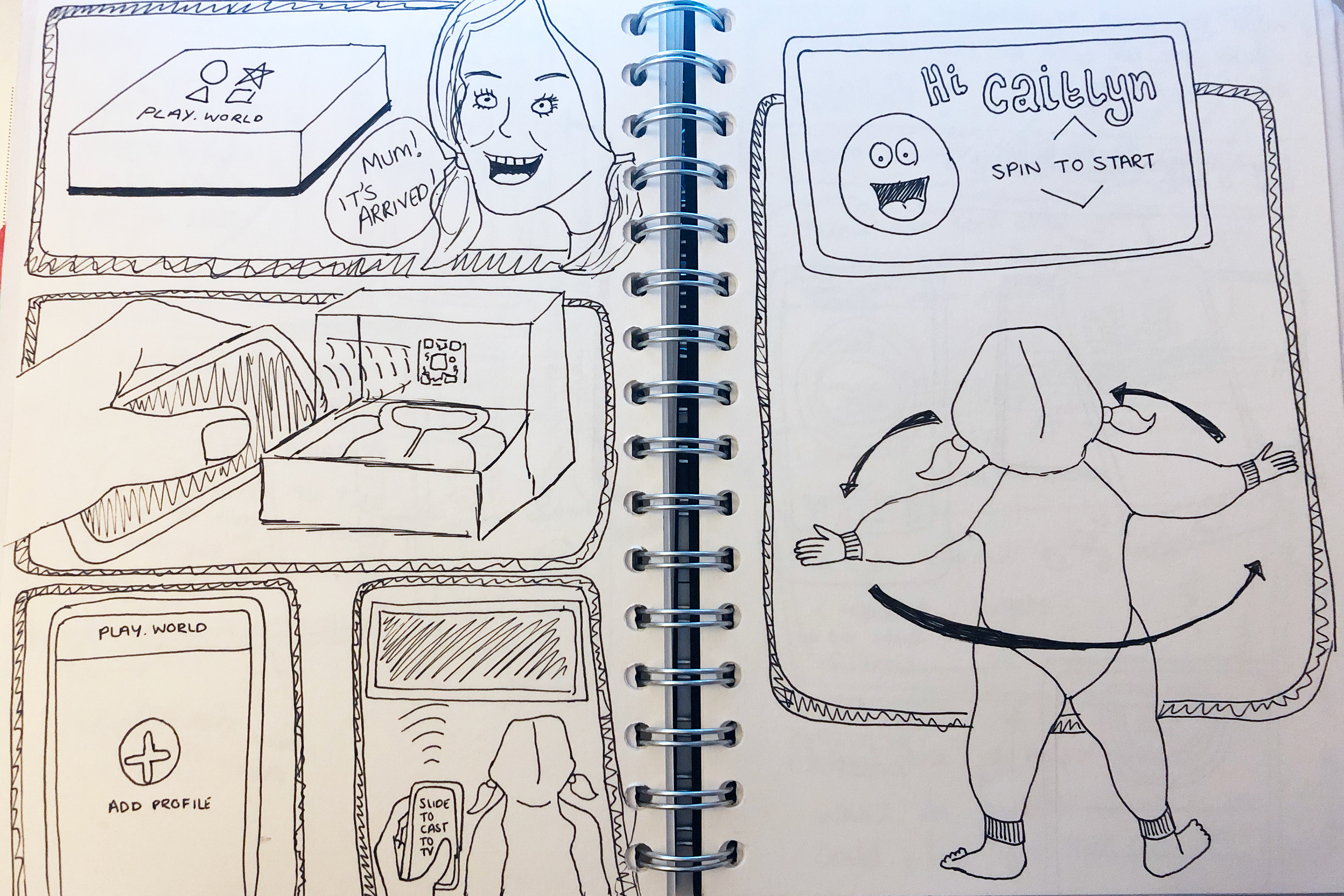 In addition to this, I wanted to get an idea of what the app experience could look like after a session is complete (perhaps the parent gets a notification to check in). This is where perhaps the reward and social aspect of the experience could come in, by parents sending rewards to their child for completing certain goals. So that it becomes part of a shared experience.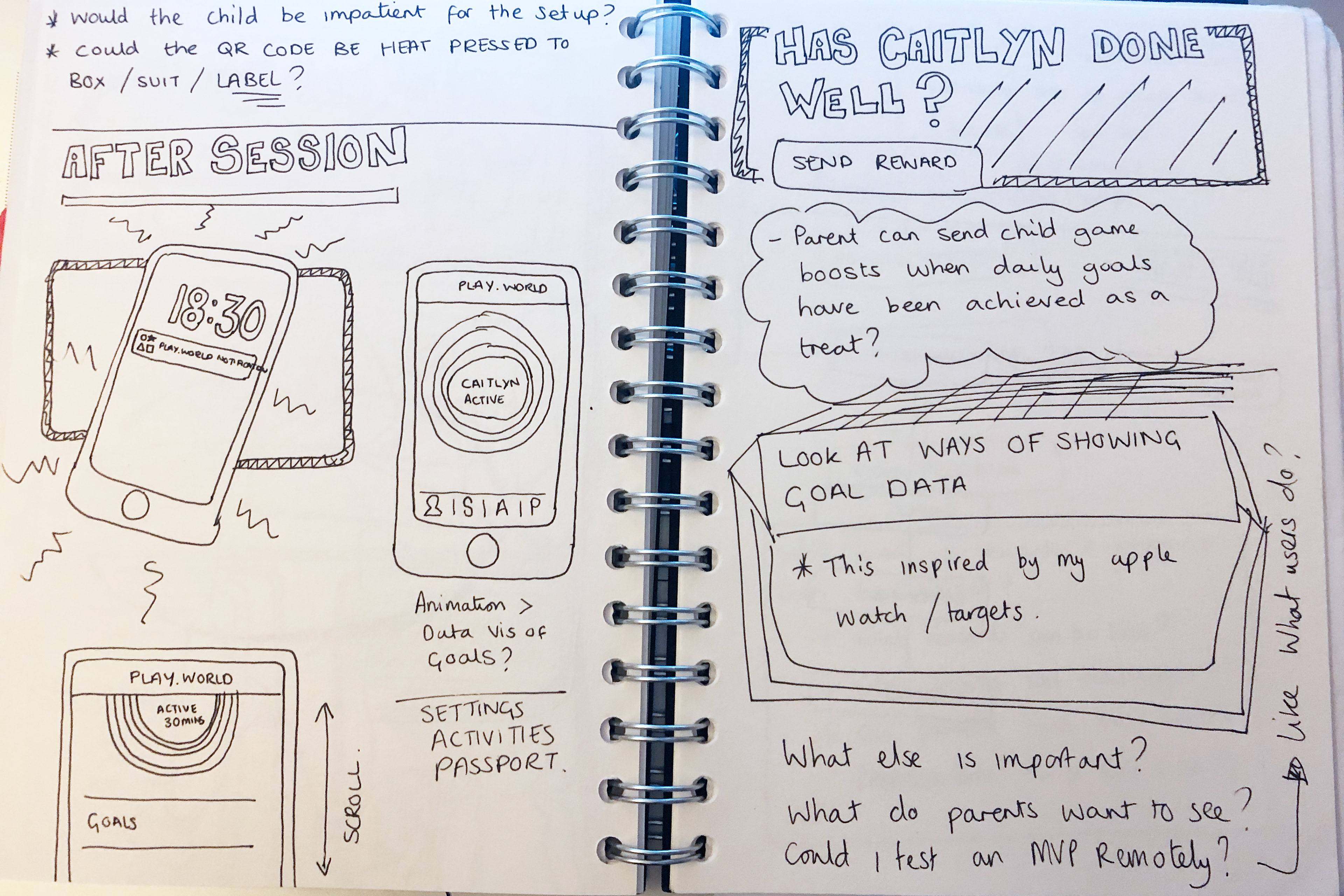 This week has been very productive all in all. Luckily because I was able to complete my MK 1 prototype earlier than anticipated, I feel that this has given me a head start for MK 2. 
I have my MK 1 prototype presentation this week, I also have a meeting at the V&A to discuss getting my project in to Toy testing sessions that they set up on a monthly basis. I plan to carry on with design work on both the suits and app. I have sent away the fabric sample for the pattern, so when that comes back I will go to textiles to see if I can be taught the digital printing process. I want to experiment a little with different fabrics, and I have also ordered a free bundle of fabric that I intend to collect next weekend as I will be away in London. This will allow me to create some fabric prototypes for the child construction pattern of the suit without costing too much.