This week has been incredibly packed full of visual stimuli and ideas which has been great and hopefully you can get an idea of these in the above . It was really insightful to see the InterActives at Yalp. It was really interesting to see the way they apply the use of technology as a benefit to keep the games fresh. I feel using a similar approach within my designs will definitely be something to consider. When I think about the entire trip, I think it is useful to summarise the themes in terms of what I have learnt, to be able to apply it more effectively to my work and to be able to express and communicate what this trip has taught me at Gurus day. 
The themes that have arisen during this trip are:
Aesthetic inspiration: 
I wanted to visit different toy stores to see what was on offer in different countries (seeking inspiration) and found lots of building toys, similar to Lego in various shapes and sizes. My survey did show Lego as one of the most popular toys, so I am glad to be going to Lego House next month. 
Integration of sound
I became very aware of the different sounds of different places and different environments. I think perhaps because I am in the current frame of mind is an audio based game. But it was interesting at Yalp to see the way sound was integrated within a game. Narrative, ambient music, noise that acknowledged an interaction, in game music etc.. My knowledge of sound design isn't extensive beyond the projects I have worked on in previous semesters, so I have organised to meet with a friend of mine who studies sound design, to discuss my idea and talk about the elements I may need to include.
Integration of Technology
I found Yalp's way of leveraging the tech available to them, to benefit their products really inspiring. Particularly the way of using generated data from real time usage that I really hadn't considered to be possible within this field. One of my goals is to use tech in a beneficial way, to get kids moving. But from this research trip I feel like the interpretation of that goal has become more broad as I believe I can use tech in a way that more than facilitates and experience in order to add value to both end users and other stakeholders.
Digital allure
What is it? How can I use it?
My goals
I understand what objectives I have set out for myself, but when Rob asked me about my end goals and what a successful end result would look like to me I realised that I hadn't narrowed down exactly what it is I want to set out to achieve. Getting kid's moving and using their imagination is a nice sentiment, but how will I measure that success? It has got me thinking more about not just my objectives, but what the results look like.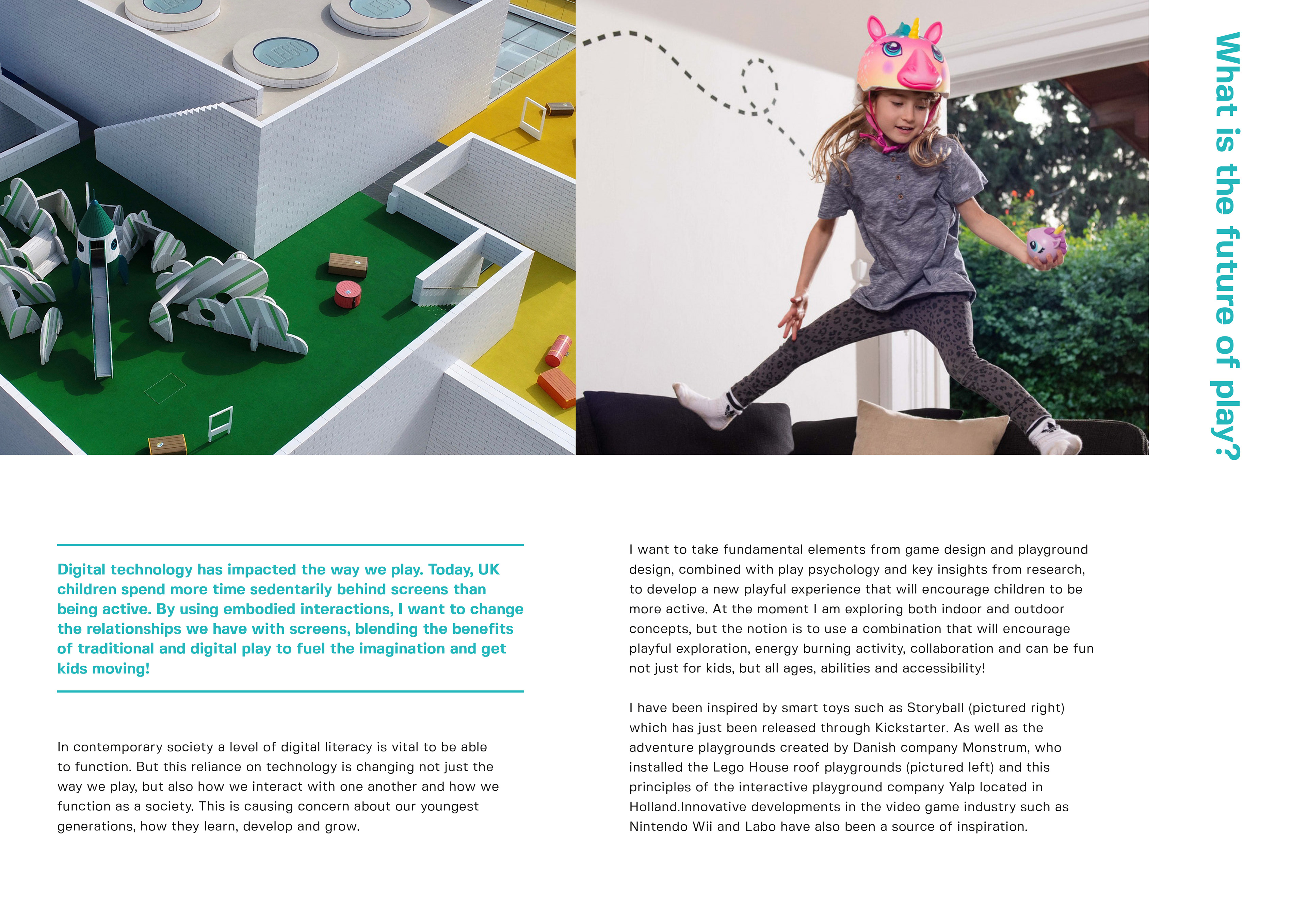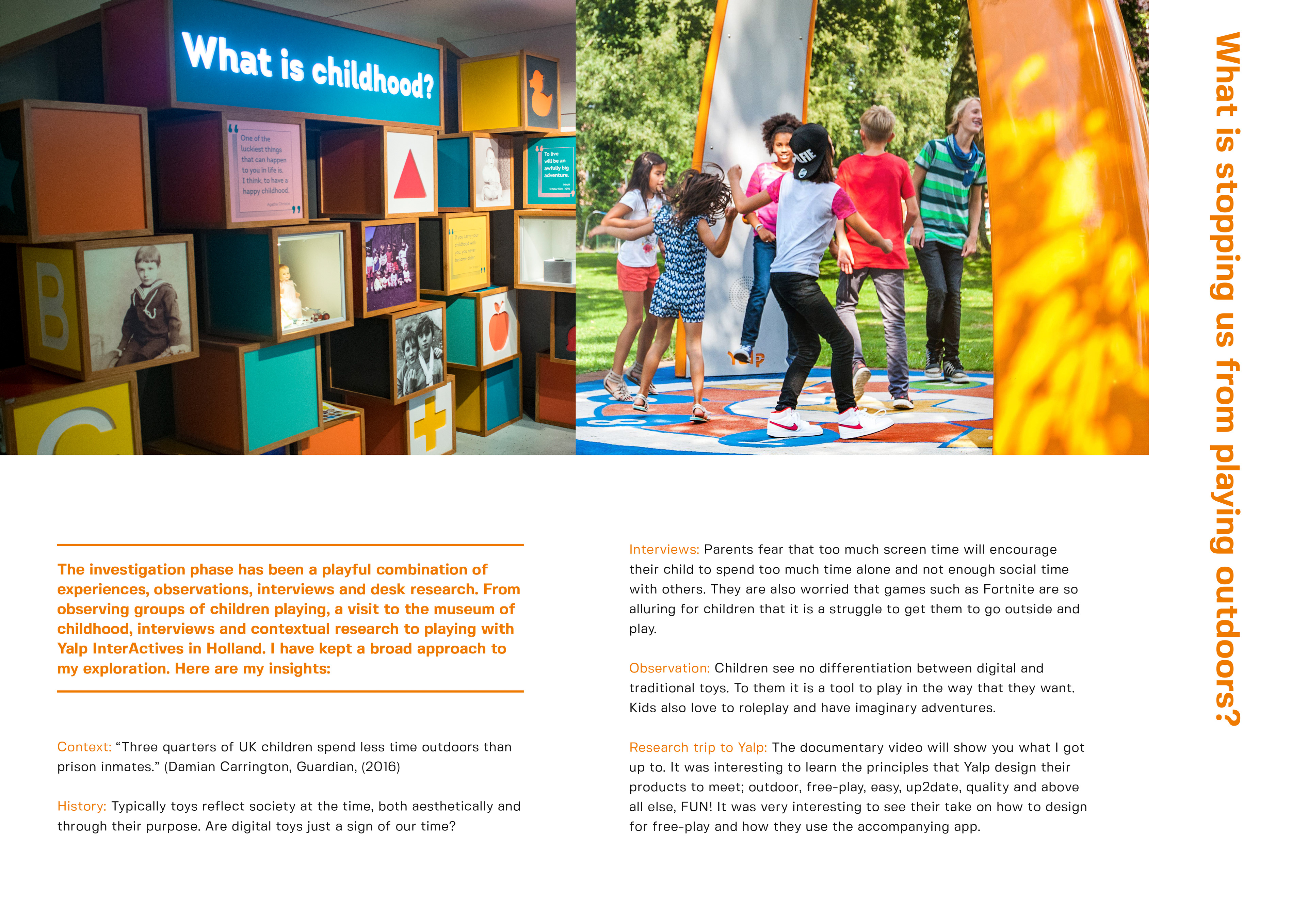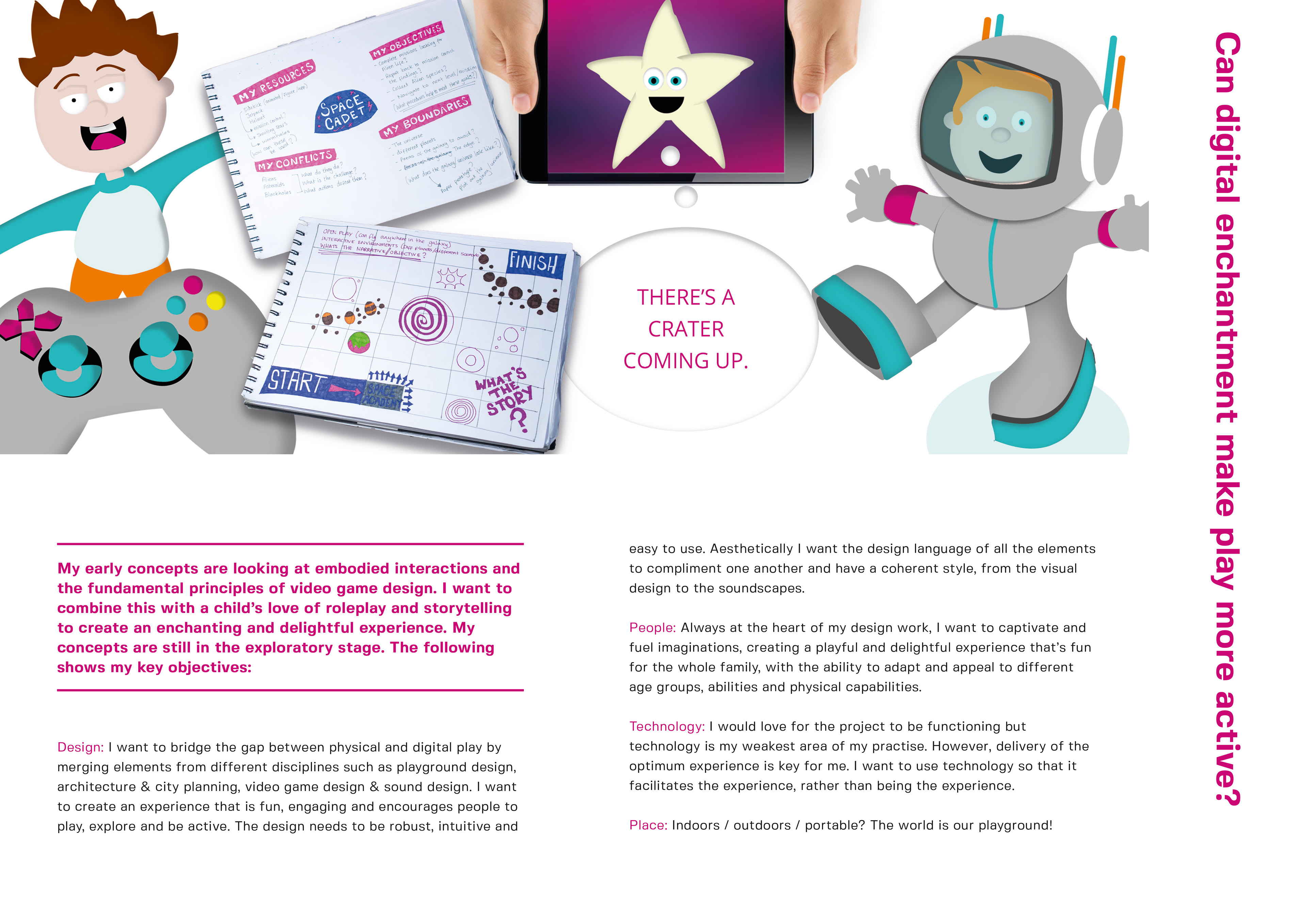 Guru's Day
It's Guru's day on Tuesday and in light of my research trip I have changed my boards slightly since the sketch prototype presentations. Which you can see above. I am excited for Guru's day and looking forward to getting some insight and feedback from the industry professionals. 
I would usually finish a post looking towards what is next, but really Guru's day is the next big milestone, so I am giving myself the time between now and then to take a step back and reflect on the work I have done so far so that I can better articulate my concepts and ideas to the guru's.