Today I was lucky enough to go for a tour around Yalp which is based in Goor, Netherlands and meet with one of their designers Rob Tuitert. It was such an insightful visit. Yalp, whose tag line is "A new way to play" are global distributors of interactive play equipment. By taking inspiration from video games, music and traditional play, they have a range of 5 InterActives which have the mission of getting more people playing outdoors. It was really great to be shown around, have a conversation with Rob about my project and their mission, discuss my research so far and speak about my goals. I also got to play with the InterActives, with Rob showing me some of the different games, which was great fun and eye-opening. (i'm putting together a video for the whole research trip which will be in the next post, so you'll be able to see some shots of the games we were playing).
During our conversation, I wanted to get a clearer idea of the problems Yalp have discovered within the area of getting kids outdoors to play. As global distributors it made me think they may understand the different reasons faced by different countries and cultures. His conclusions are very similar to my own from my research, that it is a mixture of societal, cultural issues... and not just video games and screens being the issue. Yalp are wanting to use the "digital allure" in a constructive way. I really love this expression... digital allure and want to research in to want exactly this refers to a little more.
The studios / office were really interesting. Rob showed me a casing for one of their games Memo to demonstrate how they try to make them as robust as possible and through testing waterproofness for the electronics that members of the team showered with them to make sure they were water tight! He explained the companies principles when they are designing new InterActives and how to decide which ideas become products. 
Outdoor
Yalp's interactive's are to inspire everybody to go outdoors, not just to gain some exercise, but have the health benefits of being outdoors in the sunlight. But also to bring people in the community together and to socialise. 
Free Play
All of the games are developed with a few basic rules (aims) so that the games have some kind of structured challenge to them but can still be varied. You can still input some of your own rules in to them. So it leaves room for the creativity of the players to play in their own way and as a group to discuss what those rules could be. Rob did explain that they had tried to leave the games entirely free and open, but this then just became too confusing, so finding the right balance is important. 
Easy to use
The InterActives are designed for public spaces, so ease of use is important because theres not really room for an instruction manual! So the majority of them work from one button, just push and play! 
Up2date
The InterActives are all connected remotely which means they can be adjusted with just a few clicks. Things such as volume settings etc... Also it means that Yalp can continue to develop games and deliver them to their customers. Keeping them up to date with the latest trends (so for example when the floss dance became popular they could take advantage of this in their games, or with last week being Halloween they could upload Halloween inspired games). Rob also used this whilst we were playing Memo, to upload a special message that said Jenna Wins (which you will be able to see on my video). 
Quality
This refers to the robustness of the designs and materials used. Being outdoors the InterActives are exposed to all types of weather conditions and human factors (vandalism). So the parts used are all tested to ensure quality and that they are long lasting. On the drive back to the station, Rob also mentioned that all of the parts are locally sourced which gives them greater control over the quality as they can oversee the manufacturing process.
And finally, FUN!

If it's not fun, people aren't going to play with it. This is pretty self explanatory. But I wonder how fun can be measured? My guess is rigorous testing can help you know if the game you have created is indeed fun. 
After this quick chat and tour round the studio, we went outside to play with the InterActives.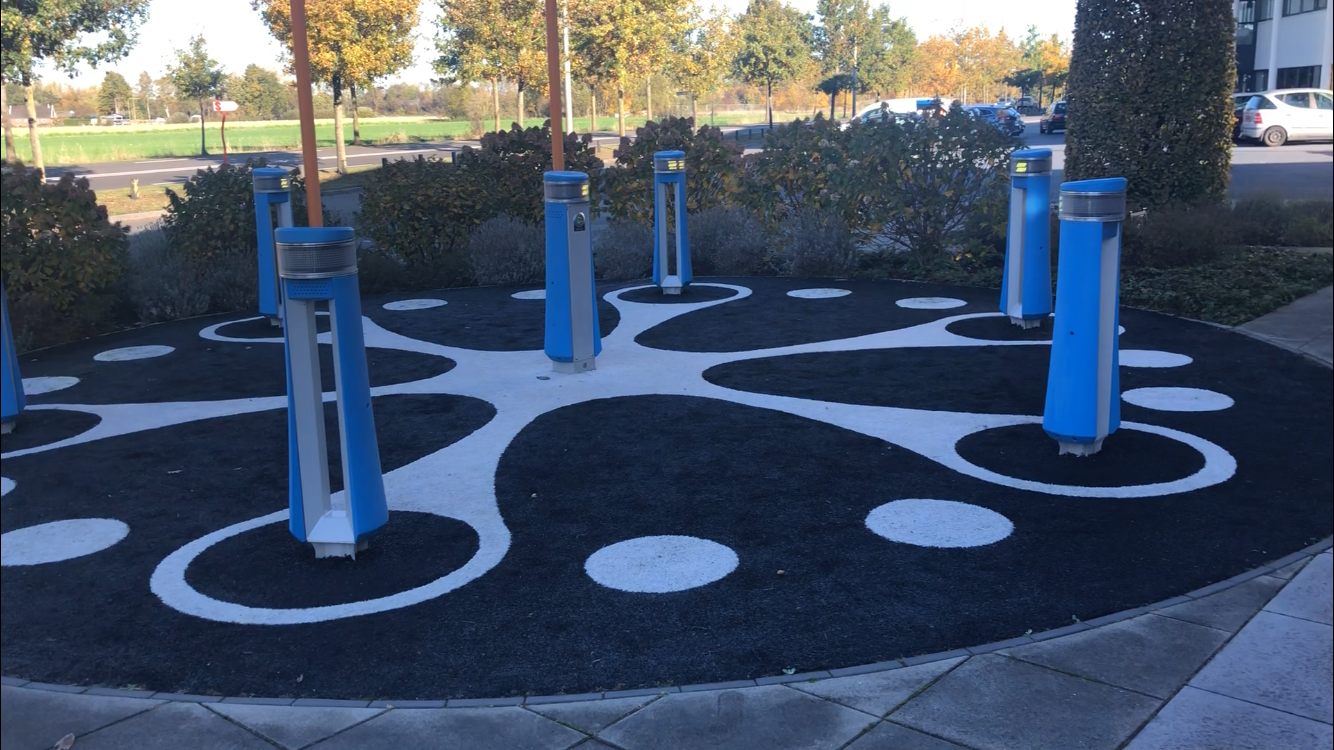 This is Memo - which is designed for playful learning. Rob explained that some children can learn things such as maths and spellings easier when they physically engage with the problem, so this could be a great way of learning for these types of learners. 
What struck me the most is how easy the game was to use. All at the click of one button you could navigate through the games and the simple LED screens would give you an idea of what you needed to do and what the aim of the game was, but leaving it open to decide what the exact rules are if you were playing in a group. After a few minutes of running around, even as a marathon runner it became clear to me how easy it was to burn off the excess energy for kids because I was breathing heavier than I would on a training run, trying to keep up with the game as my competitive streak came out!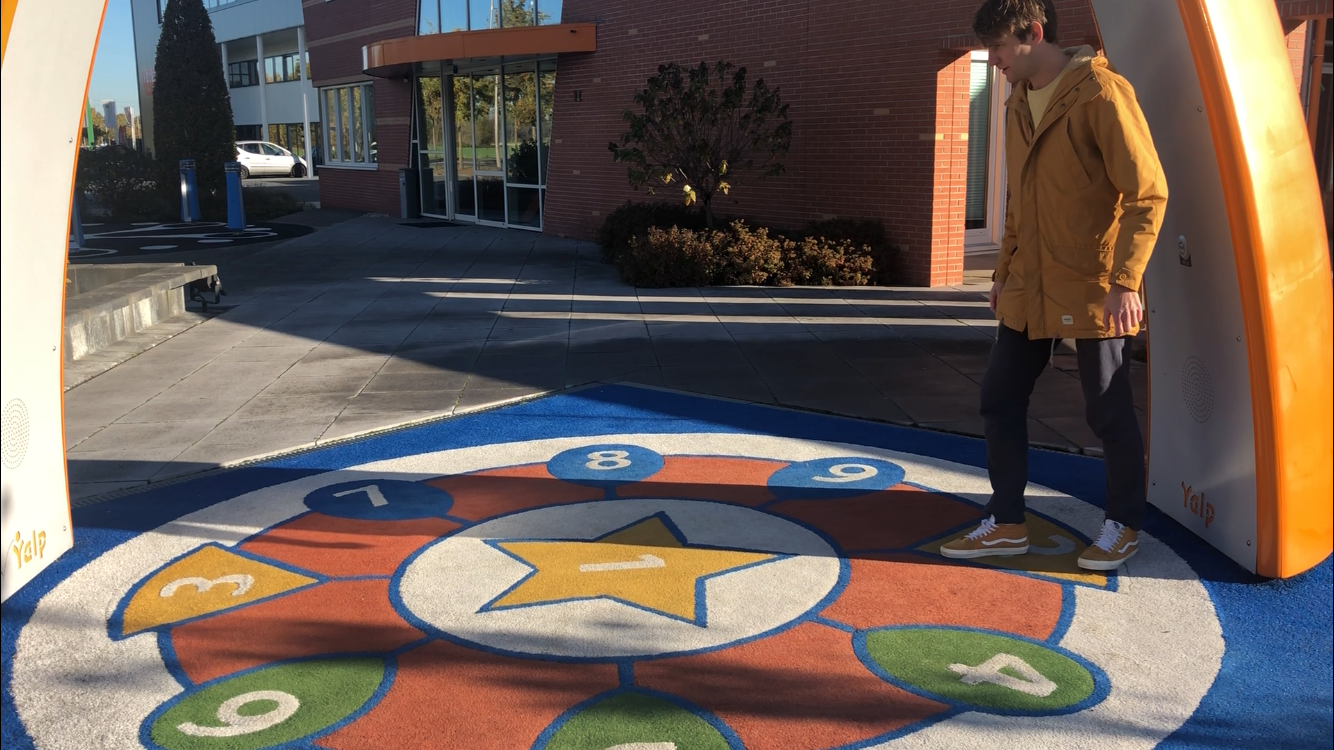 This is the Sona arch, which has a large variety of dancing and active games, but also cognitive games such as mathematics. On their website, Yalp expresses how awesome a workout it gives you stating it is 40% more intensive than competitive basketball.
(here)
 Rob and I had a dance off, and were jumping and dancing about and it really was a lot of fun. 
Something I didn't realise was how inclusive this InterActive could be, because it is connected and easily updated, the Sona arch can be programmed to be fit for a variety of users you wouldn't initially expect, such as the elderly (the speed of the games can be adjusted so that the tasks are achievable) and wheelchair users. This really got me thinking about the power of technology and how it can be used within a traditional playground environment to include people who may have otherwise been excluded. 
Rob also showed me the Fono DJ booth, a piece of playground equipment designed towards teenagers and then the Sutu football wall which has been installed in places such as the Adidas store in New York. Both of these have more interactions with your phone available. With Fono being able to play and sample songs from your phone (e.g Spotify) and Sutu allows you to access the scoreboard for the speed game and compete with players all over the world. You gain badges for different types of play and shots that you do at different Sutu walls and at different times of day etc... I really like this integration with tech. This connectedness I feel is very valuable to the InterActives that Yalp produces. It also allows them to see data from their products installed all over the globe and can perhaps give them an insight in to different engagement levels, furthering their insights to continually improve their games and add ons. 

Below shows the live interactive activity map as you can see on their website. It has got me thinking how I can use potential movement data and inputs during gameplay, particularly during the testing phase, to further improve the interactions and engagement, to make my project as physically engaging as possible.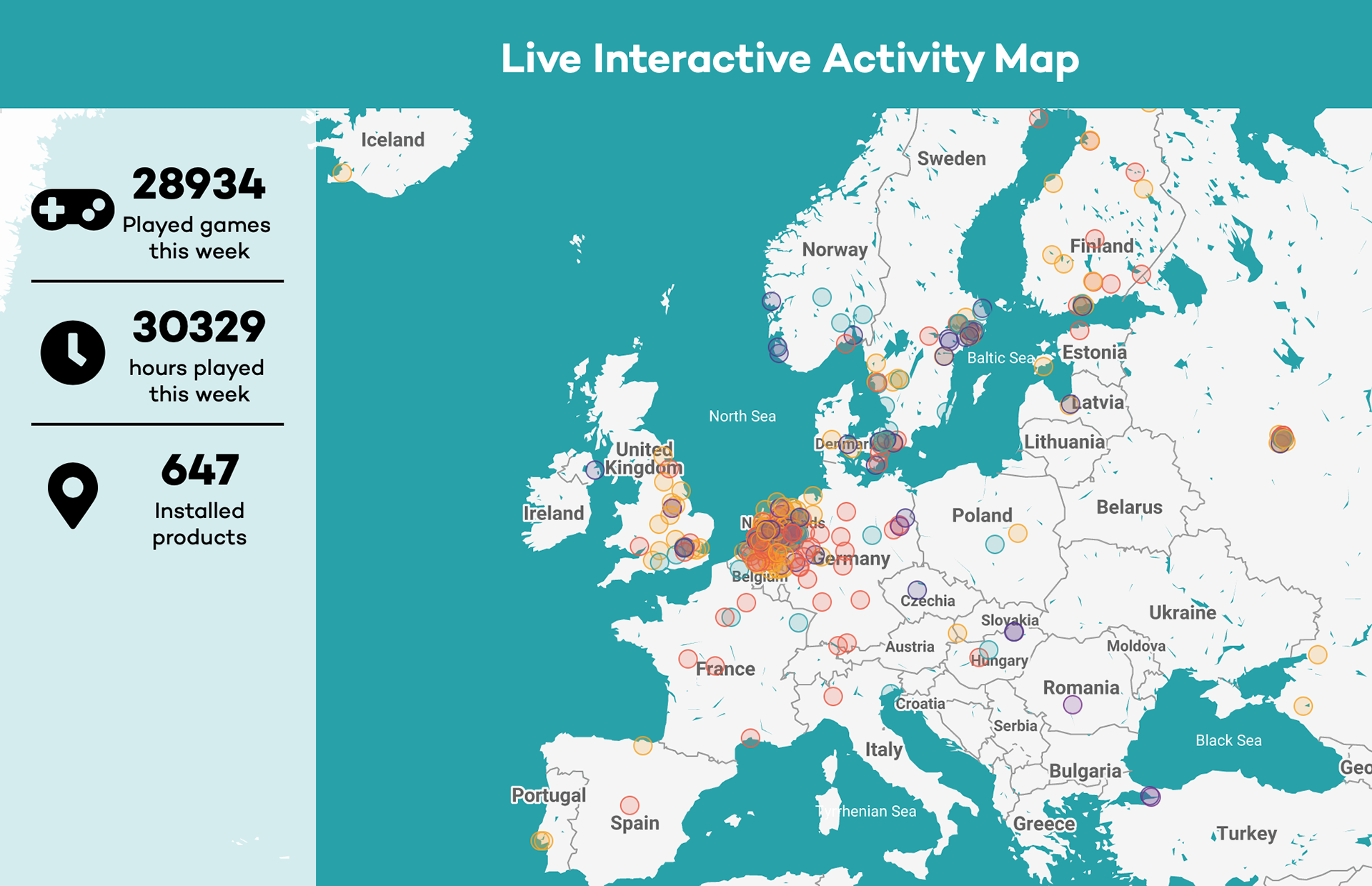 This has been such an insightful visit and I would like to say thanks to Rob and Yalp for having me to the office / studios, taking time out of their day to speak to me about my project. It has given me a lot to think about. I'm still really undecided as to whether I want my project to sit indoors or outdoors, or perhaps even something that can be played anywhere. So it is going to be important for me to ideate differing concepts using different spaces to find the solution that works for my project. 
I was given a few pamphlets about the different InterActives and Yalp which I intend to look at when I get back home to draw a few more insights from. When discussing my research with Rob, it seemed like my research had led me to have similar views and insights as Yalp have, which has made me feel more confident that I have insights from my research I can really work with. Despite it still being quite varied.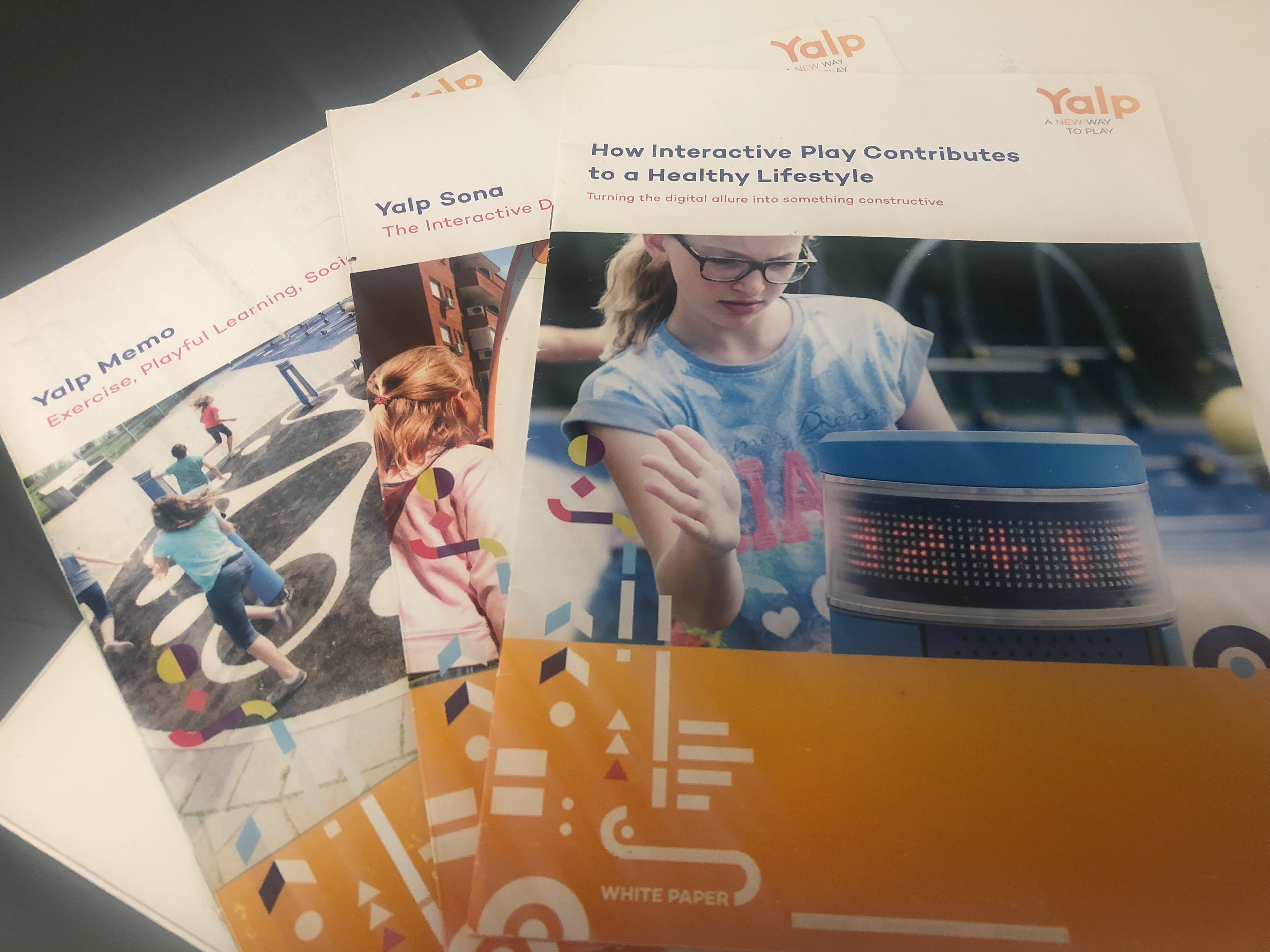 What Next?
I am really curious about this concept of "digital allure" and how it can be turned in to something constructive. I have been thinking about the idea of taking fundamental elements from Video game design and using these physically. However I feel looking as something such as digital allure and looking at how it is used constructively and not just physically, might be a more holistic approach to the process and open up new ideas. 
It's Guru's day next week, so I need to get back to the UK and get prepared for that. So here is my to do list for the next week:
- Prepare for Guru's day 
- Spray boards and change content to reflect research trip
- Look in to the digital allure (might be good to have conversations about this at Guru's day)
- Edit research trip video